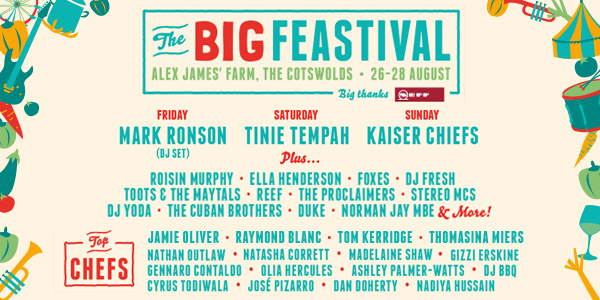 The Big Feastival is a three day event held during August bank holiday weekend from Friday to Sunday and is held on Alex James (Blur) farm in Kingham– Oxon (Oxfordshire). The Feastival – founded by Jamie Oliver has become a very popular event and is famous for it's selection of food outlets, live music and celebrity chef's who do demonstration live cooking for audiences. some of the celebrity chef's that were there were Raymond Blanc, Nadiya hussain, Tom Kerridge, amongst many more.

As well as all the above there are also cooking school events for both adults and children and many activities and workshops throughout the feastival.

Since it's first year, The Big Feastival has grown and grown and pretty much sells out every year. The line-up of music also seems to Improve yearly- attracting a whole mix of audiences. This year, the line-up included Mark Ronson, Tinie Tempah and Kaiser Chiefs amongst many other great acts.

My family and I have always wanted to visit The Big Feastival and now that we have a son, we thought it was time to check it out, especially as is known not just for food and music but for being very family orientated. My husband, who is a big foodie and a fan of Jamie Oliver was particularly excited to go as watches it on television almost every year.

I, however was mainly there for the food haha. Spending most of my youth at music festivals solely – food festivals have become a guilty pleasure.

As soon as you arrive you are greeted by a huge standing Big Feastival sign and can smell the wondrous foods that fill the air from all over. Right near the entrance was a vintage fair for the kids to have fun from the start. With the old fashioned swings, the fields were filled with excited screams and happy, smiley faces. There were food tents full of various food stalls selling all sorts of goodies from herbs and spices to organic brownies. Shabby Chic wooden signs were scattered throughout the festival to act as your guide, pointing the way to each and every area.

As we walked into the Main Arena, we were delighted to catch the start of Reggie N Bollie, two singers who were on last years X Factor and became fast favourites. The children in the audience loved every minute as did the adults. Reggie N Bollie are so much fun and did not disappoint, they had so much energy and stage presence that they brought life to the festival in a positive and up beat way – it is no wonder the sun shone so brightly for their set because after that, well…the rain came down like nobodies business, in fact, it was a storm as thunder was roaring and loud bangs filled the sky. In a mad dash panic, every guest ran for shelter. Having a buggy, this was hard but we made it into a food tent which of course, prompts impulse buying and Impulse buy we did. We bought two very lovely Organic Brownies from Fair and Square Chocolate Brownies, one Raspberry and one Salted Caramel, yum yum yum! Well what could I do but gorge on them right away? We were stuck after all haha! The rain seemed to subside, for a while anyway as we made our way back to the main arena and queued for some lovely Macaroni Cheese from Anna Mae's Mac N Cheese whilst my husband had A Big Apple Hot dog with all the toppings. Both were delicious.

As we had the little one, we ventured off into the kids area called Little Dude's Den. If the weather had not been so bad I would have liked to have explored more than I did. What caught my eye right away was these two huge eyes that were in one of the trees – what a wonderful idea, it looked fantastic! It's the little details that make all the difference hey?

We went straight to the stalls and I was drawn in by a lovely baby food company named Babease who produce organic vegetable baby food. Babease were giving away samples for donations to Jamie Oliver's charity The Jamie Oliver Food Foundation – The Charity teaches essential food skills to help people make better food choices for a healthier life and runs a number of successful programmes helping young people overcome disadvantages to create better futures for themselves working in the food industry.

As well as food samples we were kindly given a baby bib and a bag for mummy (me) and some good advice on weaning. If you want to check them out please visit http://www.babease.co

I found myself reverting back to my childhood as I beamed with joy when I saw two large buses from Hasbro, one for Transformers and one for My Little Pony. We did not get a chance to go in as had the buggy and there were big queues but I found out a little more about it here http://www.senselondon.com/hasbros-transformers-tour-hits-road-summer/

I was very pleased to see a small version of Adam Henson's Cotswold Farm Park where we saw gorgeous geese, delightful donkeys, glorious goats, lovely little lambs, bouncing bunnies, perfect little piglets and cute tiny chicks.

Alas, came down the rain again and with a vengeance. Of course, this is not the feastivals fault but mother nature. What a shame! Luckily we had a rain cover for our son but sadly, my shoes filled so much that they ended up with holes in them, our clothes were soaked so much so that they clung to our skin and I sneezed so much so that they my nose was running faster than Usain Bolt!

A few main stage acts were cancelled ( Zak Abel and Clean Cut Kid) due to the weather which, despite being a shame, was the safest option for everyone. Things went back to schedule in time for Reverend and The Makers, Reef, The Cuban Brothers, Ella Henderson, DJ Fresh and headliner Tinie Tempah. The crowds did not let the remaining bit of rain put them off as they danced and sang during every act. The children seemed to really enjoy every act. None of the standing area for the artists were crowded in a way you would find at a regular music festival, everyone was respectful of their neighbour and looked out for one another.

Seeing Reef made my day as were a band I saw many times in my teens and brought back many memories.

I highly recommend Big Feastival to anyone, especially if you have a family and want to introduce them to their first festival and for it to be enjoyable and child friendly. There is so much to do for adukts and children, so much we didn't see and so much food we had no room to eat. We passed bars, Alex James Cheese Hub, Crepe stalls, Dumplings, bakery stalls, meat stalls, you think of it – they had it! Arrive with an empty stomach, bring plenty of money and just in case, DO NOT FORGET YOUR WELLIES – I learnt the hard way.