I had never heard of Bracknell Festival until I was told that The Shires were going to be headlining. Looking further, it seemed like it was going to be a lovely event. A festival in just a day, it had an attractive draw with not just The Shires playing, but a great line up in general, with 90's band Space and chart toppers The Hoosiers, as well as many other performers.
Tickets were just £30 for adults, £8 for children from 6 yrs to 17yrs and a VIP option at £110 – I was intrigued to check out the perks of the VIP option, as i wanted to see if it was worth it! More about that later!
Upon arrival, there were three entrances: the main entrance, the VIP entrance and the Press/Artists entrance.
The VIP area was in the bar/restaurant area, inside the main building, with a fenced-off veranda outside complete with picnic tables and benches.
The layout of the festival was very easy. The main stage was located on the main field which was surrounded by various food and drink outlets for paying customers and there were various kids' areas, including face painting, bouncy castle/slide and a stall selling inflatable guitars and microphones which many children were running around with. There was also a stall with headphones to test out music for a silent disco. Guests were allowed to bring portable chairs and blankets, which many people did, so they could relax in the sun whilst listening to good music.
As well as the main stage, we had a secret garden stage where local artists played an acoustic set. This was lovely and located just up some stone steps on a small balcony where people sat on the grass and listened to the artists. From what I could hear, the music was all of great quality and we did manage to catch a young girl called Rebecca Jayne who is a local Country singer. Rebecca had a lovely gentle tone to her voice which sounds beautiful acoustically. Rebecca has released a single on iTunes called I Want More which charted in the top 100 iTunes Country Music Charts and can be purchased here: Listen to I Want More – Single by Rebecca Jayne on @AppleMusic.
I think Rebecca has a great deal of talent and potential and I would be interested to hear more.
We caught the last few songs of Australian Country singer Caddy Cooper. Caddy has a very powerful voice which created volumes of sound surrounding the entire festival. With a confident and fun stage presence, Caddy was impressive, crowd pleasing and left people in awe of her vocal ability.
Sally Barker was the next main stage artist we watched. Achieving recognition from her appearance on The Voice as Sir Tom Jones' contestant, Sally proved to her audience just why she belonged on the stage – with vocal perfection showing years of experience and talent, her sound was of the folk genre and was simply beautiful.
I was especially excited about Space. This was a band I spent a lot of time going to see when I was a teenager, especially around the Reading area in clubs such as Alleycat Live! Space were as good as ever, with great personalities and fun banter – and of course, great music. They played all the hits we love, such as Neighbourhood, Female Of The Species, Avenging Angels, Me And You Vs The World and Mister Psycho. The audience sang along to pretty much every song and the band seemed very happy to be there and enjoyed interacting with the crowd. Their set brought back so many great memories and I was so happy to have seen them and not to be disappointed. I believe Space have a new album coming out soon so watch this Space! Ha!
The Hoosiers were up next – one band I have never had the pleasure of seeing before and they really blew me away. The band in general played such an impressive set with amazing guitar skills. Lead singer Irwin Sparkes was thrilled to be there as Bracknell was his home town and it was funny to hear stories of his school. I never actually knew just how good The Hoosiers were – obviously I knew their big hits: Worried About Ray and Goodbye Mr A, but all their songs were really very good and they certainly deserve significantly more recognition, as they are far more talented than a many of the artists charting today. I would go see The Hoosiers again. They have four albums out which I will certainly be purchasing.
Next up were headliners, The Shires. Now, being a huge fan, I knew what to expect, but for those of you who do not know them – The Shires are a top ten album charting Country Pop Duo from Bedfordshire and Hertfordshire. They have recently taken the music industry by storm with their music and live performances, touring with greats such as Sir Tom Jones, The Corrs and American superstars Little Big Town. With a Grand Ole Opry debut under their belt – The Shires have made their mark in Country Music and have paved the way for other UK Country artists and helped make the Country Music scene in the UK a scene to be proud of. As their lyrics say 'we can build our own Nashville underneath these grey skies'– which we certainly have now.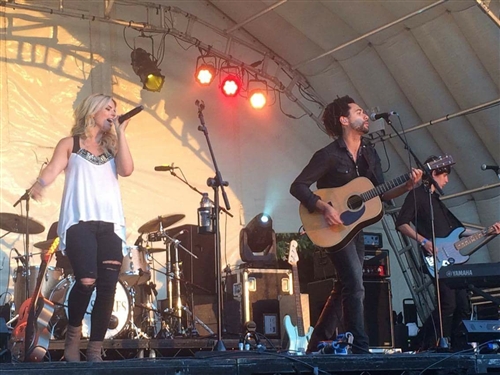 Throughout the day I saw people in 'The Shires' T-shirts, which was a lovely thing to see. As soon as it was time for them to come onto the stage the crowds got bigger and the atmosphere excitable. With the band coming on stage first, we were hyped up when they played the intro to All Over Again. Crissie and Ben, who make up The Shires, skipped on stage with beaming smiles looking amazing in smart-casual attire. The audience were really enthusiastic throughout, singing every word back to The Shires with such passion. I say passion, because I saw many people sing with their partners or friends, whilst holding hands and singing to each other. Also, peoples' eyes were welling up during the heartfelt ballads such as Brave and I Just Wanna Love You and everyone was belting songs such as Friday Night, Tonight and Nashville Grey Skies. Songs off the new album – Save Me and Beats To Your Rhythm did not disappoint, and it was great to see Beats To Your Rhythm live with it being the current and debut single off the new album My Universe. The live version of that song was electric and fun, with the drum beat and 'Hey's' making it a song I can see being a live favourite amongst fans. Crissie's vocals are undeniably flawless as she hits every note with what seems such ease. Her vocal range is very wide and she has the ability to captivate the crowd with not just her vocals but her personality and appearance too. Ben Earle always seems so humble on stage, always grateful to his audience. He was beaming throughout the set, impressing the audience with his vocals, guitar skills and keyboard playing. The Shires write almost all their own material with a few co-writes with other songwriters and played an impressive set with all catchy, infectious, beautiful songs leaving the audience blown away and fulfilled. I heard many people who had never seen them before say how amazing they were.
Overall, Bracknell Festival was a lovely, fun, family Festival which shouldn't be ignored. It was very well organised giving it a relaxed, fun atmosphere with many things to do and see.
If you are local and love music or just want a fun-family day out, then this is a must. If a band you love is playing and you are not local then the trip is worth it!
I did speak to a few people who raised concern about the festival now charging when previous years were free and I understand the dilemma. However, I have to say that with the calibre of artists we had this year – and with The Shires' rising fame – you will fail to find a more intimate setting to see such artists again so, in my opinion, £30 is good value. As I previously mentioned, children under 6 were free and children from 6 to 17 were only £8 -perhaps next year they can offer a family package ticket to offer a discounted overall price – but, in all honesty, if they keep securing great artists then it isn't necessary.
Regarding the VIP option – a lot depends on how much you want to eat and drink throughout the day (and whether you have to drive home or not!). Bearing in mind the generally high prices charged at festivals – especially for alcoholic drinks – and the unlimited amounts of good quality hot and cold food (such as Beef Stir Fry & Noodles, Lamb Curry, Cod & Chips and with various sandwiches and cakes), constantly refreshed all day – then maybe the premium of £80 isn't so much. On top of this, of course, you do get your own separate VIP area to eat & relax in, and the opportunity to see many of the artists who also hang out in the VIP area.