Compiled from undeveloped film that lay untouched in a barn for 30 years, this documentary surrounds Jimi Hendrix's performance at the Atlanta Pop Festival on 4th July 1970.
From early on it is clear that this isn't your average Hendrix documentary. Whilst the first half of the production features interviews with fellow musicians Mitch Mitchell and Billy Cox as well as Paul McCartney, Derek Trucks and Steve Winwood amongst others, all praising the late and great – the actual focus of the storytelling is the Atlanta Pop Festival itself, of which there were only two; 1969 and 1970.
With not even a year passing since the legendary 3 days of peace and music that was Woodstock, temperatures soared to 40 degrees Celcius and 500,000 people from all corners of the United States descended on a soybean farm in the quaint town of Byron, Georgia for this spectacle. A lineup boasting names including B. B. King, Bob Seger and Grand Funk Railroad amongst others, this festival was the first of its kind – one with an international recording artist as a headliner. The Jimi Hendrix Experience.
Interviews with the locals of Byron, GA give an amusing insight into the impact the event had on the community. With many having never even seen a hippie or listened to rock and roll before this moment, the sudden social shift saw many embrace the counter-culture of the late sixties who would otherwise remain in the dark. A reminder that change in society is not only inevitable, but imperative.
The second half of the film provides footage from the legendary performance followed by more conclusionary interviews. This was the last festival of its kind for a long time; the land was trashed and the blatant disregard for state laws were swiftly clamped down upon, and like every other budding industry, heavily regulated.
At just under 90 minutes, it isn't too long and gets into a decent amount of detail regarding the social and historical context of the event.
Freedom: Atlanta Pop Festival is available on mp3, double CD and Vinyl. Track listing below.
Disc 1:
1. Fire
2. Lover Man
3. Spanish Castle Magic
4. Red House
5. Room Full of Mirrors
6. Hear My Train a Comin'
7. Message to Love
Disc 2:
1. All Along the Watchtower
2. Freedom
3. Foxey Lady
4. Purple Haze
5. Hey Joe
6. Voodoo Child (Slight Return)
7. Stone Free
8. Star Spangled Banner
9. Straight Ahead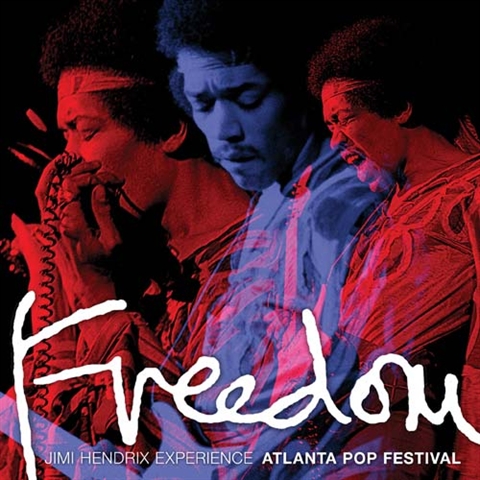 Whilst his revolutionary guitar style may sound primitive in comparison to modern standards, this footage showcases Hendrix at perhaps past the peak of his career and enthusiasm as a pop artist, but not past his peak of creativity. Sadly, he made the transition to rock artist to idol only months later when he passed away in London.
This film truly gives any Hendrix fan a new insight into the musician's personality and genius at such a crucial time in his life – a man who didn't see the world in black and white, but rather in the sense of the obsolete and the new. His profound visions of the future – which don't seem too far from fiction, are perhaps not too far from the reality we experience today.
Jimi Hendrix: Electric Church will be available to buy on Blu-ray and DVD from 30th October 2015. Preorder your copy now!