Some people just don't give a solitary shit what you think of them. Those people make the best entertainers. A giant black screen is dropped to reveal Grace Jones slinking out from behind her backing singers who are wearing giant fru-fru net headpieces. Jones herself, never to be outdone in the mad fashion stakes, is sporting nothing more than a waspie, thong, heels and some body paint. Oh, and a giant gold skull mask with feather headdress.
As the chilly crowd look on in awe, Grace says what we're all thinking "I was planning on it being summer when I came out naked, well, at least spring-time! Don't tell anyone I'm naked…" much to the awe of the small boy on the front row, who is just dawning on the idea that those are really bare breasts.
Creeping around the elevated stage set wearing what looks like a painted bin-liner is certainly one of the weirder sights we've seen this weekend, but Grace just keeps one-upping herself in the style stakes with a host of other outfits throughout the night. 'Walking in the Rain' has the crowd dancing along with her but the biggest whoops are reserved for her extremely lithe male pole dancer who shows off his moves and muscles. With a glass of wine held aloft, Grace asks "To love, l'amour. How many of you guys are in love tonight?" before launching into 'La Vie En Rose'.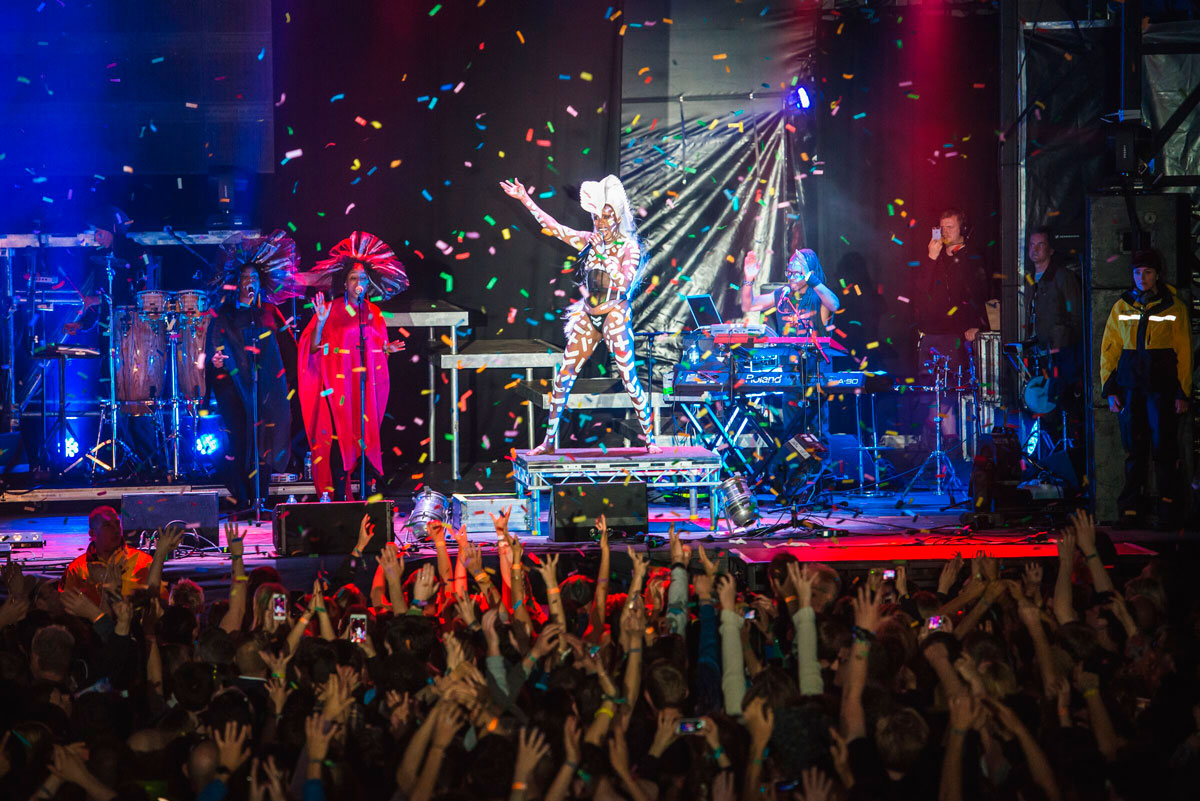 Photo courtesy of Common People
Rowdy favourite 'Pull up to the Bumper' goes down well, and Grace, now sporting white plumage in the style of show-horses, dramatically discards her heels yelling "Damn I just nearly broke my ankle, I should not be wearing these high heels!" and hops onto the back of a roadie for a tour around the front row fans.
Back on stage she sports an incredible mirrored hat which turns into a live disco-ball when lasers are shone onto it, but it is the fact that at 67 years old Jones completes 'Slave to the Rhythm' in its entirety whilst hula hooping amid spraying confetti cannons, that really brings it home. Though the younger crowd might have been there for the likes of Clean Bandit and Years and Years, Grace Jones did more than uphold her legacy in front of them tonight. What Common People got was the kind of show you can't take your eyes away from, and that's what makes the memories.