Over the almost two decades of Fatboy Slim, Norman Cook has been leader of the bucket-hatted masses, spaced out neon lovers with glowsticks and an assortment of psychotropic treats. So when Common People festival-goers were faced with a choral arrangement from a very serious looking but talented bunch of vocalists, more than a few confused looks were exchanged. However, the hums and notes gathered momentum into an absolutely brilliant (mad but brilliant) mashup of Norm's super hits, from 'Right Here, Right Now' to 'Eat Sleep Rave Repeat'.
As the choir wound up to a crescendo, the man himself hit the stage wearing a fairly creepy white mask and hood, looking a bit Detroit clown-gang, but tearing it off theatrically as the bass dropped for his own 'Eat Sleep Rave Repeat'. Common People might be a brand new festival, but it's clear some of it's forefathers' Bestival/Camp Bestival vibes are present, the glow-paint covered crowd are going absolutely mental already, and Norman throws off his hoody to reveal a loud Hawaiian shirt and some very suggestive hip wiggling.
Throughout the set Norman mixes tracks from various artists, but it's Zombie Nation's 'Kernkraft 400' that gets the front row bouncing. The big screen shows computer generated graphics of his face with visable musculature and day of the dead style facepaint and when the well known 'Samba De Janeiro' is mixed in, giant acid-smiley inflata-balls are thrown out into the crowd.
Talking Heads' 'Psycho Killer' rolls into a mashup of 'Right Here, Right Now' and Underworld's 'Born Slippy' as rippling blue lasers bathe the site in an otherworldly glow. Salt-N-Pepa 'Push It' has the rowdier (drunk) sorts attempting to push each other over. A clip showing Cook being slapped with a wet fish somehow leads us into what is understandably this festival's herald – Pulp's 'Common People'.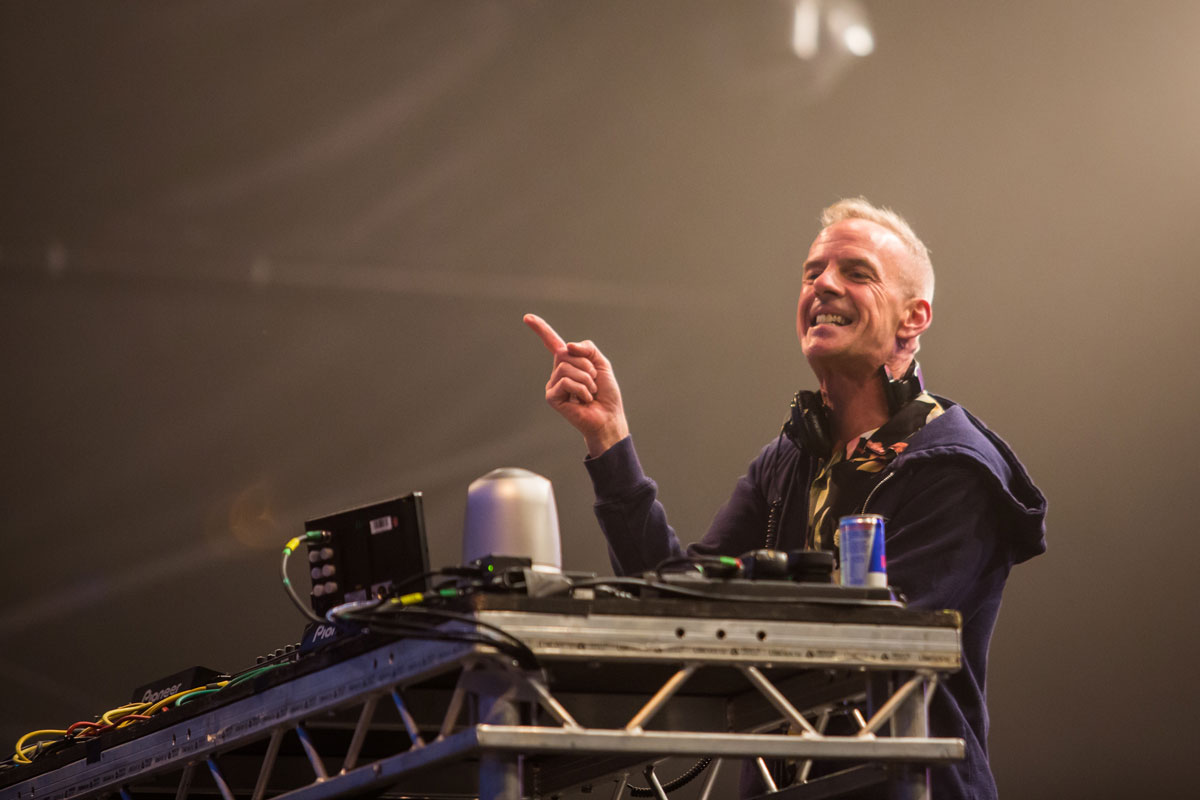 Photo courtesy of Common People
For the finale, the choir, now in white gowns float back on stage to help with fan favourite 'Praise You' which has the entire crowd, even the guy inexplicably waving his crutches in the air – dancing in the traditional circle formation and singing along. As a massive array of fireworks light up the sky and mark the end of the night, it's safe to say that Common People festival has picked a pretty epic first ever headliner. It's amazing that one man behind a mixing desk can be such a presence, but that is exactly what Fatboy Slim does with an ease that says 'I can do this in my sleep' or maybe 'I'd rather do this than sleep'.