After Radio 1 announced in Febuary that the fine city of Norwich had been chosen to host it's annual Big Weekend, the
often overlooked city became abuzz with excitement of the hotly-anticipated event, Europe's largest free ticketed festival.
The local paper reguarly ran articles leading up to the weekend, transport timetables were altered, and there was a furore
on social media over gaining tickets for the most in-demand weekend of the year in Norwich. When the day came, it was a roaring
success.
Performing infront of an elaborate stage set of a dark red velvet curtain and an array of lined up lights with a harpist in tow,
you could sense that Florence and the Machine's set was going to be special, despite the usually theatrical singer's mobility being
affected by a broken foot. Singing infront of a big blue Norwich sky, Florence voiced her appreciation of doing so while singing the very
fitting new track 'How Big, How Blue, How Beautiful.' Her crowd interaction was very personable and endearing, clearly displaying a genuine
affection to the crowd. Florence belted out hits including 'Dog Days Are Over' and 'Sweet Nothing', her incredible voice showing no signs of
slowing down during the exceptionally inpressive long notes- drifting out the the crowd and probably beyond. Her heavy band only marginally
supported the already strong and sturdy voice of Florence that showed so much stamina, even overhearing a festival-goer 'getting goosebumps'
to then doing so when being encouraged to 'jump as high as you can' by Florence because she couldn't. A mesmerizing performance by the hugely-talented and remarkably humble and grounded Florence and her very impressive Machine.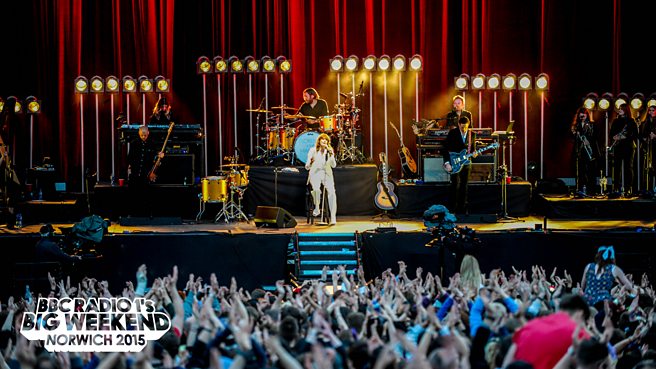 Photo courtesy of BBC Radio 1 website
After her performance, the crowd had an hour wait till headliners Muse made their appearance. It was easy to pass this time
looking at the big screens beside the stage seeing music revellers reactions to being spotted, some more amusing than others.
On they came, to a rousing welcome from the 50,000 strong crowd. They created a visually spectacular performance, with thunderous
guitar riffs and use of bolts of lighting and flames firing out of the stage. Muse are known to use their music to display political views,
and their use of stage graphics depcited this by use of an authoritive and purposeful looking US military official shouting
orders at the captivated and at times on-edge looking audience. Lead singer Matt Bellamy played his signature unmistakable opening bars
to opening news songs Psycho and Reapers, followed by classics Suppermassive Black hole, Time is Running Out and Starlight. The band's
dark undertones intensified in the highlight of the set, Knights of Cydonia. By use a harmonica, bassist Chris Wolstenholme had the whole
audience on tenderhooks, with words like 'haunting' even being heard. Suddenly, that perilous sound was cut like a knife with Matt Bellamy's
piercing rythm guitar chords and riffs, proving his hype of being considered one of the best guitarists of the 21st century. With that
magnificent ending song, it was time for the crowd to head home, some coming back for the next day and some others seemingly happy with just
the Saturday's long stretch of excellent performances.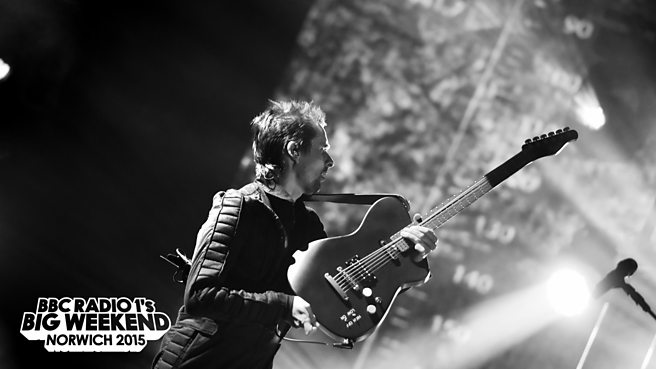 Photo courtesy of BBC Radio 1 website