So, I'm not taking the blame for jinxing the weather because I'm sure a few people are grateful for the rain to cool down their sunburn from yesterday but armed with a waterproof jacket down to my knees with rain inconveniently dripping in to my wellies, it wasn't the best atmosphere to start the day off.
So setting the scene of thousands of grumpy, hung-over festival goers Clean Bandit definitely had their work cut out for them which made their set that much more impressive. Made up of Jack Patterson on bass guitar/keyboard, Luke Patterson on drums, Grace Chatto on Cello and Milan Neil Amin-Smith on Violin, Clean Bandit are the new twist on Pop/Dance music. I've never thought their songs have been breath taking but seeing them live has put me in a completely different prospective. Mixing classical instruments with deep dance beats should be a recipe for disaster but each members input merges perfectly with the next and creates an impressive basis for all their guest vocalists. Don't just take my word for it, they have several tour dates over the UK this year. Their fearless take on dance music means they are definitely a live act you have to see this year!
Soggy yet cheerful I went to watch John Newman's set. The only word I can use to describe that man is sass. So much sass. I don't know if my eyes were more drawn to his fancy footwork or his jazzy jacket but it's safe to say his voice stole the show. John Newman is the full package and watching him, with a smile on his face, enjoying every minute makes him that much more enjoyable to watch.
Now forget about the stigma The View left for Dundonian bands, with harmonised, vocally driven rock pop Copper Lungs have the perfect formula for amazing music. Now you may have never heard of them before but a packed tent full of festival goers chose to watch these four guys over the likes of Nina Nesbit and John Newman which says a lot. Comparable with the likes of Twin Atlantic, Don Broco and Biffy Clyro, Copper Lungs are setting the standard high for under the radar, undiscovered bands, so if you haven't yet, take two minutes out of your day to listen to a few tracks on their SoundCloud and if you like what you hear, there's a link to their Big Cartel page where you can buy their self titled EP. https://soundcloud.com/copperlungs.
Elliphant is a Swedish pop artist with a twist, I'm so thankful for the organisers of T in the Park for bringing her to Scotland as I've been a crazy fan girl of hers for a few months and having been touring around Europe recently and soon to be supporting Charlie XCX on her North America tour this Autumn she's a busy girl. Elliphant is fearless and bold with her music, rapping over Dubstep it's not hard to see why she caught Skrillex's attention. Having worked with him on "Only getting younger" off her Look At Me Now EP it won't be long until she's a name on everybody's lips.
Any N.E.R.D fans out there? Still patiently waiting on that N.E.R.D album Pharrell promised us in 2013? Me too. It was an issue I was going to raise with him but after his unbelievable set on Saturday night, I'm going to let it slide for now. Joined on stage with a group of dancers, Pharrell put on an unforgettable show, performing a selection of songs off his current album G I R L and a few N.E.R.D songs including "Lapdance" and "She wants to move". Pharrell also did a few covers including Snoop Dogg's "Drop it like it's hot" and Gwen Stefani's "Hollaback girl". Pharrell is the perfect choice for a big festival like T in the Park, even if you have never heard of him, he has been such a consistent and constant talent over the years that everyone will know some of his work which ensured some of the most impressive sing alongs of this weekend.
Continuing on with the Scottish theme, an act everyone will know, Calvin Harris.
Not only did Will Smith introduce him but he absolutely nailed his closing slot on the main stage on Saturday night. With an extended license for a longer set, Calvin Harris put on an unforgettable set. Now Scottish crowds have been praised every year from some of the biggest acts and I urge you to take a look at this clip from Calvin Harris' set to see why. https://www.youtube.com/watch?v=doYBd6yTn4g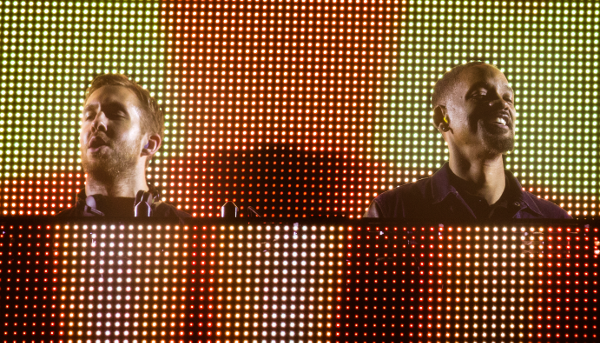 Photo courtesy of T in the Park
If you would like to be part of one of the best crowds in the world early bird tickets are already for sale for T in the Park 2015, but get them quick, because next year T in the Park is moving site to Strathallan Castle and with everyone's curiosity for the new site, tickets are bound to go fast!http://www.ticketmaster.co.uk/T-in-the-Park-tickets/artist/28658