I arrived at the site at just gone 12:30, people were queuing all the way up the courtyard of the venue waiting to get there wrist bands.
Exploring the venue I found myself watching a band called The Smoking Hearts at the Southampton Intro Stage. The Smoking Hearts, A 5 piece rock and roll band from London UK. During there set they interacted with the crowd threw each song asking if everyone was enjoying their day so far. Their performance was all round very tight, sound and vocals where clear and sounded great, they also were really getting into it as a band, head banging, bouncing around. Was a smallish crowd, maybe 50 odd people watching but from what I could see everyone was enjoying it including myself. If you're into your punk/rock and roll this is defiantly a band to look out for, music can be found at www.store.bombermusic.com and also Checkout there Facebook Page at www.facebook.com/thesmokinghearts.
Next stop for me was to go a watch the awesome Heart In Hand at the Uprawr Stage. Heart In Hand are a Melodic Hardcode band from the South coast. Charlie (vocalist) sporting shorts and short sleeved shirt, with all his tattoo's on show, the bands all round stage presents was great, all of the constantly moving around. The sound and vocals were tight and so clear. Crowd going completely mental mosh pits, odd crowd surf, everyone singing along to their songs and just all round loving the music. Between each song Charlie interacted with the crowd asking how everyone was and if they were enjoying their day so far and going to party. Through part of the set Charlie got into the crowd and got people to sing in microphone. I really enjoyed this band thought they sounded great live and had a fantastic stage presents and looked like they really enjoyed themselves as well as the crowd loving it.
After their set I managed to catch up with Charlie Holmes (Vocalist) for a chat and asked a couple of questions.
Biggest influences? (Charlie) "Generally it has to be life in general, also the band are big Deftone fans, even though we don't sound like them really like their music, also liking the band Underoath even though they aren't around anymore".
Biggest achievement as a band? "Its probably playing Download Festival this year, we're all looking forward to that". Where do you see yourselves in say 5 years? "Who knows really, guess we'll keep writing music till we can't anymore, we've just finished recording our third album and going to working on the fourth soon, so that really".
Favourite venue you guys have ever played? "We've played some massive venue in Europe that we can't think the name of but they've been great, I really like The Joiners in Southampton, I prefer smaller venues there lot more intermit and lot more fun".
Where are you guys most likely to be on a day off? "In bed normally"
When on tour who/what do you miss the most? "Erm… it's got to be my Girlfriend, three of us in band have girlfriends so it's defiantly got to be them"
I guess they don't come on tour with you then? "No not really, two of our girlfriends are here today though, and it's my girlfriends birthday".
What are the plan's for this year, album/shows/tours? "Well we just finished our latest album but can't say when its out or what it's called, we were meant to be touring but that's been dropped sadly but hopefully come end of the year we'll have something, atm it's just Download Festival".
Heart In Hand can be found at www.facebook.com/heartinhandukmh there are links to there web store, twitter and music.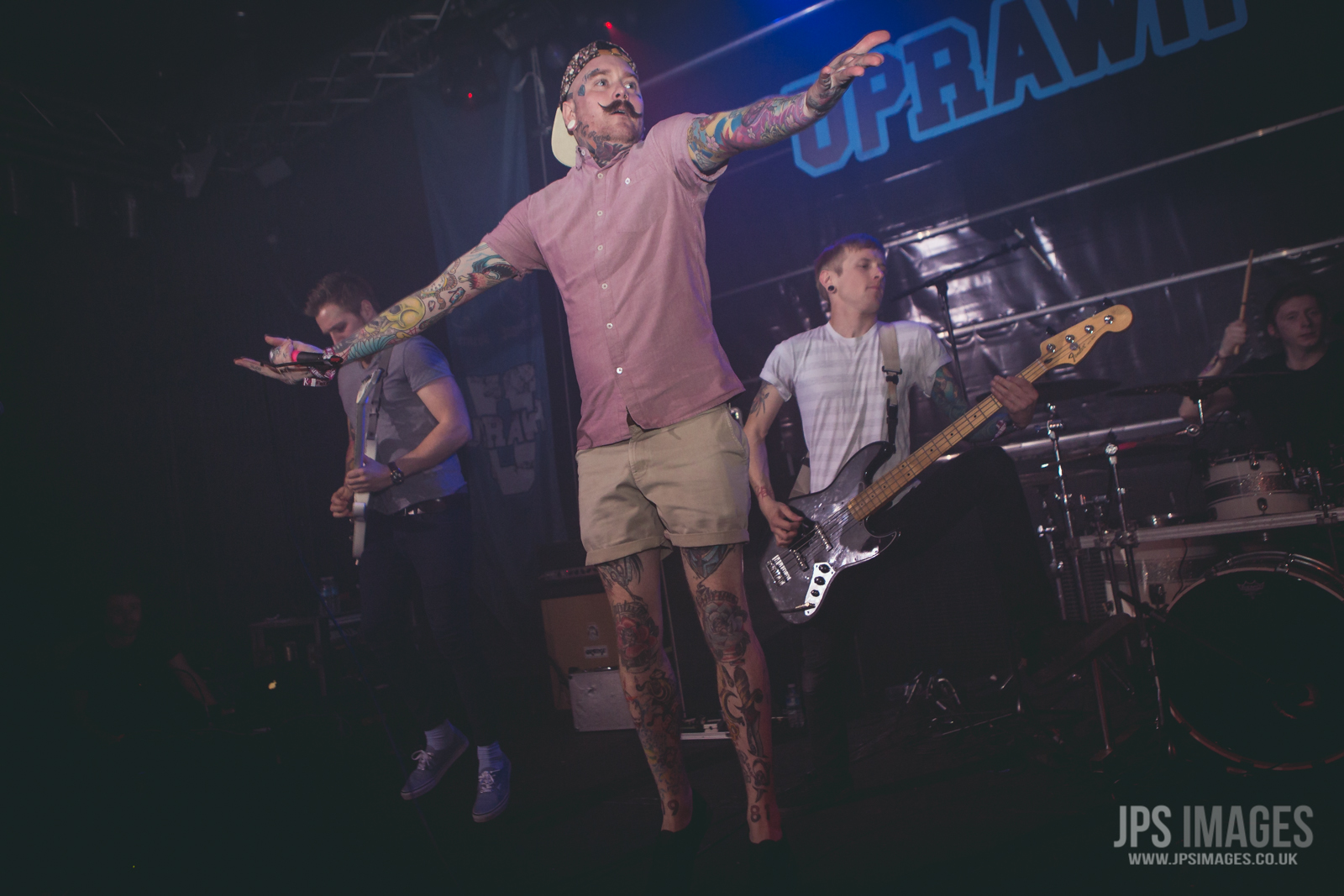 Next band to watch on my list was a band called Idiom on the Uprawr Stage. Idiom are an Alternative Metal band from Exeter, they've shared the stage with such bands as Devildriver, 36 Crazyfists, Skindred and tons more. Crowd all cheering as they walk on stage and start there set. After their first song the crowd really get into it as do the band, they all sync head banged and bouncing around the stage, at one point the vocalist gets into the crowd and gets them to sing along in the mic. Towards the end of the set a rubber blow up shark was thrown onto the stage where the vocalist picks up and swings around before throwing back into the crowd, lot of crowd interaction between songs. Was all round a great set and everyone enjoyed themselves? Before the set I managed to catch up with the band for a small Q&A.
Biggest influences? "Erm.. We don't really have one, we should come up with one as a group really. Deftones we all really like them".
How long have you all known each other? "We all grew up together in the same village and three of us went to the same high school just different years"
So you all get along really well, don't annoy each other or anything? "Nah we all get along pretty well" (Dan) "No one would want to annoy me, haha".
Biggest challenge as a band? "Coming from Devon, as it's so far out the way of everything, getting to places can be a pain"
Do people back home support you guys a lot? "Yeah, back home we've got a pretty big following, they come to our shows so we hope they like our music".
Favourite venue you've ever played? "HMV Forum was pretty amazing, Nottingham Rock City was awesome, Underworld London is always a fun and intense one".
If you could describe your band in three words what would they be? "Fun, energetic and different".
Anything big happening for you guys this year? "We've got our EP's coming out this year and also we've got tour in May".
Idioms music can be found threw there facebook page which is www.facebook.com/pages/IDIOM/12224761257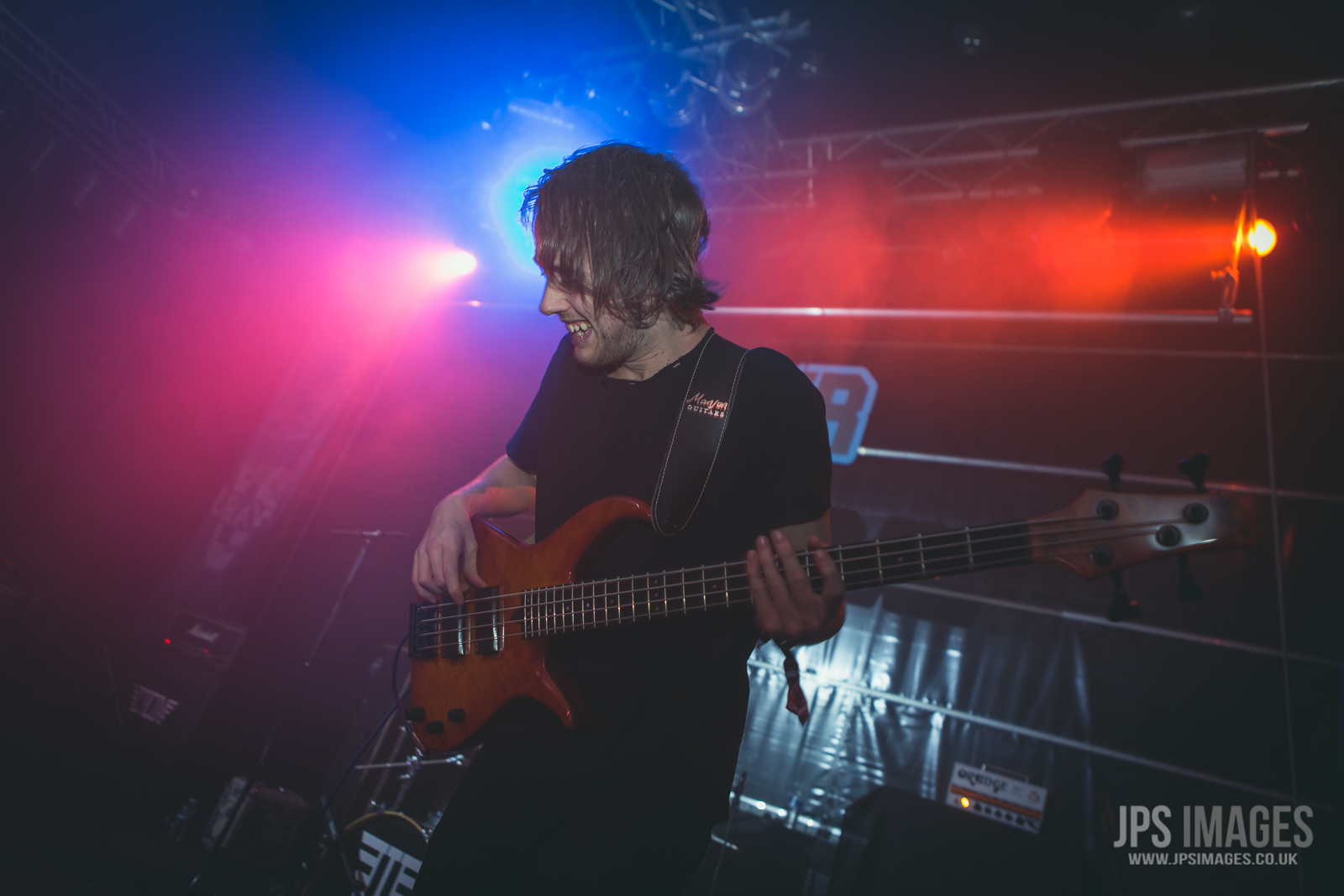 While walking around the venue I came across a band called Heart of a Coward. They're a metal band from Milton Keynes, with influences such as Deftones, Pantera, The Acacia Strain, etc… While watching this band I was sat on the balcony looking down at the crowd and band, everywhere you looked people where moshing, pitting and having a good time. Lead singer Jamie Graham was wearing camo, cargo shorts and vest, with all his tattoos on show. During the song Deadweight Jamie asked the crowd to all put their arms round each other's shoulders and the whole crowd erupted into song, singing back the lyrics. All the band got into it sync head banging and bouncing around the stage, also between songs talking to everyone in crowd. The music was tight and clear, I really enjoyed this band and would love to see them again. Music and other info on the band can be found at www.facebook.com/heartofacoward
Throughout the day I caught up with couple other bands to have a chat and Q&A. I had a chat with two of the guys from Yashin. They are a post-hardcore band from Scotland, formed in Greenock near Glasgow. I spoke with Harry (Screamer) and Kevin (Singer).
Biggest influences? (Harry) "It's all really spread out to be honest, from like Limp Bizket to Deftones, so heavy side of things" (Kevin) " I really like Panic at the Disco and Fall Out Boy"
Biggest challenge? (Kevin) "I lost my voice a little while back, so that was pretty hard" (Harry) "Being in a band is pretty hard, but also the best thing in the world"
Favourite venue you've ever played? "Err Rock City was good, but also ones in Europe, Hamburg". (Harry) "I love the CoCo, cause it's blood red theatre and really dark, so it's really cool".
Have you ever had anything embarrassing happen on stage? (Harry) "I fell off stage, I went to walk where there was nothing there and just fell off"
Was it a big fall did it hurt? "It was a big fall but I tried to make out that I meant to jump off, but it was quite funny" (Kevin) "You were just so confident walking into thin air".
Favourite album right now? (Kevin) "Restoring Force the new Of Mice and Men Album, that's pretty cool" (Harry) "I really like the new 1975 album. Architect's new album that's good, saw them the other day, it's doing really well in charts too".
Do you have any guilty pleasures? (Harry) "I like cars" (Kevin) "guilty pleasures… I like murders, hahahahaha" (Harry) "I like Candy, always eating candy"
What have you guys got coming up this year? "We're playing Sonisphere, recording our album, finishing that off in April. Also looking to do some support tours, headline tours and get out to other countries".
You can find their music and other stuff at www.facebook.com/theyashin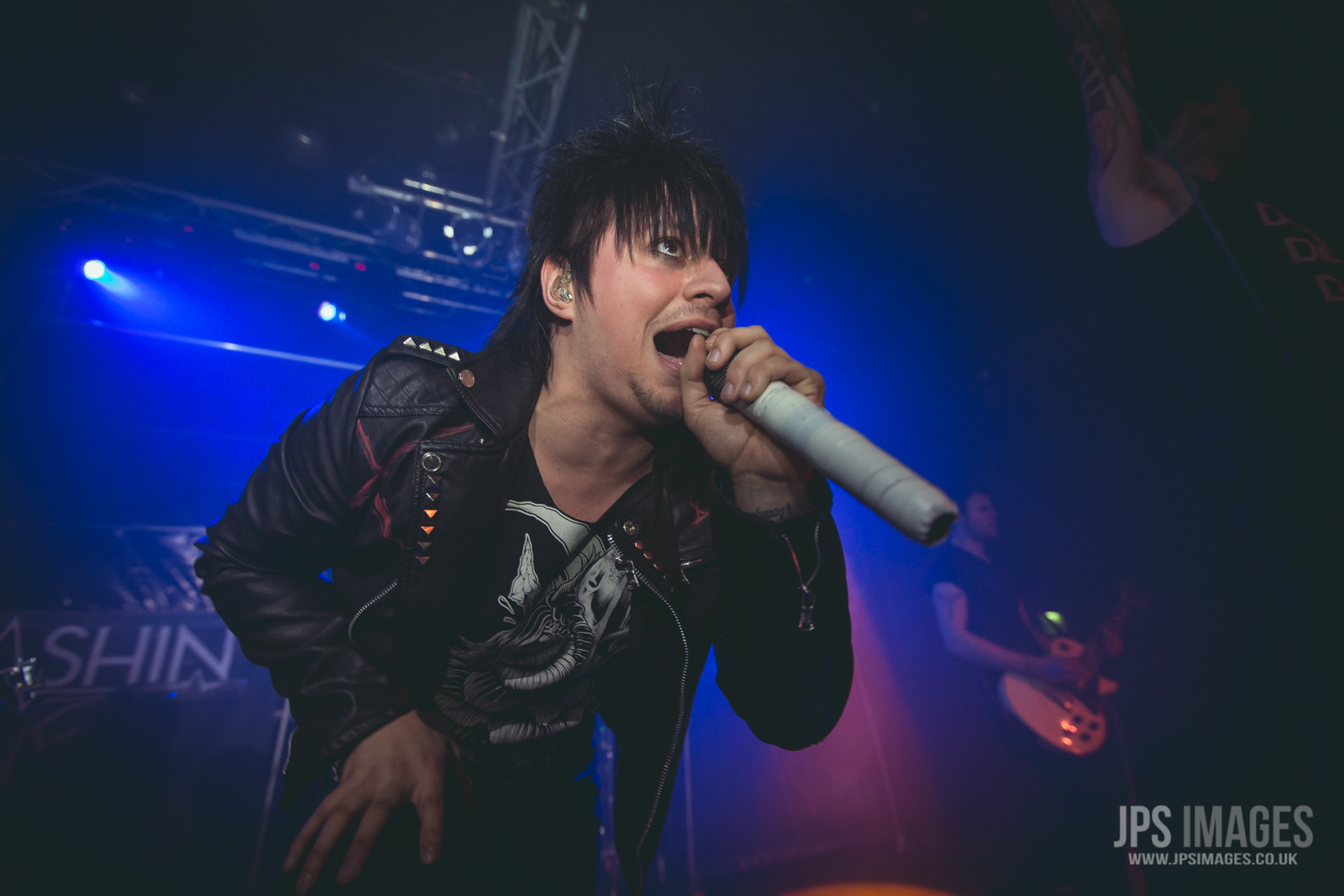 Last band of the night to play were the massive Funeral for a Friend. The band were formed in 2001 in South Wales, they're a post hardcore band, with influences from 90's and 00's hardcore, punk and metal with other bits and pieces here and there. The lead singer came on stage with the long sleeved shirt buttoned all the way to top and baseball cap, which I found very odd as it was boiling hot in the venue. Between songs there was a lot of interaction with the crowd, the room was filled to top with people watching, there was a mosh pit on front of me and people sitting on other people's shoulders singing the lyrics to the songs being played. All the band members were moving around, jumping up and down, and enjoying the atmosphere. The more the show went on the hotter it got in the area. I thought the band performed great and the crowd really enjoyed it, so it was al all round good performance by the headline band.
By the end of the event the venues were littered with cups all over the floor but the party wasn't close to finishing, I headed along to the after party and enjoyed some of the DJ sets and asked fellow Takedowner's if they'd enjoys the day and it appeared everyone had a really good day and were ready to party the night away.
Photos courtesy of JPS Images @ Takedown Festival