After a drier night, the arena is looking decidedly less slippy (good) but quite a lot stickier (gross) and the feeling of being sucked into the depths of hell pervades ones' thoughts if you stand still for any length of time. A dusting of woodchip and a dumping of hay around site has matted most areas into a lumpy farmyard but hey, it's a little less perilous than yesterday so we're not complaining.
Norwegian deathpunk glamsters Turbonegro, wake up the second stage sleepyheads with enigmatic newbie Tony Sylvester emerging in a sparkly Union flag cape and regal crown for a roaring 'All my friends are Dead'. Over on the main stage Steel Panther steal the hearts of the ladies in the crowd with their 80's rock personas and hip-thrusting action. The arena is rammed with lookalikes in bouffant wigs and zebra print lycra, screaming along to the likes of 'Asian Hooker' and 'Supersonic Sex Machine'. It's kitsch, it's corny, but it's all good humour and behind the filthily funny lyrics they are actually a fairly talented bunch.
However, it's the stand out comedy-meets-rock performance of Tenacious D that gains the real respect of the crowd, even if you don't much favour Jack Black, you've got to admire their story telling ability and straight up phallus-worship (in the form of a giant blow up cock and balls, made out to be the head of a colossal firey phoenix – in reference to their new album 'Rize of the Fenix'). Fan favourites 'Fuck Her Gently' and 'Kickapoo' are mere warm-ups to the arena-wide exultation of band epic 'Tribute' and a chorus of "Nay, we are but men… ROCK", as the D put it – they "made love to our ear-canals" and gave us "eargasms". Jack Black declares Download was on their list, the "Last one before the world explodes" referring to the Mayan calendar ending in December and Tenacious D leave the stage to a confetti ejacuation emanating from the head of the 'phoenix'.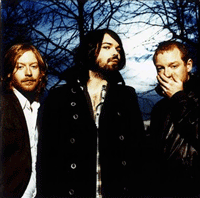 Skindred's second stage set is met with unfortunate sound problems – largely due to the wind, but once gold-suited Benji Webbe exploded into heavy 'Doom Riff' any fears of a failure were well and truly gone, and their skit of 'All the single ladies' (with proper bogling) was extremely giggle-worthy. Wild crowd love for 'Game Over' and 'Trouble' as well as 'Nobody' see the band going mental and it's tshirts off for the Newport Helicopter during 'Warning'. If you were anywhere else in the world – you were missing out. Even the security guards at the side of the stage had their phones out videoing the mania.
Biffy Clyro go off with thousands of dedicated fans, and the return of Killswitch Engage provides raw power with 'Life to Lifeless' (circle pits galore) and an extremely memorable cover of Dio's 'Holy Diver'. Main stage monsters Metallica are greeted by an arena FULL, front to back, side to side, of sardine-canned-fans. What it must feel like to look across that sort of a crowd one can only guess, but ripping into an intro set including 'Master of Puppets' and 'For Whom The Bell Tolls' – they prove why they're such a Download stalwart and deserve to top the bill. The reverence of The Black Album is felt like shivers down the spine of the collective crowd as the band begin to play it in reverse order, and an epic singalong (and lighter swaying) for 'Nothing Else Matters' may well have been heard by low-flying planes. Following up with the likes of 'Battery' and 'Seek and Destroy', Metallica detonate well before the pyrotechnics do. This is their 7th Donington performance, and despite some dodgy sound at the back – it's one you'll tell your kids about, for all the right reasons.