Once upon a time there was muddy swamp seated in the backwaters of the Bayou… oh wait a second, sorry, scratch that… it's Drownload Festival 2012!
For early birds in the campsite on Wednesday, crowing over their favourable release from the workplace, it may have seemed like a rock-filled dream… until Thursday. The heavens opened and smite was heaped from on high with almost constant downpour from the get-up. Campsites quickly turned into duck ponds with many having to evacuate tents in favour of sleeping in the car or even leaving the festival entirely, and going to the portaloos was practically a mud-slalom event worthy of the Olympics. Welfare tents overrun with various ailments and incidents, fallen victims staggering about like bilge-monsters from the deep, and forlorn looking metallers with sodden dreadlocks were the scenes of Thursday and Friday morning.
But wait, this is Britain and these are The British. This nation was practically built on the ability to keep calm and carry on, or in the average Download goer's case – get wasted and rock on. However, spirits aren't exactly lifted with a two hour pushback for the arena opening, forcing some bands off the bill entirely and others to play later slots, as well as having 'cleverly' closed off nearly every available motorway junction to the event, creating great backlog for folks trying to get into the site. Those caught in the hours long traffic included Swedish rock legends Europe, presumably doing the final countdown to missing their slot completely. As sludge-ridden fans waited for the absent band a huge karaoke Final Countdown was paid in homage.
It is the warm/violent embrace of a circle pit that welcomes the first mainstage band Fear Factory (due to Cancer Bats and Rise to Remain being shimmied around) who proceed to rip through to closing favourite 'Replica' with gusto and Fat Mike of NOFX brings a little comedy to the mix whilst they roll out the likes of 'Dinosaurs Will Die' and 'Perfect Government'. Billy Talent invite Cancer Bats on stage for a collaborative effort on 'Hail Destroyer' and over on the Jägermeister acoustic stage Skindred's Benji Webbe is showing off his Michael Jackson dance moves and singing whole songs in 'little kid crying' style… just for the craic. Oh and he forgot the words for Doom Riff. Call it a warm up for tomorrow.
Machine Head's explosive performance was foretold by reports of their not-so-secret Ten Ton Hammer gig in London earlier in the week but there's something utterly great about seeing a band thrash it out in the open like wild things and the huge sweaty mosh pits tell a tale of a ruddy good show. 'Imperium' is received in exactly the manner it's intended – a war anthem with the cry of thousands of fans going berserk.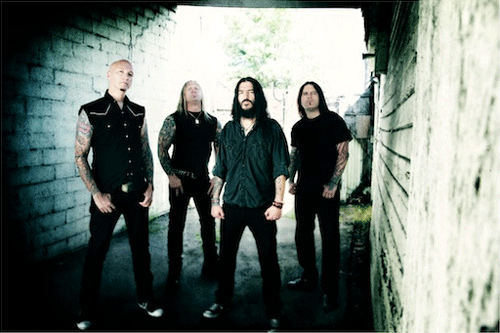 Controversial dnb booking Chase & Status are hands down a triumph, the thumping basslines of 'Eastern Jam' and 'Hypest Hype' can not only be heard, but felt all around the arena, and Nightwish's 'Amaranth' on the Encore stage is completely overshadowed by the London duo's 'Pieces'. The rest of Nightwish's set though pretty, is largely uninspiring. Sure 'Last of the Wilds' is a beautifully haunting piece, but vocalist Anette Olzon doesn't stack up to axed band member Tarja Turunen's operatic style in old tracks 'Wish I had an Angel' and 'Nemo'. It's not that she's bad, it's just that if you already own the albums – it's a bit disappointing. The pyrotechnics and Tuomas' giant Phantom-esque pipe organ is interesting but they just don't have the spark that their Tarja fronted Download appearance in 2005 did.
Encore headliner Slash wails like no-one else on earth and the second stage arena is awash with shred-fans for GnR song 'Sweet Child of Mine' and Velvet Revolver's 'Slither'. Friday's mainstage headliner The Prodigy finally get underway 30 minutes late, opening with 'World's On Fire' and enough decibels to reanimate the dead. Super hits 'Breathe' and newest album tracks 'Thunder' and 'Omen' are instant fodder for rave hungry revellers, but classic 'Firestarter' is the body-thrashing anthem everyone has been waiting for. 'Smack my bitch up', 'Diesel Power' and 'Take me to the Hospital' are as firey as expected and The Prodigy go out with an almighty bang. That's one flame the rain couldn't dampen.
Review by Anna Hyams