Eagles of Death Metal
In 1998 Jesse Hughes formed Eagles of Death Metal with Josh Homme from Queens of the Stone Age, and together they have recorded three albums packed with filthy rock 'n' roll. However, it is live the band really stands out, and it's here their cheeky and sweaty boogie rock time and time again have been responsible for a discharge of energy that has blown people away.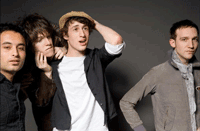 Bombay Bicycle Club
The active Brits have released three albums in three years, but it is with "A Different Kind of Fix" and not least the single "Shuffle" the band has caused ripples outside their home country, where they in 2010 won the NME Award for Best New Band in front off both Mumford & Sons and The xx. So it is with pride and great expectations, we can now present Bombay Bicycle Club at Northside.
Lukas Graham
There are not many Danish acts that can boast of having sold out to their extra concerts in Aarhus, Aalborg, and Copenhagen without having released an album. But Lukas Graham is the hottest name on the Danish music scene right now and will only become hotter when the debut album comes on Monday. The band is also nominated for a P3 Guld Award, so it's a band with an unusual amount of wind in its sails, which will soon set course for NorthSide.
Freja Loeb
Last year both GAFFA and Soundvenue handed out five stars to Freja Loeb for her debut album, which came out some months after the single "Never Stop Coming Back" had been single of the week on P3. Also "Soft Blues" was played heavily, and when the singer earlier this year went on tour GAFFA was again ready with five stars and adjectives like "excellent", "impressive", and "fabulous." The Danish singer is the last addition to NorthSide program, and you can hardly put a finer end to the additions to the program.
The official line-up for NorthSide 2012 is: The Asteroids Galaxy Tour (DK), Bat For Lashes (UK), Bombay Bicycle Club (UK), Choir of Young Believers (DK), Dúné (DK), Eagles of Death Metal (US), Emeli Sandé (UK), Freja Loeb (DK), Garbage (US), The Gaslight Anthem (US), The Hives (S), James Blake (UK), Justice (F), Kasabian (UK), Kashmir (DK), The Kooks (UK), Little Dragon (S), Lukas Graham (DK), Malk de Koijn (DK), Marina and the Diamonds (UK), Miles Kane (UK), Mumford & Sons (UK), Noah & The Whale (UK), Noel Gallagher's High Flying Birds (UK), Oh Land (DK), Snow Patrol (UK), The Stone Roses (UK), Turboweekend (DK), When Saints Go Machine (DK), and The xx (UK).