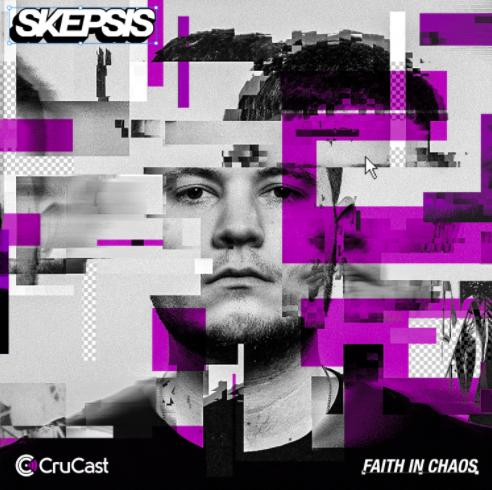 CRUCAST
South London sensation Skepsis is to release his Faith In Chaos album on October 1st via the mighty Crucast label. Across 15 tracks the self-taught producer lays out his genre-busting vision for dance music and takes things to a whole new level in the process. A special launch party featuring the likes of DJ Q, Jamie Duggan, Window Kid, Royal_T and more is set for October 16th Ministry of Sound with two singles to come before that event.
Skepsis doesn't ever disappoint. He crafts high-power tunes that blow up clubs and festivals around the world. He has played most of them himself from Glastonbury and Amnesia Ibiza to Coachella and Leeds Festival. Since being named winner of "Best Bass DJ" at the Bass Music Awards in 2018, Skepsis hasn't looked back. His high-energy tunes, bootlegs and remixes have lit up the scene and picked up millions of streams and views across the planet. This year alone he has dropped a remixes of DJ Fresh and Jauz, collaborated with My Nu Leng on Hot Flush (ft. Duskee), released Sun Go Down on Spinnin and much more. Now, the vibrant artist breaks new ground across the 15 high-impact tunes on Faith In Chaos.
This dynamite new album features dark and dirty skanks like Affiliation Part 2 with Bru-C, saw tooth synth bangers like Lose My Mind with Window Kid, fresh takes on deep, garage-tinged house like Used To and brain-melting bass bombs like Acid. Further collaborations with Jammz, Cajama, Cadence and more all make this a brilliantly diverse collection of red hot and super contemporary club cuts.
Faith In Chaos shows just how far Skepsis has come in a short period of time.
Release Schedule here:
OUT NOW – FIRST SINGLE / WINDOW KID
24TH SEP – 2ND SINGLE / KANINE
1ST OCT – ALBUM DROPS
16TH SEP – ALBUM LAUNCH AT MINISTRY OF SOUND LONDON