Standon Calling will open its gates a day early for the first time ever on Thursday 28th of July as it welcomes festival goers for The Welcome Feast. Whether revellers would like to extend their festival weekend or just come along for one evening, The Welcome Feast sees the festival continue to raise the bar on its food and drink offering which features revered traders such as Le Bun, Spit & Roast and Club Mexicana, pop up restaurant from Ceru and Real-Ale Bar from Red Squirrel Brewing Co and Hackney Brewery. The pre-opener will be soundtracked by wandering and shanty musicians before revellers gather around the campfire for a singsong. The Welcome Feast starts at 4pm until late and tickets are only £20 for ages 13+ and free for 12 and under. For more information visit standon-calling.com.
---
For the first time ever Standon Calling will open its doors early on Thursday afternoon and evening to extend what's already set to be a truly unforgettable weekend. The festival boasts an impressive musical line-up including the likes of Suede, Jess Glynne, Kelis, Everything Everything, The Hives and many more, plus its biggest family and food programmes to date. The Welcome Feast now adds even more reasons to head to Standon Calling this year.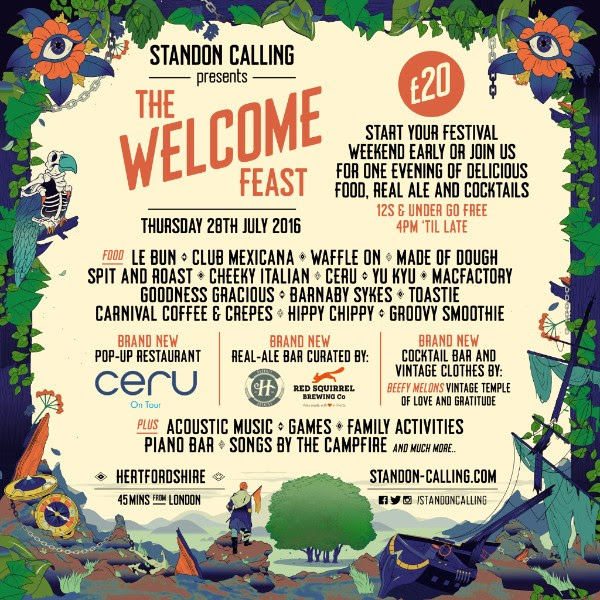 Revealing a mouth watering line-up of food and drink last month including Le Bun, Club Mexicana, Maltby Market legends Waffle On, Made Of Dough, Cheeky Italian, Mac Factory as well as Standon Calling's own pop restaurant by Ceru, the festival will bring them all together for an evening of incredible food. Many traders will be offering smaller dishes of their signature dishes for £5 and under for hungry festival-goers that really want to take advantage of the feast. A Real Ale Bar co-curated by Hertfordshire brewery Red Squirrel and London's Hackney Brewery will be on site to provide quality ales and beers, while Beefy Melons serve up refreshing Cocktails as well as the best Vintage clothing to make sure all early-comers are well dressed for the occasion.
As well as offering delectable food and drink, The Welcome Feast will include Wandering Musicians playing acoustic folk and sea shanties along with Songs around the Campfire to bring the Standon Calling community together. Family activities and games are also on offer and Hot Tubsand Piano Bar provide respite from the action for those that like to relax before the full festival begins.
Standon Calling is the ultimate overgrown manor house party, offering renowned and upcoming acts, immersive theatre, a host of weird and wonderful workshops, fantastic family programme, talks, the annual dog show, a fancy dress parade and of course its own heated outdoor swimming pool. The story for this year is Legend of the Lost Seas, which will see the boutique festival pulling out all the stops for an immersive ride from start to finish. 2016 is shaping up to be a special year indeed.

FULL LINE-UP
Live
Suede / Jess Glynne / Kelis
The Hives / Everything Everything / Ghostpoet / Anna Calvi / Blossoms / The Thurston Moore Group
Swim Deep / Tiggs Da Author / Toy / Loyle Carner / Adam Green / The Duke Spirit / Teleman / Honne / Natty / Billie Marten / NZCA Lines / The Hot 8 Brass Band / The Mouse Outfit / The Cuban Brothers / Declan McKenna / Kiko Bun / Blood Red Shoes / Meilyr Jones / Rag'n'bone Man / Rationale / Clean Cut Kid / Yak / The Hunna / Pins / Hackney Colliery Band / Jones / Charlie Cunningham / Flyte / United Vibrations / Revere / The Amazons / Tangerines / Exmagician / Hannah Lou Clark / Seramic / Maddox / Peluche / Bella Figura / Nadia Nair / Petricia
Electronic Line-up
Theo Parrish / GOLDIE / Joey Negro
Gold Panda / Greg Wilson / Luke Abbott / Crazy P Soundsystem / DJ Format & Abdominal
Dr Packer / Kid Fiesta / The Mixnots / Nixwax
Cowshed Takeovers
Hospitality Presents: London Elektricity / Fred V & Grafix / S.P.Y / Krakota / Hugh Hardie / Ownglow Wrec / Inja / Carasel
Savage Disco: Artwork / Purple Disco Machine / Jonjo Jury / Jonathan Bestley / Guy Williams
Food Programme
Ceru pop-up restaurant / Cheeky Italian / Le Bun / Ceru Souk / Club Mexicana
Spit and Roast / Made of Dough / Mac Factory / Yu Kyu / Barnaby Skyes
Ceru Souk / Toasties / Waffle on / Hippy Chippy / Goodness Gracious Me
Original Fry Up Material / Carnival Coffee
Family Programme
Baby & Toddler: Yoga / Massage / Multi-sensory Mini Raves / Storytelling / Toys & Games / Chill-out Zone / Change & Feed Facilities
Kids: Circus Skills / Hula Hoop Shows & Workshops / Juggling Performances / Street Dance Classes / Junk Craft / Puppetry / Mask Making / Jewellery Design / Dress-up / Nail Art / Library / Parachute Games / Rainbow Ribbon Dancing / Balloon Modelling / Bubbles
Older Kids & Teens: Workshops & Projects: DJ Skills / Film Production / Music Production / Creative Sessions / Giant Interactive Junk Art Installation
The Welcome Feast
Le Bun / Club Mexicana / Waffle On / Made Of Dough / Spit and Roast / Cheeky Italian / Ceru / Yu Kyu
Mac Factory / Barnaby Skyes / Carnival Coffee & Crepes / Hippy Chippy / Real-Ale Bar
Beefy Melons / Piano Bar / Wandering Musicians
Hot Tubs / Family Activities / Games / Songs by the Campfire