Found presents Moondance Festival unite with some of the UK's most prestigious, independent promoters to celebrate the pioneers of dance music, showcasing the best in old skool, drum & bass, garage, house, jungle and grime. Taking place at a new location, Queen Elizabeth Olympic Park in east London on Sunday 18th September 2016, Moondance Festival will be one of the first electronic music events hosted on the iconic site.
Following four sold out festivals at Finsbury Park, the promoters who have been behind these festivals feel it's time to take you on a new adventure to an exciting, previously unused London site…
Created for the London 2012 Olympic and Paralympic Games, Queen Elizabeth Olympic Park will now provide a unique location to host Moondance Festival. Covering 560 acres, the stunning Park includes 6.5km of waterways,15 acres of woodland and eight permanent venues, all situated within a 10 minute walk from Stratford International station.
Celebrating 21 years in the industry, the main stage will be hosted by Moondance, who have assembled a lineup that spans some of dance music's most influential figures. Highlights include a headline set from US house and garage producer Todd Terry, leading house and techno artist and dance music pioneer Joey Beltram. A Guy Called Gerald will play an exclusive 'Evolution of dance music' Live set from acid house to jungle, with further performances from infamous figures of club culture including live sets from Altern8, Angie Brown, DJ Phanatasy with SAS, Channel One, General Levy and Ratpack vs SL2.
As the biggest garage brand on the planet, Garage Nation are also to host an arena. Drawing on 18 years of experience, they have assembled a lineup that includes seminal garage act Artful Dodger and DJ Luck & MC Neat playing a special collaborative performance. Oxide & Neutrino, Mike Delinquent and DJ Cartier are also set to appear, as well 90s garage pioneers Sticky and Scott Garcia playing as Foundation.
Award winning drum & bass promoters Breakin Science will be ramping things up in their arena with a headline set from Virus Recordings' Ed Rush & Optical. Showcasing Ram Records will be Hamilton & Frankee plus from the Playaz camp Sub Zero, as well as performances from Mampi Swift, Shadow Demon Coalition, New Breed Crew and the return of U.N.C.Z.
Elsewhere in the Park, old skool vanguards Epidemik have recruited some of rave culture's most legendary figures with a headline set from Fabio & Grooverider with MC MC, Slipmatt, ,Billy Daniel Bunter,

plus an electrifying Shut Up & Dance showcase featuring

Ragga Twins & Peter Bouncer, DJ Sy and Uncle Dugs vs Nicky Blackmarket.
Jungle Mania and Roast join forces to host an arena that will satisfy even the most hardened of jungleists. Congo Natty alongside Tenor Fly & Congo Dubz will take top billing with further highlights including Dillinja & Randall, Micky Finn, Kenny Ken, Bockie, Bryan G & Jumpin Jack Frost and a jungle classics set from Shimon.
Bringing classic house jams to the party, Promised Land have secured Chicago house legends Fast Eddie and Marshall Jefferson to headline their stage. Further sets will come from the likes of Alison Limerick, Nicky Holloway, Terry Farley, Brandon Block & Alex P, Huck Finn and more.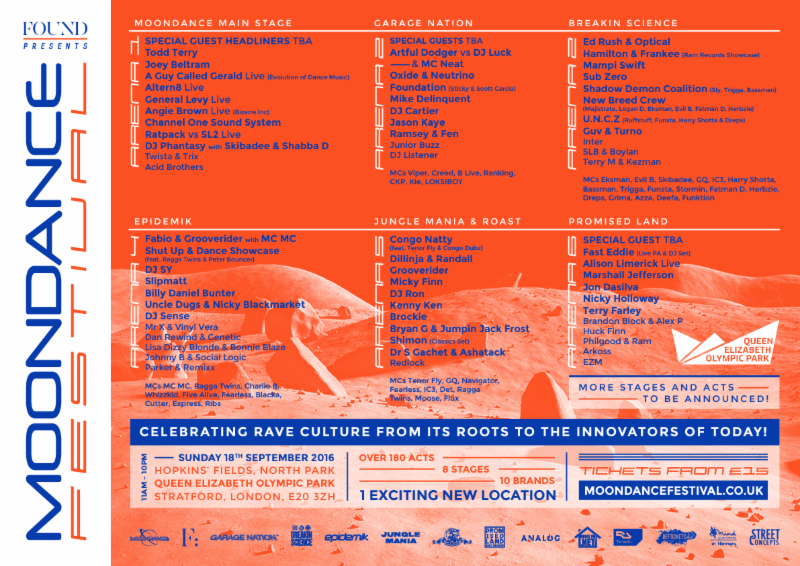 With plenty of surprises still to come, Moondance Festival's final two arenas are still to be revealed as well as further headline acts to be announced for the main stage and Garage Nation arena.
Promoting the same egalitarian and unifying ethos that underpinned early dance music culture, Moondance Festival will have no VIP arena, with festival-goers free to enjoy every stage throughout the day.
MOONDANCE MAIN STAGE
SPECIAL GUESTS TO BE ANNOUNCED
Todd Terry
Joey Beltram
A Guy Called Gerald Live (Evolution of Dance Music)
Altern8 Live
General Levy Live
Angie Brown Live (Bizarre Inc)
Channel One Sound System
Ratpack vs SL2 Live
DJ Phantasy with Skibadee & Shabba D
Twista & Trix
Acid Brothers

GARAGE NATION (GARAGE)
SPECIAL GUESTS TO BE ANNOUNCED
Artful Dodger vs DJ Luck and MC Neat
Oxide & Neutrino
Foundation (Sticky & Scott Garcia)
Junior Buzz
DJ Listener

MCs Viper, Creed, B Live, Ranking, CKP, Kie, LOKSIBOY

BREAKIN SCIENCE (DRUM & BASS)
Ed Rush & Optical
Hamilton & Frankee (Ram Records Showcase)
Sub Zero
Shadow Demon Coalition (Sly, Trigga, Bassman)
New Breed Crew (Majistrate, Logan D, Eksman, Evil B, Fatman D, Herbzie)
U.N.C.Z (Ruffstuff, Funsta, Harry Shotta & Dreps)
Guv & Turno
Inter
SLB & Boylan
Terry M & Kezman

MCs Eksman, Evil B, Skibadee, GQ, IC3, Harry Shotta, Bassman, Trigga, Funsta, Stormin, Fatman D, Herbzie, Dreps, Grima, Azza, Deefa, Funktion

EPIDEMIK (OLD SKOOL & JUNGLE)
Fabio & Grooverider with MC MC
Shut Up & Dance Showcase feat. Ragga Twins & Peter Bouncer
DJ SY
Slipmatt
Billy Daniel Bunter
Uncle Dugs & Nicky Blackmarket
DJ Sense
Lisa Dizzy Blonde & Bonnie Blaze
Johnny B & Social Logic
Parker & Remixx
MCs MC MC, Ragga Twins, Charlie B, Skibadee, Whizzkid, Shabba D, Five Alive, Fearless, Blacka, Cutter, Express, Ribs

JUNGLE MANIA x ROAST (JUNGLE)
Congo Natty feat. Tenor Fly & Congo Dubz
Dillinja & Randall
Grooverider
Brockie
Bryan G & Jumpin Jack Frost
Shimon (Classics Set)
Dr S Gachet & Ashatack
Redlock
MCs Tenor Fly, GQ, Skibadee, Fearless, IC3, Det, Ragga Twins, Moose, Flux, Express
PROMISED LAND (CLASSIC HOUSE)
SPECIAL GUEST TO BE ANNOUNCED
Fast Eddie (Live PA & DJ Set)
Alison Limerick Live
Marshall Jefferson
Nicky Holloway
Terry Farley
Brandon Block & Alex P
Huck Finn
Philgood & Ram
Arkoss
EZM

ARENA 7 – TO BE ANNOUNCED

ARENA 8 – TO BE ANNOUNCED