Now in its 11th year, Latitude Festival once again sets the bar high for summer festivals with the largest comedy line up in the UK, offering festival goers an unrivalled opportunity to see some of the biggest names in the industry, all over the same weekend.
Latitude's Curator of the Arts, Tania Harrison says:
"Latitude has always prided itself on the breadth of our line ups and this year is very exciting. In the Comedy and Cabaret Arenas you'll find newcomers, rising stars and international acts. We have comedy in all its guises, including the first of our announced headliners; Russell Howard, who we're delighted is headlining on Friday. Russell is joined on the bill by some of the most brilliant UK and US comics, including Josh Widdicombe, Reggie Watts and Bridget Everett. We're also presenting some of the most vibrant cabaret, from Duckie and The Glory. There's a home for every kind of comic and comedy fan at Latitude this year."
Latitude is thrilled to announce the first of the Comedy Arena headliners for 2016, the phenomenally talented Russell Howard who has enjoyed massive success with Russell Howard's Good News, establishing Russell as one of the UK's most successful comedians and a rising international star.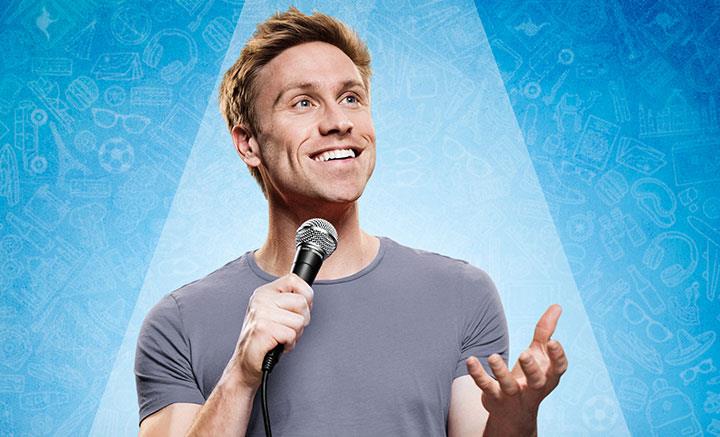 Comedy trailblazer Josh Widdicombe, who has had a remarkable impact on the circuit since his debut gig in 2008, will also perform at Latitude. Josh is now considered one of the most in demand and highly regarded comedians in the UK for both his live stand-up and TV work, including Channel 4's award-winning The Last Leg and highly acclaimed BBC3 sitcom Josh, which has been commissioned for a second series.
Internationally renowned beatboxer and comedian Reggie Watts will also be wowing the audience with his unpredictable performances, which are created on-the-spot using only his formidable voice and looping pedals. Multi-talented Reggie has opened nightly for Conan O'Brien's sold outProhibited From Being Funny on Television tour, hosted his own critically acclaimed TED talk, recorded the sublime original score to Ridley Scott's Legend, toured with Regina Spektor and currently appears regularly on The Late Late Show with James Corden.
Latitude is also hugely excited to welcome Paul Merton's Impro Chums. Paul Merton, one of the UK's most popular comedians, performs with his highly renowned Impro Chums: Mike McShane, Lee Simpson, Richard Vranch and Suki Webster. They will create a brand new show inspired by suggestions from the Latitude audience, as well as their own finely honed improvisational skills. The Evening Standard says; "few can go comedy commando as well as this bunch."
Silence with noise, stand-up with no talking, drama with no acting. This show speaks for itself. This uniquely exciting one-man show from New Zealand is attracting attention the world over. The Boy With Tape on His Face has racked up awards in Australia, New Zealand and the UK including a Foster's Comedy Award at the Edinburgh Fringe. He's been seen on the Royal Variety Performance and has won over London's famous West End, playing to packed houses and racking up a raft of five star reviews.
Joining this year's stellar line-up will be comedy heavyweight Al Murray who will be delighting the Latitude audience with his alter ego The Pub Landlord. This year he took his satirical take on right wing politics to the next level when he ran against Nigel Farage in the hotly contested Kent constituency of South Thanet as leader of the Free United Kingdom Party (FUKP). Award-winning Irish comedian and self-declared man-child David O'Doherty will also be lighting up the stage this year with his pre-adolescent responses to current events, as well as some songs on a tiny keyboard from 1986.
Robin Ince, comedy's answer to Brian Cox, and the fiercely political Josie Long will present a very special edition of Festival Shambles. The two will be rekindling their comedic chemistry as heard on their popular podcast Book Shambles. Now in its fifth series, the two comedians have discussed quantum physics with Charlotte Church, Charlie Chaplin and Eddie Izzard, and what to read when you're in outer space with astronaut Chris Hadfield.
Edinburgh Festival Award Winner and Time Out Critics Choice, Mark Watson; one of the UK's top live comedians, will also be taking to the Comedy Arena. Not only a regular on television shows such as Mock The Week and 8 Out of 10 Cats, Mark has been the face of shows such as BBC Four's We Need Answers and BBC Radio 4's Mark Watson Talks a Bit About Life. Since making her debut in 2007, Sara Pascoe has become one of the most accomplished comedians in the country, having appeared on QI, Never Mind The Buzzcocks and the BBC's Twenty Twelve. What's more, host of Live At The Apollo and star of Radio 4, the great Hal Cruttendenwill perform his energetic laugh-packed show that has put him in "comedy's premier league" according to the Evening Standard.
BAFTA nominated director, writer and comedian Nick Helm will be gripping audiences with his unique, powerful, and above all, hilarious blend of one-liners, stories, poems and songs, andSimon Evans will have the Latitude audience delighting in his witty and insightful take on the uncompromising comic territory of commodities, trading and wealth that has won him regular spots on TV and radio.
For even more laughs, Sony and Writers Guild Award winning writer and comedian Mark Steelwill be bringing his routine to Latitude alongside Sam Simmons who will share his fresh satirical take on observational comedy. From his stage debut at the Manchester Comedy Store in 2008 to performing international sell out shows, the intensely charming rising talent Joe Lycett will be bringing his award-winning stand up to Latitude. He'll be joined by Kerry Godliman; the quick witted star of Live At The Apollo, Michael McIntyre's Comedy Roadshow and Derek.
Audiences at the Literary Arena will be treated to Pappy's, who will present The Secret Dudes Society. The comedy trio have been shortlisted for the Edinburgh Comedy Award, Loaded LAFTA Award as well as two Chortle Awards, and their anarchic hijinks are the centre of popular Netflix sitcom Badults. Pappy's are a Literary Arena Friday Night Favourite.
Another comedy troupe bringing laughter to the Latitude Literary Arena is musical comedy actThe Horne Section. Fresh off the back of their successful third series for BBC Radio 4, The Horne Section will bring together stand-up and live music improvisation in a free-wheeling and spontaneous combination at Latitude Festival.
Daniel Sloss, who has received international acclaim after clocking up eight consecutive sold-out Edinburgh Fringe seasons as well as several TV appearances including Conan O'Brien andSunday Night at Palladium, will be performing. Joining him will be young talent and winner of the Best Breakthrough Act and Best Show at the Chortle Awards 2015 James Acaster, plus Radio 4 Newsjack presenter Nish Kumar who'll begin his hotly anticipated fifth solo year at the Edinburgh Fringe Festival this year.
Best Newcomer Award winner in the 2014 Foster's Edinburgh Comedy Awards; Alex Edelman, will be showing why his award-winning show Milennial has exposed him to the international stand-up community as once of its brightest young talents.
Also delighting the Comedy Arena audience will be former face of MTV and star of BBC3'sImpractical Jokers; Joel Dommett. Joel is an exciting and fresh talent on the UK stand-up comedy circuit who gained rave reviews for his Edinburgh shows, Neon Hero in 2011, Nunchuck Silver Medalist in 2012, and 2014's Finding Emo.
Max & Ivan will present Our Story, in which the Foster's Edinburgh Comedy Award nominees Max & Ivan (BBC2's W1A, Radio 4's Casebook of Max & Ivan) introduce the world to two never-before-seen characters; themselves. The Elis James & John Robins Experience will see Elis James and John Robins bring their hit Radio X podcast to Latitude. Finally, a chance to truly taste the vibe!
Setting the scene at the Cabaret Arena will be the multi-award winning laconic Frenchman Marcel Lucont with Marcel Lucont's Whine List: dry wit, bawdy chansons and exquisite sex poetry have seen him tour the world. And if that's not enough, sketch artist duo Cardinal Burns (as seen on Channel 4), will be joined by Jamie Demetriou and Ellie White, in what is sure to be a riotous improv show, jam-packed with both new and familiar characters, and with certain special guests.
Apologetic Eton and Oxford Alumnus and regular fixture of the UK comedy circuit Ivo Grahamwill be taking to the stage, along with award-winning Australian sensation Felicity Ward, who has rapidly taken the British Comedy scene by storm. Ever felt like you should be better at feminism? Deborah Frances-White & Sofie Hagen will be bringing a special edition of theirGuilty Feminist podcast to Latitude, discussing topics "all 21st century feminists agree on" while confessing the insecurities, hypocrisies and fears that underlie their lofty principles.
An exceptionally talented impressionist, Luke Kempner garnered global attention in 2012 with his hit viral video Downstairs At Downton. Since then, Luke has gone from strength to strength, taking his one man show The Only Way Is Downton (described by the Daily Telegraph as a "remarkable tour de force") to theatres and festivals across the UK, including Latitude.
Also taking to the stage will be former social worker and now TV and radio stand up regularAngela Barnes, prolific young comedian and radio presenter Al Porter, and comedian and columnist Shazia Mirza, who is currently being lauded for her The Kardashians Made Me Do Ittour; a searing and urgent exploration of life, love and Jihadi brides.
The Cabaret Arena will be treated by the Comedian's Cinema Club with Eric Lampaert, where audiences will get to see comedians anarchically recreate audiences' favourite films, from pre-teen chick flick The Princess Diaries to cult horror The Ring and Oscar winning The Revenant.David Elms will be taking audiences on a heart-warmingly funny journey through his relationships, and Rhys James – one of the Telegraph's 'Top 30 Funny People to Follow on Twitter' – will also be delighting the crowds.
The hugely talented Kiri Pritchard-McLean, Drunk History star Iain Stirling, I'm A Celebrityresident comedian David Morgan and winner of the prestigious Foster's Newcomer Award Phil Wang will be warming up the audience in between acts at the Comedy Arena as this year's MC's.
Canadian comic Bobby Mair will also be performing, along with the critically acclaimed character comedian Kieran Hodgson, plus self-declared underground comedian Richard Gadd, who theIndependent calls "simply remarkable".
The festival will be welcoming a number of comedy collectives including double act Lazy Susan, up-and-coming sketch comedy trio Massive Dad, The Best Newcomer Award winners at the 2015 Chortle Awards, quartet Gein's Family Giftshop, and the innovative BAFTA award winning writer and comedian Suzi Ruffell.
Latitude is also incredibly proud to present the young talent shortlisted for the 11th annualChortle Student Comedy Awards. The funniest and wittiest teens in the country will be performing their routines for the very lucky Latitude audience. Previous winners and nominees include several acts featured in this year's Comedy Arena line up including Iain Stirling andDavid Elms.
Also appearing this year will be Jamie Wood, Sean McLoughlin, Spencer Jones, Gabriel Bisset Smith, Daphne, Gráinne Maguire, Stuart Goldsmith, Robert Cawsey, Pierre Novellie, Elliot Steel, Tez Ilyas, Lloyd Griffith, Lolly Adefope, Beth Vyse, Goose, Tom Lucy, Fin Taylor, Jordan Brookes, Steve Bugeja, Kae Kurd, Mo Gilligan, Twayna Mayne, Eshaan Akbar, Funmbi Omotayo, Elf Lyons, Sophie Willan, Katia Kvinge, Brennan Reece, Lauren Pattison, Rose Matafeo, Jamali Maddix, Danny O'Brien, Kate Lucas, Emma Sidi, Eleanor Tiernan, Laura Lexx, Masud Milas, Sarah Keyworth, Joe Sutherland and Sarah Bennetto's Storytellers Club with Tom Bell, Andrea Hubert, Abigoliah Schamaun, Garrett Millerick & Joz Norris.

CABARET AT LATITUDE
Post-queer events collective Duckie will be bringing their incredible production, including acts from their legendary 21-year weekly residency at the Royal Vauxhall Tavern. The group will star Ursula Martinez, Figs in Wigs and Barbara Brownskirt & The Frank Chickens, and hosted by Myra Dubois with DJ's Readers Wifes.
London's most vibrant venue for new theatre, comedy and cabaret; Soho Theatre, will be delighting the Latitude crowd with their ground-breaking, edgy and unique show. Their late night Cabaret Arena takeover will be an unforgettable experience featuring a line up of some of their most exciting and glamorous acts including Bridget Everett, CHRISTEENE, Le Gateaux Chocolat, Peter & Bambi Heaven and Tom Allen.
The Glory, London's newest queer 'Superpub', will be showcasing the best of its performance programme. More than a pub, The Glory is a venue for alt-drag, performance art, music and theatre. Its 'Landladies', Jonny Woo and John Sizzle will host their own variety show featuring stars of both their drag queen and drag king competitions. Featuring The Glory's in house rock band, queer sketch comedy and other emerging performance stars, this is a party, in a pub, in a field!
The award-winning Desmond O'Connor will be joining forces with internationally renownedSarah-Louise Young to present Royal Vauxhall; an irreverent yet insightful new musical consisting of an improbable and outlandish night out with Princess Diana, Freddie Mercury and Kenny Everett. O'Connor's bittersweet lyrics and insanely catchy melodies won't fail to shock, charm and entertain the Latitude audience.
One of the most celebrated figures on the cabaret scene, Dusty Limits, will be performing his long awaited debut album Grin; an original collection of soulful and darkly comic songs that will create a portrait of a passionate character haunted by addiction and a broken heart. There will be more musical spoils from comedy drag country and western star Tina C who will be performing her biggest hits including No Dick's As Hard As My Life and Not Tonight Darlin', I Got A Heartache.
Mixing political satire with comedy, songs and truly ridiculous games will be Margaret Thatcher Queen Of Game Shows, and finally, Tim Bell will be performing his poignant, off-kilter show as bearded woman Dame Nature.