On July 10th, Stevie Wonder will perform his masterpiece Songs In The Key of Life in its entirety, for a truly epic, must-see show from one of the most prolific artists of all time.
Hugely acclaimed in the US, Songs In The Key of Life Tour has run for 18 months, having been extended many times due to phenomenal public demand. Coming to the UK for the very first time, there is extra reason for celebration because 2016 is the album's 40th Anniversary year.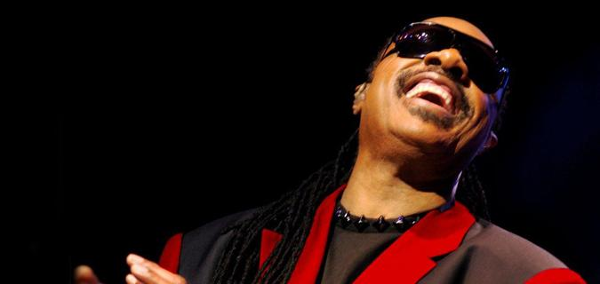 Released in 1976 on the legendary label Motown Records, featuring the hits Sir Duke, Isn't She Lovely and I Wish, it is cited as an influence on many of the world's biggest stars, Elton John, Prince, Michael Jackson and Pharrell to name a few. It was crowned Grammy Album Of The Year in 1977 and is widely hailed as a true work of art.
It followed an unsurpassed trilogy of albums that graduated Wonder from teenage Motown prodigy to true artist – Talking Book, Innervisions and Fullfillingness' First Finale – all released in the first 4 years of the 1970s. Wonder spent 2 more years on 'Songs', producing a double album of enthralling music and cementing his position as a musical genius.
Together, the albums made the 25-time GRAMMY winner the only artist to have ever received Album Of The Year awards in three out of four consecutive years.
Praise for the album over the years has come from all quarters:
Elton John – "Let me put it this way: wherever I go in the world, I always take a copy of Songs In The Key of Life. For me, it's the best album ever made and I'm always left in awe after I listen to it. When people in decades and centuries to come talk about the history of music, they will talk about Louis Armstrong, Duke Ellington, Ray Charles and Stevie Wonder."
Barack Obama (on his musical heroes) – "If I had one, it would have to be Stevie Wonder. When I was just at that point where you start getting involved in music, Stevie Wonder had that run with Music of My Mind, Talking Book, Fulfillingness' First Finale and Innervisions, and then Songs In The Key of Life. Those are as brilliant a set of five albums as we've ever seen."
Kanye West – "I'm not trying to compete with what's out there now. I'm really trying to compete with Innervisions and Songs In The Key of Life. It sounds musically blasphemous to say something like that, but why not set that as your bar?"
Praise for Songs in the Key Of Life US tour:
Rolling Stone – "Fitting an album that attempted to capture the nuance of existence, the show is possibly 2014's greatest testament to the limitless potential of American music itself."
Hollywood Reporter –"You just wanted it to go on forever, for it was yet another song in the key of Stevie Wonder's magical life."
Consequence Of Sound – "After three hours of playing, people were still hoping he'd do a second encore. You can tell it's not 1976 by looking at him, but you'd never know if you were only listening. Some things get old, but Stevie Wonder barely ages."