What is Slam Dunk
Festival season is on the horizon and getting ready to kick start it all is SlamDunk Festival taking place May's Bank Holiday weekend. The ever expanding festival is now set to take place over three central, easy to reach locations across the UK in Leeds, Wolverhampton, Hatfield.
With previous years showing the likes of All Time Low and The All American Rejects its no wonder why this one day wonder is not to be missed.
Just announcing their final editions to this year's festival, joining the line-up are;
Architects, Finch, We Are The Ocean, Set It Off, Cartel, As It Is, ROAM, Moose Blood, Stick To Your Guns, Deez Nuts, Dead Harts, Being As An Ocean, Baby Godzilla, SHVPES, Rob Lynch, Aaron West and The Roaring Twenties, This Wild Life, Fort Hope, Only Rivals, Wind In Sails, Survay Says! and Seaway.
And not only that, you can Catch Dani & Davyd from Bury Tomorrow (DJ set), Tek-One, The Algorithm, Teru from Crossfaith (DJ set), Mellisa Clarke and Total Uprawr resident DJ's at this year's Uprawr DJ Stage"
With an incredibly diverse line up this year, tickets are going fast with the southern location almost sold out. It's a bargain, and if you've not got the money for a big festival then this is by far the next best thing!
Check out our top ten list of who to see at Slam Dunk Festival 2015!
1) Neck Deep
Pop punk's finest new addition, this band from Wrexham, Wales formed in 2012 are taking the UK by storm. After the release of their debut album 'Wishful Thinking' the band soared to success, winning Kerrang's 'Best British Newcomer' in 2014. Having just finished touring the UK with the likes of All Time Low, taking on huge arenas, Neck Deep will be sure to have the confidence to smash SlamDunk's more intimate stages. Neck Deep's sing along anthems, and heartfelt acoustic set list guarantee one of the best crowd interactions of the whole festival. With a new album already recorded and produced by A Day To Remember's Jeremy McKinnon and Reading and Leeds main stage on the horizon these boys have earned their way to our Top Ten band to see at SlamDunk 2015.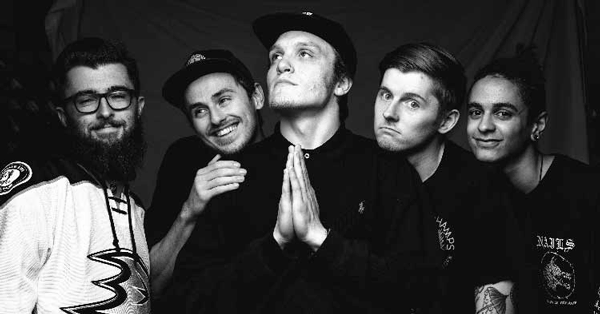 2) Pvris
With little need for introduction Lynn Gunn's hugely hyped pop rock band PVRIS are ready to take the UK as their own. With VANS Warped Tour just around the corner amongst non stop tour dates it's no wonder that this hardworking three piece have earned our top two.
After nearly a year after signing with Rise/Velocity Records, and the release of their debut album White Noise last November, this monochrome trio from Lowell, Massachusetts have already created a strong fan-base in England. Lynn Gunn's iconic female presence has taken our second place after the nomination for three of the upcoming Alternative Press awards, set for July. Why not come along and see what all the fuss is about, if it takes your fancy then be sure to cast your votes on Alternative Press's website.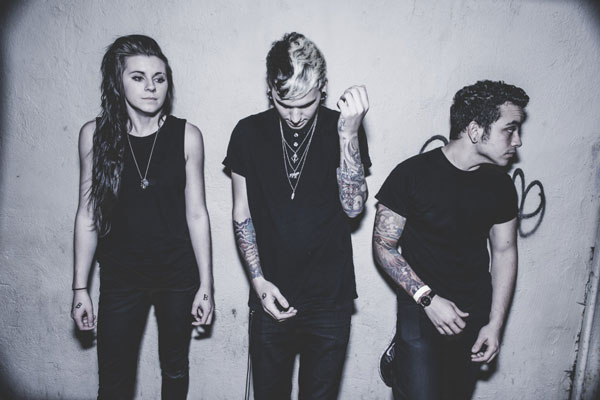 3) Architects
With the single Black Blood and the album Daybreaker , it was clear this band has a message they wanted to express to the world. They have proven to do things their own way and recorded their latest album within the comfort of their own home. The sixth album titled 'Lost Together Lost Forever' was released last March and these boys are still touring strong with that material.
Not only have they got an extravagant back catalogue filled with extremely diverse tracks, the band have good morals, all of the members are vegan, and are completely against animal cruelty. Not only can this be heard through Sam Carter's bark, the frontman lives up to his bite and is currently the Sea Shepherd UK ambassador. This organisation helps prevent whaling and is something the band is extremely passionate about. If you're interested in being part of this cause then be sure to head over to their merch table as some of the proceeds are forwarded to these charities.
Not only known to be an amazing studio band it's guaranteed you're going to get the same performance and passion in their set. It's precisely this reason why this band deserves to be so high up on our top ten bands to see at SlamDunk 2015.
4) While She Sleeps
After relentless touring, the band announced a set of cancelled shows, with frontman Lawrence announcing he had to undergo throat surgery due to excessive strain from his passionate and heavy vocals.
With concern and controversy over whether or not the band would even return after his operation they came back as promised, dedicated and only with a more aggressive extravagant Sleeps' sound we all know and love, they have truly never sounded better.
After just releasing their latest album 'Brainwashed' this March it's very clear this band have a strong message that's not to be missed.
With comments still being shared of the five piece's performance on Download's main stage last summer being the highlight of the bands career this has catapulted the metal-core band known as 'Sleeps' onto our top ten.
5) Gallows
A band still under much controversy after the departure of Frank Carter, Alexisonfire's Wade Mcneal is still persisting with an onslaught of new music. The band are currently touring Europe with material from Desolation Sounds as well as original tracks from the days of Frank. The stress and pressure the Punk band from Watford have endured hasn't made them buckle it's made them thrive and very angry, be sure to check this hardcore band if you want to see some passion.
6) Being As An Ocean
A highly religious melodic hardcore band from California releasing their debut album 'Dear G-d' with Invogue Records in 2012. The divergent frontman Joel Quartuccio accompanies his vicious screams with his bands melodic choruses and thrashing breakdowns. With sing-alongs and amazing crowd intimacy, this band will have you hooked from the first verse in their set.
7) Deez Nuts
Known as complete party animals Deez Nuts are a low tuned bass heavy four piece post hardcore band formed in Australia. After front man JJ Peters parted with his old band ' I Killed The Prom Queen' he left us questioning what he would do next. Deez Nuts rolled onto the stages with an aggressive thrashy sound accompanied by rapped lyrics. This band stay true to themselves and are in the business for all the right reasons, fun, fans and nothing more. It's certain this band don't mess around and will demand stage dives and high fives.
8) Zebrahead
Orange country California seems to just spit out amazing bands. This late 90's act are proving that pop punk's still not dead, with their ever expanding fan base these five punk rock guys are still bashing out albums. This band are renowned for their rap metal style, a modern twist of punk rock with a hint of Rage Against The Machine, it's a fact their shows are supposed to tear the roof off. They were nominated for a Grammy for their cover of Metallicas ' Enter Sandman', who knows you may even be lucky enough to hear it at SlamDunk.
9) Millencolin
Swedish skate-rock sensation have been signed with Epitaph Records since 1996 and have just released their first album in over seven years, titled 'True Brew'. If you don't know what they sound like then maybe this will jog your memory, if you were a skater kid you'll definitely know their track 'NO CIGAR' which featured on 'Tony Hawks Pro Skater 2', yeah that's right that was them! Now you know go check them out, they're definitely experienced enough to rock SlamDunk's intimate stages.
10) Don Broco
Formed in England in 2008, this band are fairly new onto the scene, however their non stop touring attitude has earned them a fairly stable fan-base. Don Broco can be summed up as punchy intro's followed by aggressive power chords with awesome clean vocals and a disco drum beat overlaid. This combination creates an amazing kick which a crowd can really sink their teeth into. These boys are planning to release a new album in Autumn this year, you'll most likely hear new tracks live.
If you're standing around with no one on your must see list then why not check out some of the bands listed above