This summer Ibiza Rocks will celebrate ten incredible and hugely influential years on the White Isle with a line up that brings together festival giants, music icons and the very best of the new breed of rising stars. New additions include Rudimental, Catfish & The Bottlemen and Spandau Ballet who will proudly return to play Ibiza for the first time since 1981 when they pioneered an electronic music revolution. Supports come from hotly tipped new talents Shura, Slaves, Krept & Konan, Blonde, Karen Harding and Sam Sure.
Since playing Rocks in support of Jake Bugg last summer, Llandudno lads Catfish & the Bottlemen have gone on to win the BBC Introducing Award at the very first BBC Music Awards, released their debut album 'The Balcony' to mass critical acclaim and chalked up a sold out tour in the US. Currently carving their way through their second sold out headline tour of the UK, the band also announced two Brixton Academy shows for November, which sold out in 6 minutes. Widely hailed as Britains next great guitar band Catfish & the Bottlemen will make a heroic return to the famous poolside Rocks stage as headliners on 15th July, for one of the most highly anticipated live shows in the Balearics.
Another sensational live act returning to the world-famous Rocks stage this summer is Best Album BRIT Award winners Rudimental. Rocks championed Rudimental long before they hit the big time and booked their debut Ibiza show in 2012 at the Ibiza Rocks Hotel where they stayed, partied and played, big time! It will be a proud moment to have these boys back to headline on 29th July, for what will undoubtedly be one of the highlights of the 14 week long season from one of the best live acts on the planet right now.
Rudimental said: "We can't wait to come back. Ibiza Rocks is a lovely story for us, we saw Dizzee Rascal at Ibiza Rocks when on holiday there and then a year later Feel The Love happened and we DJ'd with Disclosure and Zane Lowe and then played live last year which was one of the best nights of our summer. There's such history there for us. It's always such a good vibe and the idea to do a party in a hotel is just brilliant. As soon as we finish a gig at Ibiza Rocks, we just want to get in the crowd and party with everyone. We're part of that culture so we want to rave as well. Ibiza Rocks, we love you. Rudimental are coming for you!!"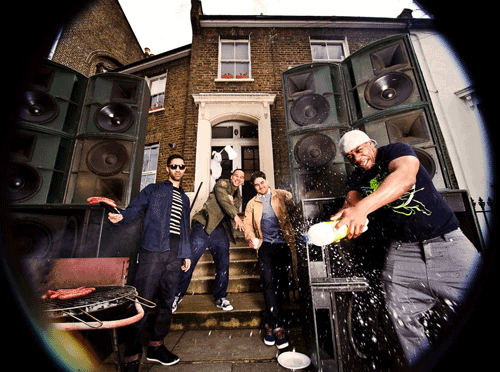 Hot on the heels of announcing The Libertines to headline Ibiza Rocks 10th Birthday Party in July, another truly iconic British band that provided the soundtrack to a generation are reunited and ready to return to Ibiza. Spandau Ballet have sold over 25 million records and amassed 23 hit singles across the globe since the late 70s. From fully-fledged members of the iconic Blitz Club scene to one of the super-groups of the 80s, the band spearheaded the New Romantic pop culture movement born out of the nightclub scene. One of the most significant gigs of Spandau Ballet's career was in 1981 at Ibiza's very own Ku Club (now Privilege), chosen by the band simply because it was billed as the most outrageous club in the world.
Unlike any band before them, Spandau completely understood the currency of the dancefloor and the significance of playing in Ibiza at a time when the clubs were purely packed with Spanish hipsters completely unaware of the London fashionistas about to blow their minds and make their mark, both culturally and musically. This groundbreaking trip bridged the gap between the Ibiza and London club scenes and Spandau Ballet opened Ibiza's doors to a UK audience with one incredible, inspirational and influential gig that was to change Ibiza's music landscape forever. After more than 30 years since that monumental moment, Ibiza Rocks is proud to bring Spandau Ballet back to the Balearics for a very special headline show under the stars on 19th August.
Gary Kemp, Spandau Ballet said: "Back in 1981 Spandau were playing one off events at the hottest clubs across the world from New York to St Tropez to the Beat Route in London and The Ku Club had a reputation for being pretty outrageous, in fact the night before we played we went to the club and someone released a bull onto the dancefloor which ended up in the swimming pool. We took over some of our London friends, before us no British people went to these clubs and that was when the conversation between the two nightlife's began and Ibiza club culture was born. We're really looking forward to going back and playing Ibiza Rocks"
As well as welcoming festival headliners and music icons, Rocks has a rich history of spotting and supporting the best new talent on the circuit. One of the most genuinely exciting bands that fit that bill are acclaimed punk duo Slaves who will support The Libertines at the hugely anticipated 10th Birthday Party. Bristol duo Blonde, who already boast a No.7 hit single with 'I Loved You' will be the very first act of the summer to take to the stage, supporting Years & Years at the Opening Party. MTV Brand New 2015 'Best Newcomer' winners Krept & Konan will support Sigma whilst Black Butter Records' bonafide 'one to watch' Sam Sure will support Rudimental. Karen Harding may be a fresh face on the scene but has already scored a Top 10 single with her MNEK-produced 'Say Something.' Karen will support Clean Bandit this summer whist fellow fast-rising female singer/producer and BBC Sound of 2015 nominee Shura will support Jungle. Future stars, live under the stars.
Ibiza Rocks 2015 line up so far:
17/06 OPENING PARTY WITH YEARS & YEARS | BLONDE
24/06 SIGMA | KREPT & KONAN
01/07 JUNGLE | SHURA
15/07 CATFISH & THE BOTTLEMEN
22/07 10TH BIRTHDAY PARTY WITH THE LIBERTINES | SLAVES
29/07 RUDIMENTAL | SAM SURE
05/08 CLEAN BANDIT | KAREN HARDING
19/08 SPANDAU BALLET
02/09 FATBOY SLIM PRESENTS SMILE HIGH CLUB
16/09 CLOSING PARTY WITH THE COURTEENERS