Today the festival invites even more names to the party including pioneering shoegazers
The Horrors
. With four acclaimed albums under their belts, the UK band are set to take festival-goers on a journey into blissful psychedelia with their unique sound when they take to the main stage this August.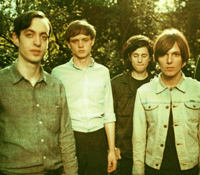 In keeping with the birthday celebrations, Will & The People will no doubt have Standon Calling revellers in the party spirit with their raucous mix of reggae, ska and rock. The self-funded Brighton four-piece have become somewhat of a phenomena after selling out headline tours in Europe, playing four continents and releasing three albums. Renowned for their high energy live shows, The Cuban Brothersjoin in on the celebrations over the weekend for plenty of musical numbers, breakdancing and tongue in cheek hilarity.
This year Standon Calling's own famous nightclub, The Cowshed, will be taken over each night by a different host for three very different parties. Outrageous polysexual club crew Sink The Pink invite all to lose their inhibitions with their brand new dirty disco party Savage, Bondax bring the sounds of the summer with woozy R&B-tinged house and Gilles Peterson & Patrick Forge haul their massive record collections into The Cowshed to present the legendary jazz, funk and dance sounds of the original Dingwalls Sunday Sessions, established in 1987.
Perched on the lawn next to the festival's own swimming pool is The Last Dance Saloon, where BBC Introducing are set to champion new music with upcoming local acts, while independent record labelsLoose Music and Bella Union will be showcasing their own talent across the weekend. Acts for The Last Dance Saloon to be announced very soon.
Other highlights from today's additions include one of Q Magazine's "ten DJs to see before you die" DJ Yoda, Swedish/Gambian songstress Seinabo Sey and Scottish synth poppers Prides, who closed last year's Commonwealth Games.
Alongside the music, Standon Calling has revealed a myriad of activities and entertainment on offer across the site in keeping with its new theme 'A Town of Two Faces'. Inspired by the Wild West with a twist, one can brave a visit to Dr. Leech's Wellness Center & Funeral Parlour to take A Beginners Class in Taxidermy and learn how to survive a standoff with a rattlesnake, get up close and personal with animals from the West at Wild Wyatt's Traveling Menagerie, or try their hand at Death Drawing with Art Macabre. Festival-goers can gather in The Town Square and get their dancing shoes on at The Dance Off's Hillbilly Hoedown or take centre stage with the ever-popular Rockaoke. At The Church Fate join Legs Akimbo who will be delivering the kind of service you won't want to miss. Plus, fresh from their smash-hit V&A show, boundary-pushing art collective The Treatment Rooms return to Standon to offer revellers the chance to mosaic their own tombstone and take The Ride of Your Life in the Voodoo Taxi Wagon. The wonderful Salon London will also return to The Last Dance Saloon to host a selection of inspiring and surprising interactive talks and classes on the subject of Dark Matters and Bright Ideas.