Additions to Flow Festival's lineup include US-based hip hop acts Tyler, The Creator and iLoveMakonnen, UK-based electro debutant Years & Years and US-based Future Brown. Flow will also feature fresh Swedish pop act Elliphant, established American DJ Diplo as well as Finnish artists Paperi T, Have You Ever Seen The Jane Fonda Aerobic VHS?, French Films, J. Karjalainen's Lännen-Jukka act, Manna and Regina.
Flow Festival adds several new acts to its lineup. Making its debut in Suvilahti in August 2015 is The Odd Future rapper and producer Tyler, the Creator, who is known for his provocative performances. iLoveMakonnen's Tuesday was one of last years biggest anthems, and expectations skyrocketed, when the promising young artist signed to Drake's label. Touted as one of his generation's primary hip hop acts, London-based trio Years & Years recently won the BBC Sound 2015 vote, which focuses on predicting the coming year's breakthrough acts. Each single so far has proven the band is capable of writing timeless pop hits infused with the day's quirky sounds, combining electro-pop to dance to, r'n'b and house. Super group Future Brown formed by Fatima Al Qadiri, J-Cush and Nguzunguzu has also recently made an impact with an exciting combination of hip hop and grime.
Singer and MC Elliphant is one of Sweden's most promising stars with her unique sound that is influenced by dancehall and bass music. Her breakthrough has been supported by top producers such as Dr. Luke and Diplo. The American DJ Diplo will also perform at 2015's Flow both as a member of Major Lazer and djing on his own.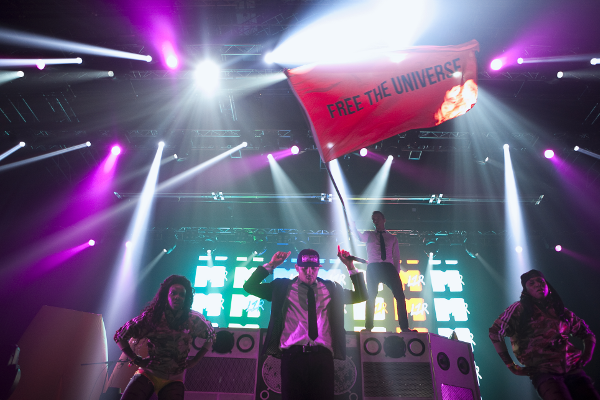 Local acts have also been added to the lineup, such as Paperi T, who has gone solo from rap trio Ruger Hauer and become one of the countries most talked about debutants. Others included are Have You Ever Seen The Jane Fonda Aerobic VHS? who play nostalgic pop-rock, indie rock group French Films who are working on new material, Jukka Karjalainen who plays the only show of the year performing solo as Lännen-Jukka, and Finnish-Algerian singer-songwriter Manna, who takes the Flow stage with a band including strings. Gracing Suvilahti will also be Regina, playing at Flow a few months before the tenth anniversary of its Katso maisemaa debut album and about three years since its previous live show.
Other confirmed acts for the 2015 Flow Festival include e.g. Alt-J (UK), Beck (US), Belle and Sebastian (UK), Florence + The Machine (UK), Flying Lotus (US), Foxygen (US), Future Islands (US), Major Lazer (US), Run The Jewels (US), Todd Terje live (NO) and The War on Drugs (US). For additional information about all the artists: www.flowfestival.com/artists