The Rock and Roll Hall of Famers have carved themselves emphatically into the pantheon of Rock mythology with their huge choruses, unmistakable visuals and extraordinary, pyrotechnical live performances. KISS return to Donington having graced Monsters of Rock in 1988 and 1996 and headlined Download, Europe's biggest rock and metal festival, in 2008.
Singer Paul Stanley sees Download as the ultimate measure of a rock band's standing:
Download has become a tradition of stature that separates the pretenders from the contenders and the champs from the chimps. It will be an honour to take our turf and leave no doubt why we wear the crown.
Meanwhile, bassist Gene Simmons said:
To all our fans – our intention is to get on that stage, blow the heavens to smithereens and take no prisoners.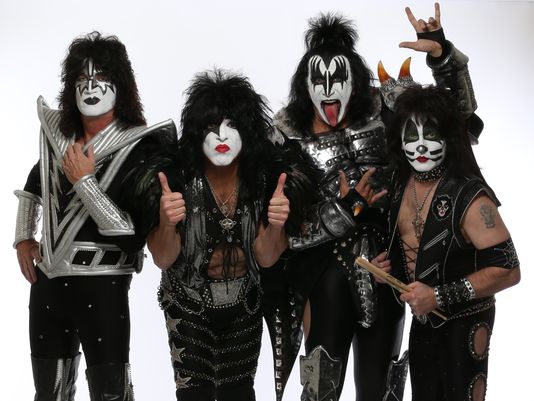 Main support comes in the form of the final ever UK Festival Performance by iconic hell-raising metalheads Mötley Crüe. With the Crüe due to disband for good in early 2016, Download will have the honour and privilege of bringing a truly unique festival career to a blazing conclusion.
Bassist Nikki Sixxx said:
It's always an over the top day and night at Download Festival and we're really excited to be coming over to the UK and playing the show.
Rock legends making the ultimate festival pilgrimage don't stop there as seminal shredder Slash polishes and shines the trusty top hat to make his second appearance at Download with one of rock's top vocalists, Myles Kennedy, and The Conspirators.
Slash said:
Download is a very special event for me. It's been a major destination since I started and I'm always excited to be a part of it.
Headlining the second stage and representing the new kids on the block are electronicore pioneers Enter Shikari, after the January 2015 release of their massively anticipated album The Mindsweep.
Singer Rou Reynolds is looking forward to the authentic festival experience:
The thing I love more than anything is playing outside, at night. We thank Download for the opportunity to immerse ourselves in the great outdoors and engulf and deluge festival-goers with our noise. It is an honour to be closing the night and because of this we will bring with us illuminations. Do attend.