This August sees the launch of Greenwich Music Time, the first event of its kind ever to be hosted at the Old Royal Naval College (ORNC) at the heart of the Maritime Greenwich World Heritage Site. Taking place across this summer's August Bank Holiday weekend, the event will feature a unique series of concerts which will transform this breathtaking riverside locationinto the ultimate open-air concert venue.
Running in association with the ORNC Foundation, Greenwich Music Time will present four nights of world class concerts featuring visionary electropop outfit Goldfrapp, who will perform songs from their illustrious back catalogue, as well as from 2013's acclaimed Tales Of Us. A major coup for the festival, this will be the duo's only London show of 2014. Multi-million-selling English tenor Russell Watson will headline on Friday 22nd backed by the Royal Philharmonic Orchestra and featuring some very special guests, and drawing the festival to a close on Saturday 23rd is local boy Jools Holland, who brings his Rhythm and Blues Orchestra to Greenwich for a set that will feature special guest singers Marc Almond and Melanie C.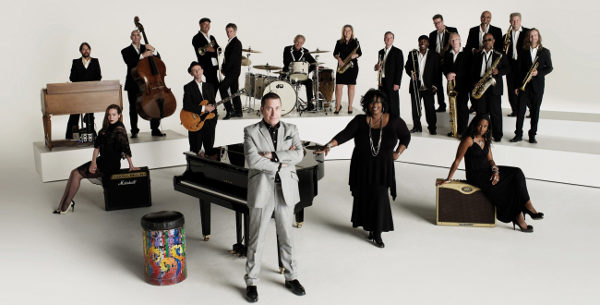 Alison Goldfrapp: "We can't wait to perform at the Greenwich Music Time Festival this summer. We'll be playing a selection of old and new songs in the stunning & beautiful grounds of the Old Royal Naval College. It's our only London show this year so we look forward to seeing you there!"
In what is a truly stunning location, Greenwich Music Time's stage will be situated in the heart of Sir Christopher Wren's iconic twin-domed riverside masterpiece providing 5000 revellers a night with the opportunity to experience Greenwich's unique historic landscape from an incredible perspective. With over 1.7 million annual visits, the ORNC is one of the most visited attractions in the UK and has provided the backdrop for countless movies including recent blockbusters Les Misérables, Skyfall and The King's Speech.
The concert series will also showcase Trinity Laban Conservatoire of Music and Dance, with its students and recent graduates performing an opening set each night before the headline show. Based at the ORNC, Trinity Laban Conservatoire of Music and Dance is the UK's only conservatoire of music and dance. Its innovative course provision, exciting performances and groundbreaking education, community and social inclusion work make Trinity Laban a leader in the advancement of elite and creative artistic practice.
The Mayor of London Boris Johnson: "Greenwich Music Time will add to the unbeatable variety of great music events that London hosts throughout the year. Amidst the historic surroundings of the Old Royal Naval College, it promises to be a summertime treat and will be another reason to visit this increasingly exciting part of the capital. I am a passionate believer in high quality music education and opportunities for young musicians to play live, so I am delighted that Trinity Laban, who we are working with on one of our key education projects, are also involved."
Brendan McCarthy, CEO of the ORNC Foundation: "We are delighted to welcome the inaugural Greenwich Music Festival to the Old Royal Naval College this summer. Sir Christopher Wren's architecture will provide a stunning backdrop for the concerts. We are particularly pleased that musicians from Trinity Laban, one of our site partners here at the ORNC, will be performing along with the great artists lined up for the Festival," adds McCarthy. "It promises to be a fantastic four days of music."
Set amongst one of the most important groups of historic buildings in London, and with a refreshingly eclectic programme, Greenwich Music Time is one of the most significant additions to the live music calendar for some time, providing music fans with a unique cultural experience while raising awareness and public support for the work started by the ORNC Foundation in 1997.
There is a priority booking period for local residents which will run from February 26th – 2nd March 2014. Seewww.greenwichmusictime/local for details. Tickets go on general sale from March 3rd 2014. An optional £2 donation to the ORNC Foundation will be applied to each ticket.
Greenwich Music Time Line-up:
Wednesday August 20th
TBC
Thursday August 21st
Goldfrapp
Friday August 22nd
Russell Watson and the Royal Philharmonic Orchestra with special guests
Saturday August 23rd
Jools Holland and his Rhythm and Blues Orchestra with special guest stars Melanie C & Marc Almond