Flow Festival's stellar line-up continues to grow, with the likes of The Horrors, Real Estate and FKA Twigs joining the plethora of legendary artists already confirmed.
Following the success of their 2011 release 'Skying', British garage rockers The Horrors are set to release their highly anticipated fourth album 'Luminous' in May before taking their live energy to the people of Flow in August. Already praised as the year's most expected album by NME, who also featured the band on its latest cover, The Horrors recently revealed the first taste of their forthcoming album by sharing the lilting Brit-pop number 'I See You'.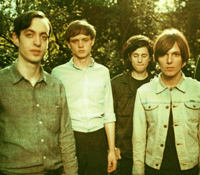 Other additions announced today include Brooklyn-based indie rockers Real Estate, who recently released their new album 'Atlas', along with hot British electronic talent FKA Twigs, whose critically acclaimed 'EP2', released on influential indie label Young Turks (The xx, Jack Penate), has scored radio support from the likes of Huw Stephens and Gilles Peterson.
Also included in today's announcement are Boston-based folk singer-songwriter Marissa Nadler, and American synth-pop outfit Poliça, who have garnered praise from the likes of Rolling Stone and Pitchfork as well as procured a host of A-list fans including Bon Iver frontman Justin Vernon and hip-hop giantJay-Z.
Local additions come in the form of Phantom, who have been noted internationally for their distinctive electro sound, the folksy and poetic singer-songwriterJoose Keskitalo, rap outfit Aivovuoto, and Pietarin Spektaakkeli, who will bring their brand of rootsy pop to the stage.
Artists earlier confirmed for this year's Flow include OutKast, The National, Janelle Monáe, Die Antwoord, Paul Kalkbrenner, Slowdive and Bill Callahan, with more additions expected to be announced shortly