Boomtown Fair unleashes a massive lineup announcement with over 400 artists joining this years lineup. Check out who joins the far this summer!
Irish-African fusion Afro Celt Sound System, French gypsy gyrators Babylon Circus, pioneering banging bass producer Eats Everything andAmerican ska innovators, The Toasters and Voodoo Glow Skulls. These top notch international acts will appear alongside all previously announced artists including; The Cat Empire, NOFX, Jimmy Cliff, The Wailers, Tinariwen, Bellowhead, Tipper, Raggasonic and hundreds more, plus there is still one extra special Saturday night headliner still to be unveiled!
All eight of the district line ups have now been released covering a huge and diverse range of acts and genres from all over the world: Blues from Mali and Jamaica, dancehall from France and Bermuda, gypsy from Spain and Australia, electro-swing from Italy and Switzerland, big brass bands from Rajasthan and New Orleans, Afro-Funk from Wales and Columbia, Pirate bands from Holland and Texas, ska out of Sweden and Scotland and folk-punks from Canada and Ireland to name just a few! See below for an overview of each district and some of the musical highlights to keep an eye open for!
OldTown District can be found beyond the hustle and bustle of the Town Centre, it houses the ramshackle remnants of the glory days amongst the dilapidated buildings of this once the thriving port from BoomTown's rise to greatness, however OldTown has long since been the dwelling of pirates and despicable souls!! Saturday will see a full on Pirate takeover of all venues and stages of OldTown, with a total influx of all things pirate! Swashbuckling their way through all the pirate madness are other acts include; Russkaja, WooHoo Revue, The Destroyers, Diving for Sunken Treasureand Tako Lako.
Mayfair Avenue is the hub of high class with its swanky electro-swing clubs and live swing bands, venues include; The Ballroom, The Gentlemen's Club and Bump (Roller Disco). Get ready for the hottest party in town as the Masked Ball will be swooping into the streets of MayFair on Sunday evening! Top acts to be found mingling with the BoomTown glitterati are: Klischée, The Sweet Life Society and Electric Swing Circus, Smokey Joe & The Kid.
ChinaTown is filled with the most 'avin it levels of punk: ska punk, rockin' punk, folk punk and polka punk, as well as a healthy dollop of 'hell jazz'n'roll' thrown in for good measure! The venues include the ChinaTown Courtyard and Devil Kicks Dancehall, acts heading up the bill for the weekend comprise of ground-breaking American Ska band, Voodoo Glow Skulls, pioneering their blend of hard-core and ska these stalwarts have been striding it out since the mid-80s and will give the Devil Kick's Dancehall one almighty a closing party as the last band on Sunday night! Over on the ChinaTown Courtyard are Jaya the Cat, treating the ChinaTown folks to an uncompromising and original mix of reggae, punk rock and ska!
Whistlers Green has recently been upgraded and rejuvenated. This culture oozing zone of BoomTown is on hand to soothe your aching soul with some of the very best this globe has to offer in folk, blues and world music, all within its very own main stage, The Old Mines. Along with headliners multi-award winning Afro Celt Sound System, Tinarwen, Bellowhead and Playing for Change there will be lesser known, but equally absorbing artists such as Beans on Toast, Treacherous Orchestra, Dizraeli & the Small Gods, Sam Lee & Friends and many more. This area will be providing the soundtrack to a perfect summer's day with uplifting melodies and triumphant tunes!
Wild West, amongst the dusty streets and housed in the rickety buildings of this freshly re-discovered area of BoomTown, the ultimate in Hillbilly, Bluegrass, Cajun, Yehaa, Cowpunk, Dirty Blues and of course Scrumpy & Western can be found! Heading up the bill is harmonica and beatboxing blues guru, Son of Dave, festival regulars Pronghorn and along with some of the very best band names on the scene:Lumberjack Cowboy Heartbreak Trucking Company, Screamin' Miss Jackson and the Slap Ya Mama Big Band and Johnny Cage and the Voodoo Groove to mention just a few!!!
TrenchTown not only boasts the best in dub, reggae, dancehall and jungle, but possibly three of the most notable stages that any one district alone has to offer, withThe Lion's Den Aztec temple, Tangled Roots forest party and the Hidden Woodssun-drenched clearing. TrenchTown is where reggae legends Jimmy Cliff and The Wailers can be found alongside many up and coming gems including Bermudan dancehall MC Uzimon with his borderline parody lyrics that are as funny as they are clever and Brushy One String, if sunshine and smiles were to be combined in human form it would be Brushy and his guitar's one string of happiness!
DownTown hosts some of the most popular venues for late night shenanigans including Arcadia, BoomBox, the Dance Off, The Bodyshop and ASBO Disco.Lurking within these seedy establishments is the very best in breaks, break-core, drum'n'bass, garage, gabba, grime, jungle etc… Featuring on amongst 100's of other is one of the most exhilarating talents to come out of the scene in recent times,Rockwell! There will also be a full on Old Skool takeover of DownTown with 2 Bad Mice, Altern8, Billy Bunter, Ray Keith and Aphrodite on the Sunday night.
Barrio Loco, the winning district at the 2013 elections, showcases dirty bass in its multitude of venues including Poco Loco & Circo Baile. With the newest headliner on the bill, the omnivorous beat-maker Eats Everything, currently at the forefront of an emerging wave of talented producers to come out of the West Country's bass epicentre Bristol, helping define an entirely new genre of forward-thinking underground music. Along with other amazing dance music frontrunners, Special Request, Stanton Warriors, Ms Dynamite and many more!!
Headliners for the festival include:The Cat Empire, NOFX, Jimmy Cliff, The Wailers, Tinariwen, Bellowhead, Afro Celt Sound System, Playing for Change, Raggasonic, Lady Saw, UK Allstars World Debut, Babylon Circus, Toasters, Tipper, Boddika, Special Request, Eats Everything and many more.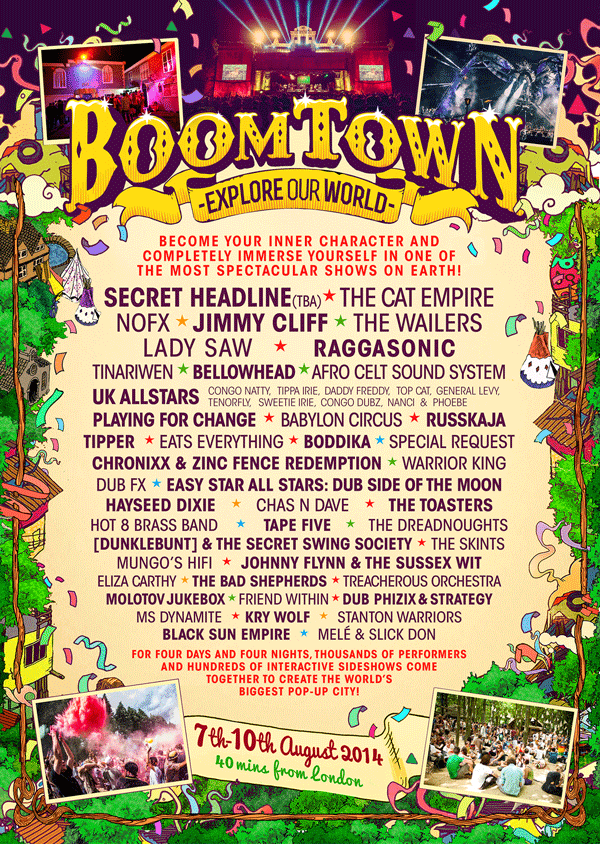 OLDTOWN (Jolly Dodger and Town Centre)
Babylon Circus / Russkaja / WooHoo Revue / The Destroyers / La Selva Sur / Rupa & the April Fishes / Sonido Vegetal / Tako Lako / The Baghdaddies / Gypsy Hill / Tom Mason and The Blue Buccaneers / Diving For Sunken Treasure / Gentle Mystics / Veeblefetzer & The Manigolds / Pyrates! / Zorita / Vagalatschk / Gorgeous George / The Penny Black Remedy / Duncan Disorderly & The Scallywags / Drunken Balordi / Seas Of Mirth / Calico Jack / Tantz / Buffo's Wake / The Jack Ratts / East Town Pirates / La Mort Subite / INC.A / Fastabenj / Goulash Disko DJs / Balkan Hotsteppers / DJ Luca Vaga / Petrol Molotov / Emily Dust
CHINATOWN (ChinaTown Court Yard & Devils Kicks Dancehall)
NOFX / The Toasters / Voodoo Glow Skulls / Demented Are Go / Mad Sin / Sonic Boom Six / Morning Glory / The Filaments / The Dreadnoughts / Long Tall Texans / Culture Shock / Koffin Kats / Inner Terrestrials Freddie Notes / Lee Thompson Ska Band / Sonido Vegetal / RDF / P.A.I.N / Jaya The Cat / Uptown Ska Collective / Babyhead / Phoenix City Allstars + Rhoda Dakar / The Hotknives / The Pressure Tenants / Original High Five / Will & The People / Beer Orchestra / Blood or Whiskey / Ferocious Dog / Magnus Puto / Random Hand / NewTown Kings / Imperial Leisure / First Degree Burns / Bombskare / Buster Shuffle / The Talks / Dinamo / Anti Vigilante / Dirty Revolution / New Groove Formation/ The Indecision / The Delegators / Popes Of Chillitown / / Roughneck Riot/ Oscillator / Counting Coins / The Snare / Skarsoles / Killamonjambo / The Stiff Joints / Smokey Bastard / Faintest Idea/ Karma Party / ChainSka Brassika / Defektors / The Trojans / The Meow Meows / Will Tun & The Wasters / Largo Embargo / King Punch / Autonomads / Mad Apple Circus / Atterkop / Smiling Ivy. Last Gang In Town DJs.
MAYFAIR AVENUE (The Gentlemen's Club, Town Hall, Casino, Fitz-Slone Manor)
The Cat Empire / [dunkelbunt] & Secret Swing Society / Hot 8 Brass Band / Tape Five / Sam & The Womp / Molotov Jukebox / AlgoRhythmik / Klischée / The Sweet Life Society / Hackney Colliery Band / The Carny Villains / Electric Swing Circus / Tankus The Henge / Renegade Brass Band / Dutty Moonshine / Kid Kasino & Shea Soul / DJ Switch / Smokey Joe & The Kid / Bad Capitano / Odjbox / DJ Chris Tofu / World's Tallest DJ / Professor Elemental / The Woohoo Revue / [email protected] In The [email protected] / Big Swing Soundsystem feat. Hypeman Sage / Gabby Young & Other Animals / Harleighblu / Formidable Vegetable Sound System / Elle & The Pocket Belles + Mista Trick / Rob Heron & the Tea Pad Orchestra / Jamie Berry / Ecklektik Mick / Chicken Brothers / The Dirty Gentleman / Jon Bongly / Castro / Fresh Dixie Project / Madame Electrifie / Tim Arisu / Phat Bollards / The Ouse Valley Singles Club / Dirty Old Folkers / Rogora Khart / Hot Tin Roofs / The Lounge Kittens / Original Rabbit Foot Spasm Band / The Black Kat Boppers / Lunatrix / DJR / A Ray Of Charles /Temple Funk Collective / El-Camino / The Recks / Imperial Works / Big Red Ass / Mr Tea and the Minions / Noah's House Band / Freakeasy Cabaret / Swing Dance Classes
TRENCHTOWN (The Lion's Den, Hidden Woods, Tangled Roots)
Jimmy Cliff / The Wailers / Lady Saw / UK Allstars: Congo Natty, Tippa Irie, Daddy Freddy, Top Cat, General Levy, Tenorfly, Sweetie Irie, Congo Dubz and Nanci & Phoebe / Raggasonic / Chronixx & Zinc / Fence Redemption / Warrior King / Easy Star Allstars: Dub Side Of The Moon / Irie Maffia / The Skints / Dawn Penn / Macka B & The Roots Ragga Band / Robbo Ranx w/ Stylo G + Sister Nancy / Hollie Cook / Brushy One String / Raging Fyah / Ed Solo / Aries b2b Marcus Visionary ft Navigator MC / Benny Page & Mc Sye / Daddy Skitz & Rodney P present 'Original Fever'. A UK Hip Hop Reggae Showcase, Million Dan, Deadly Hunta, Darrison, Buggsy plus special guests / Trojan Soundsytem / Iration Steppas / Channel One / The Heatwave / Mungos Hi-fi ft Parly B & Charlie P / Soom T / Wrongtom & Ragga Twins / Vic Ruggerio (The Slackers) / Don Letts / Poirier / Jus Now / Pama International / YT & Mr Williamz & The Inner Heart Band / Mouse Outfit feat. Dr Syntax & Sparkz / Digital Nyabinghi / Liondub / Jacky Murda / onlyjoe / Nick Manasseh & Brother Culture / Dubkasm & Solo Banton / Max Powa & Tuffist / Uzimon / By The Rivers / Capitol 1212 / The Drop / Dubheart / Red I Hi-Fi feat. Fox & Kathika / Slowly Rolling Camera / Illbilly Hitech / Barley Mob / Talisman / UNIT 137 / Dub Smugglers / Lionpulse / Dutty Inspectors / Blackstar Dub Collective / Captain Accident / Danny T & Tradesman / Ed West & Parly B / Kelvin 373 & Gardna / Kayanites / One Roots / Shanty / Bahia / Steel City Rhythm / Trinity Lo-Fi / Derw The Damaja / Backyard Rhythm Orchestra / Ben Russell And The Charmers
WHISTLERS GREEN (The Old Mines)
Tinariwen / Bellowhead / Afro Celt Sound System / Playing For Change / Eliza Carthy / Chas & Dave / Johnny Flynn & The Sussex Wit / Dub FX / The Bad Shepherds / Treacherous Orchestra / Sam Lee & Friends / 3 Daft Monkeys / Joe Driscoll & Sekou Kouyate / Dizraeli & The Small Gods / Beans On Toast / Skinny Lister / La Chiva Gantiva / Urban Folk Quartet / Diving For Sunken Treasure / Rupa & The April Fishes / The John Langan Band / John Fairhurst / The Babar Luck World Citizen Folk Band / London Afrobeat Collective / Afriquoi / Jaipur Kawa Brass Band / Roberta Pia (The Banana Sessions) / CoCo and the Butterfields / Echo + The Empress / The Odd Folk / Dirty Old Folkers / The Fontanas / Toby Thompson / Rumba de Bodas / Perkie / Afro Cluster / Pachango / Miss Maud's Folly / Gypsy Rebel Rabble / Poor Old Dogs / Rusty Shackle / Jess McAllister / La Morte Subite / Ratbags / Adam Kammerling / Wandering Word Poetry Slam
WILD WEST (Rusty Spur & Crazy Calamities)
Hayseed Dixie / Son of Dave/ Pronghorn / Boot Hill Allstars / Rob Heron And The Teapad Orchestra / Cut A Shine Hoedown / Wille and The Bandits / Stompin Dave Allen / Grizzly & The Grasshoppers / The Skimmity Hitchers/ Winter Mountain / The Vagaband/ CC Smugglers / Dirty Cello / JohnnyCage! & The Voodoo Groove / The Doghouse Boat Boys / Chicken Shed Zeppelin / Howlin' Lord / Dr Bluegrass and the Illbilly 8 / Lumberjack Cowboy Heartbreak Trucking Company / Screamin' Miss Jackson and the Slap Ya Mama Big Band / The Montgomerys / The Paper Trains / The Jimmy Hillbillies / Feral Mouth/ land of the giants/ Smiley & The Underclass / Captain Accident / Love Street / The Buffalo Skinners / The Recks/ Crinkle Cuts/ Solko/ Cut Capers/ Carnivala! / Slightly Offensive Steve / The Inexplicables/ Beneath the Reef/ Tree House Fire/ Junior Bill and the Scallies / Shanty / The Piratones/ Backyard Rhythm Orchestra / Broken Boat/ La Mort Subite/ House Of Commoners / Fat Sandwich / Ben Russell And The Charmers / Josephine and The Artizans / Fast Decline / Gecko
BARRIO LOCO (Circa Ballie & Poco Loco)
Eats Everything / Boddika / Special Request / Friend Within / Dub Phizix & Strategy / Ms Dynamite / Kry Wolf / Stanton Warriors / Mele' & Slick Don / Zed Bias / Om Unit / My Nu Leng / Swindle & Royal T / Kahn & Neek / Sam Binga & Redders / Dj Champion / Chimpo / The Busy Twist / Clear Soul Forces / Dr Meaker / Lady Leshurr / Mystro & Cut La Vis / The Mouse Outfit feat. Dr Syntax & Sparkz / JFB / Lazy Habits / Skittles (Live Band) / Dizraeli & Downlow / Mr Woodnote Feat Fernquest + Lil Rhys / Jman / Double Drop / The Allergies / Sophistafunk / The Scribes / Granville Sessions / Endoflevelbaddie / The Fire Beneath The Sea / Mr Phormula Feat. Dybl & DJ E-Ratik / Gardna / Kimberely Newell / Jives (Boom Bap/Sensi-Tize)
DOWNTOWN (The Body Shop, Leisure Centre, Arcadia, ASBO Disco)
Tipper / Black Sun Empire / Opiuo / Aphrodite / Rockwell / Proxy / Audio / Optiv & Btk / Altern8 / Freefall Collective / Atomic Drop / Ray Keith & Carasel MC / Slipmatt & Billy Bunter / 2 Bad Mice / Slamboree Soundsystem / Sub Slayers Takeover (King Yoof & Jay Cunning) / Cause 4 Concern / Bong Ra / North Base / Odjbox / Itchy & Skratchy / Machine Code / Chris Liberator / Dj Producer B2b Death Machine / Se7en Deadly Breaks / Krossbow / Defunk / Caski / Benton / Amy Becker / B-Side / Shepdog / Jinx In Dub / Turntable Dubbers / Mr Benn / Jam Baxter & Dirty Dike / Uncle Dugs / Rowland The Bastard / Panacea / Detest