Cocoa Tea:
One of the few early dancehall stars to carve out a consistent, productive career as the genre evolved over the years. His cool-toned, laid-back vocals were perfect for sweet, smooth lovers rock, and gave him a distinct identity.
Sir John Holt:
One of Jamaica's most established singer/songwriters and a true pioneer of the reggae scene since 1962. The Kingston-born star has recorded over 30 albums and is well-known for his lavishly produced ballads.
The Wailing Souls:
The Wailing Souls are part of the small surviving group of Reggae and Roots originators still musically active today.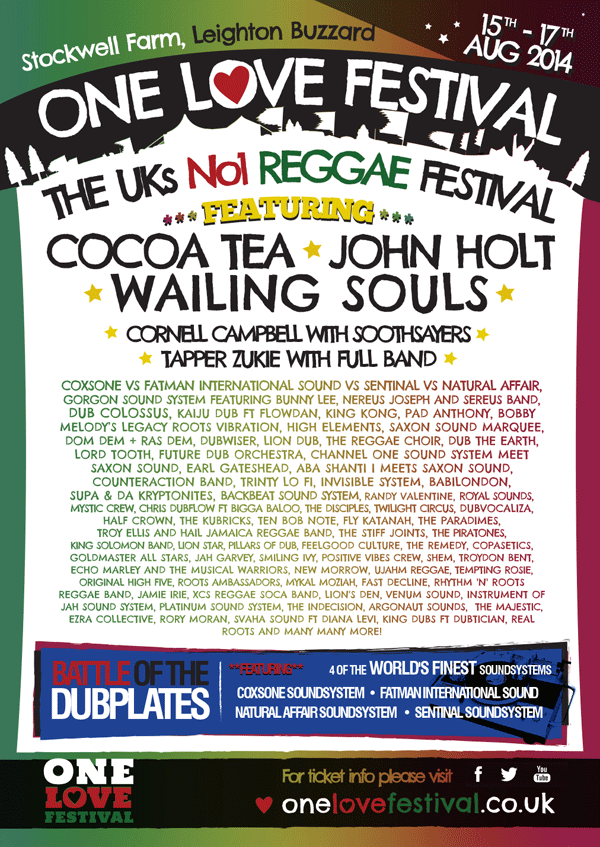 Battle of Dubplates 2014
Our annual event is getting bigger and bigger with huge anticipation on who will win this year against defending champion Coxsone Sound and take home the One Love Champions Cup 2014…
COXSONE SOUND SYSTEM vs FATMAN INTERNATIONAL SOUND vs NATURAL AFFAIR vs SENTINEL SOUND Only YOU can decide who will take home this years Champions Cup 2014.
Cornel Campbell with Soothsayers
Cornel Campbell (born 23 November 1945 in Kingston, Jamaica) is a reggae singer, best known for his trademark falsetto voice, and his recordings at Studio One in the late 1960s and his later work with Bunny Lee in the 1970s. After 50+ years in music he is still top of his game and we have pleasure in welcoming him back to One Love Festival 2014
Tappa Zuckie with Full Band
Tappa Zukie (born David Sinclair, 1955, Kingston, Jamaica) is a reggae deejay and producer and will be performing with his full Band at this year One Love Festival.
Gorgon Sound System featuring Bunny Lee and special guest singer tba
One of the most influential and pivotal producers in the history of Jamaica and the history of popular music. With a career spanning over 50 years, his contribution is undeniable: breaking some of reggae's biggest names, having a literal and metaphorical hand in the creation of dub and pioneering the deejay sound
King Kong
Singing in a similar style to Tenor Saw over early digitals riddims. In the mid 80&primes, Kong recorded for several of Jamaica's top producers, including Prince Jammy, Black Scorpio
Nerieus Joseph with Sereus Band
2014 holds many plans for Nereus, he has now produced four new albumsl. Even after achieving such high levels of success that most artists would be satisfied with, Nereus remains humble and committed to recording quality music. Blessed love. & Guidance.
Saxon Sound Marquee – full Sound System Full Crew all weekend – with special guests to announce
King Saxon international Sound System Marquee – Full Crew Full Sound System all weekend long!
Coxsone Sound System (Defending Battle of the Dubplates – Champion Cup Winner 2013)
Sir Coxsone Sound System – Battle of the Dubplates 2013 – Defending Champion Cup Winner –
Full Line up to date:
Pad Anthony, Dom Dem + Ras Demo, Dubwiser, Lion Dub, Dub Colossus, Kaiju ft Flowdan, Channel One Sound System Meets Saxon Sound Marquee, Aba shanti I Meets Saxon Sound, The Disciples ft Junior Bee, Bobby Melody's Legacy Roots Vibration, High Elements, Twilight Circus, Goldmaster All Stars, Future Dub Orchestra, Dub The Earth, Dubvocaliza, Babilondon, Supa & Da Kryptonites, Backbeat Sound System, Royal Sounds, Mystic Crew, Chrisdubflow ft Bigga Baloo, Half Crown,The Kubricks, Ten Bob Note, Fly Katanah, Echo Marley and The Musical Warriors, The Paradimes, Ezra Collective, Lord Tooth, The Piratones, King Solomon Band, Lion Star, Pillars of Dub, King Dubs Ft Dubtician and Diane Levi, I-mitri CounterAction, Jah Garvey, Smiling Ivy, Positive Vibes Crew, SHEM, Troydon bent, Lion's Den, Randy Valentine, Argonaut Sounds, Venum Sound, Earl Gateshead, Trinity Lo Fi, Invisible System, Troy Ellis and Hail Jamaica Reggae band, The Majestic, The Stiff Joints, Mykal Moziah, Fast Decline, Rhythm 'n' Roots reggae Band, Feelgood Culture, The Remedy, Copasetics, Jamie Irie, New Morrow, UJahm Reggae, Tempting Rosie, Original High Five, Roots Ambassadors, Instrument of Jah Sound System, Platinum Sound System, The Reggae Choir, Xcs Reggae Soca Band, The Indecision
+ Exclusive "I am the Gorgon" Full Film Screening and Q&A Book Signing with special guest Bunny Lee and friends from the film