One of the most successful hip hop groups of all time, OutKast, returns to celebrate its 20th anniversary, and is one of the over 30 artists included as the first additions to Flow Festival 2014. The 3­-day tickets are available through Lippupalvelu and Ticketmaster from March 6th at 10am.
Flow Festival is organised again in Suvilahti, Helsinki on August 8–10 with a broad selection of the moment's most interesting music. Besides the comeback gig of OutKast, the festival features dark indie rock from The National, hip hop from South Africa's controversial Die Antwoord and R&B soul artist Janelle Monáe.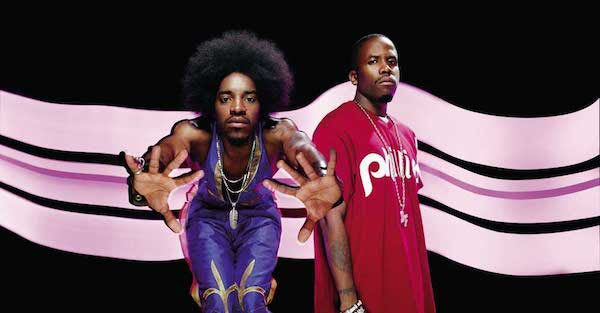 Others coming to Suvilahti will be Darkside – the joint project of Nicolas Jaar and multi­ instrumentalist Dave Harrington – U.S.­based Blood Orange that rose to prominence with last year's Cupid Deluxe, and Charlie XCX who is rolling out one hit after another. This year's festival crowd will also witness the return of the shoegazers Slowdive, promising guitar-­driven indie rock from Mac DeMarco, as well as Nina Persson, the former The Cardigans singer, who released her solo debut early this year, and singer-­songwriter Bill Callahan with his warm baritone recently featured on his fourth album Dream River, picked as Mojo Magazine's album of the year 2013.
Electronic music will be prominently featured with hugely popular German Paul Kalkbrenner and French act Kavinsky, as well as a frontline of Brits including Bonobo, Mercury Award nominee Jon Hopkins, James Holden and Jamie xx – of The xx fame – all joining Flow. There'll be soulful electro from British duo Jungle, and Little Dragon from Sweden who will release its fourth studio album in May. Meanwhile, Joey Bada$$, Action Bronson andPusha T bring a quality dose of U.S. hip hop to Flow. African rhythms will be served up by Malian Sahara­blues outfit Tinariwen, Senegalese Mark Ernestus presents Jeri­Jeri and Les Ambassadeurs, a Malian super group including Salif Keita, Amadou & Mariam's Amadou Bagayoko, andCheick Tidiane Seck.
Local acts at Flow include Iisa, Death Hawks, Risto, Noah Kin, Jaakko Eino Kalevi, Eurocrack and Sound & Fury. Tuomo will perform his only Helsinki gig of the summer at Flow, while Magenta Skycode plays its only gig in Finland all year.