This years sold out High Definition Festival announces some huge artists to its lineup for the 2014 edition. Headling this years HD Festival is the legendary Carl Cox, and joining him on the bill are some of the biggest players in the electronic music industry.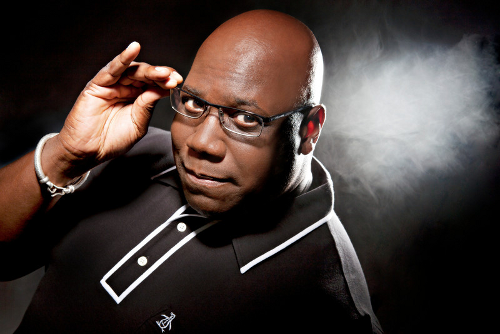 Consisting of producers James Tadgell and John Clare as well as singer Vanya Taylor, London trio All About She are bringing a whole new dynamic to the music scene. Having already worked with the likes of Tinie Tempah, Dizzee Rascal, Wookie and Wretch 32, All About She are a name to watch out for in 2014.
As one third of Magnetic Man alongside Skream and Benga, Artwork has carved a reputation as a true pioneer of the dubstep sound. His presence at the forefront of the bass heavy genre has seen him collaborate with the likes of Katy B, John Legend and Ms Dynamite.
High Definition Festival 2014 will also see a collaborative performance from Drum & Bass DJ and MC duo, Brockie & MC Det. Brockie's credentials stem back to the formative years of pirate radio whilst MC Det is a legend in his own right having a career that stems all the way back to the early days of jungle.
Canadian DJ, producer, remixer and radio presenter B. Traits brings her selection of forward thinking, high energy, future music not only to her BBC Radio 1 show, 'The Late Night Chameleon Club' but also festival slots encompassing Glastonbury, Love Saves The Day, Hideout, Global Gathering and now thankfully High Definition 2014.
Electro house producer and live DJ Charlie Hedges talents have seen her become the presenter of the 4.4 million weekly listener Kiss FM Breakfast Show as well as presenting the Saturday night House Mix Show. Expect a mix of old and new house cuts and the best in EDM.
One of the co-founders of influential Drum & Bass label Full Cycle Recordings and a member of Roni Size's Mercury Prize winning group Reprazent, DJ Dieis a true representative of the cultural hotbed and revolutionary dance capitol that Bristol has become over the last 20 years.
Comprising of London based producers, Nick Harriman and Alfie Granger-Howell, Dogmatik signees Dusky have been reigning the techno world in the underground club scene since 2011, and their debut LP 'Stick by This' was an instant hit. With the support of techno producers from Jamie Jones to Pete Tong and Joy Orbison and championing by the likes of Annie Mac, Diplo, Skream and Seth Troxler, their track 'Flo Jam' gained the unexpected accolade iTunes Dance Single of the Year.
The classically trained piano player-cum-house producer Filsonik creates tunes with feet in both the formal music and streetwise dance camps. Born from the culturally rich and iconic New York house scene, the DJ's career has seen him work very closely with fellow High Definition performers and house legends The Martinez Brothers. From Ibiza residencies to extensive European tours, he is a performer of a world-class calibre.
Since his break into house music in 2010, George Fitzgerald has released a steady stream of house tracks featuring his notorious garage and r&b infused bass lines. 2012 saw George's track 'Child' become a club hit, and highlighted his sound among other similar producers such as Disclosure and Duke Dumont in a new wave of well-crafted garage hooks and club-ready tracks. He now resides in Berlin when he's now playing sell out tours or deep house club sets.
Both respected for their individual pursuits, Matt and Kye now make up distinctive North London producers Gorgon City. They face another exciting year as the most hotly-tipped duo in house music after their enormous successes with last year's collaborations 'Real' ft Yasmin, 'Ready for Your Love' with MNEK, and 'Intentions' with Clean Bandit. Their polished, club-savvy sounds caught the attention of Annie Mac, Eats Everything and Mistajam and Gorgon City quickly became the soundtrack to 2013's best club nights and festivals.
With her star rapidly on the rise, self-taught Birmingham DJ Hannah Wants(aka Hannah Alicia Smith) mixes the best in house with her own distinctly bass heavy sound. Having appeared alongside the iikes of Annie Mac, Disclosure, SBTRKT and Magnetic Man High Definition welcomes the addition of this upcoming young DJ to this year's festival.
Born out of Hip Hop and now with both feet firmly in the world of Drum & Bass, the Harry Shotta Show perfectly showcases the skills of who is clearly one of the most gifted and versatile MCs in the UK. His talents have seen him conquer festivals and radio alike and his live show is one that is sure to turn heads at this year's festival.
Following a chance meeting and hitting it off in a Brighton club Jon Rundellwas signed to headliner Carl Cox's record label, Intec. Jon's music and infamous remixes have won him support across the techno world from the likes of Richie Hawtin, Loco Dice, and Dubfire and across the years he has performed in huge venues all over the world including a residency at The End and headline shows in Ibiza. His set is sure to be utterly unmissable.
Special guest Joy Orbison, aka London based producer Peter O'Grady's style is a sublime mixture of house, techno and dubstep. His debut single 'Hyph Mngo' made him an underground success, which translated into worldwide airplay and club spins. Peter credits his uncle drum n bass DJ Ray Keith for getting him into DJ'ing at the age of 13 and since then he has played numerous festivals and dance floors all over the world, formed his own label and club and has topped respected DJ magazine lists to the acclaim of his peers.
Dedicated Drum & Bass DJ and producer Logan-D's career has seen him expand from not only a dance floor filler and razor-sharp selector to a label boss and party promoter. His Low Down Deep raves have continued to grow and placed both him and his parties as the stuff of genuine scene legend.
Mampi Swift is the very definition of a legend. Having begun his career way back in the early 90s he shows no signs of abating and last years self released album 'History' saw him gain huge DJ support form the likes of Andy C, Sub Focus, Netsky, Chase N Status, Friction and 1Xtra DJ Bailey.
Multi award winning Drum & Bass hero MC Eksman's flow rocketed him into the scene with a flow unlike any other and a lyricism of a substance that is so often lacking from modern Drum & Bass. A champion of underground MC talent and an ongoing talent, Eksman is not one to be missed.
A true pioneer of the early British hardcore sound under various monikers, the man now known as MC IC3 comes to High Definition 2014 with an old school attitude and a retained relevance that will surely have younger MCs in awe.
Leeds born and London based DJ and producer Midland's career has seen him defy categorisation and taken him from remixes for the likes of Caribou, Washed Out and Stateless through to his own garage, house and bass encompassing work. Pulling influence from almost every corner of the musical world, it's no wonder that his unique sound has garnered him attention and club spins worldwide.
MistaJam should really need no introduction to any discerning hip-hop fan. His BBC Radio 1 and 1Xtra DJ slot has made him an authority in the UK underground and his vital, energetic live DJ sets make him a firm crowd favourite.
The recipient of the Mercury Music Prize, two BRIT Awards and three MOBOs, Ms Dynamite is a true legend of UK hip-hop and R&B. The north London native is no stranger to keeping a festival crowd going and with iconic hits the likes of 'Dy-Na-Mi-Tee' to bring out with her, expect a very special set indeed.
Bristol based, Black Butter Records duo My Nu Leng's sound is one that consistently defies categorization. Their bass heavy sounds have seen them provide remixes to the likes of Naughty Boy, Rudimental and fellow Black Butter family members Clean Bandit as well as hugely popular performances at the likes of Fabric, Motion and Snowbombing, the duo are not to be missed at Eridge Park this year.
South London DJ Oneman's musical career began in the world of underground pirate radio. He now performs weekly shows on Rinse FM and is loved for his blends of dubstep, grime, UK hip-hop and garage. He has released two albums with Fabric Live and Rinse FM, completed a US tour, supported SBTRKT, and played festivals all over Europe.
DJ Lipmaster Mark and MC Evenson Allen make up the two halves of old school Breakbeat, Drum & Bass and House duo Ratpack. Having joined forces way back at the birth of the warehouse and rave scene in 1985, the pair's sound still holds strong with performances at the likes of Glastonbury, Global Gathering, Gatecrasher and Ministry Of Sound proving to be ever popular.
Roska's immediately distinctive sound and ear for swung-house percussion and ridiculously heavy sub-bass separate him from his contemporaries in a way that is so often missing in modern dance music. Having founded his own label, Roska Kicks & Snares, you can still find Roska smashing basement venues countrywide as well as catching him at the likes of the prestigious Glastonbury, Bloc, Lowlands and Sonar festivals.
The name Route 94 is shrouded in mystery and surrounded by rumours suggesting that he is actually a successful act under a new alias. All we know is that he exploded onto the scene last year and has produced some of the sickest remixes around such as 'Forget the Girl', 'Freak', and Storm Queen's 'Look Right Through'. 2014 looks to be an exciting year for this mysterious act.
Rinse FM DJ Sam Supplier's Friday afternoon radio show is the ideal primer for a weekend of raving and High Definition will see him bring his energetic blend of House and Garage to the mass crowds this summer!
Shy FX has, since his debut in 1992, been an authority and a true force in UK D&B and Jungle. Remaining relevant as ever, when not producing or taking his stunning DJ set on the road he can be found releasing notable younger talent the likes of dubstep pioneers Skream, Benga and Caspa as well as fellow Drum and Bass artists Breakage and Calibre via his Digital Soundboy label.
Bronx natives Steve and Chris aka The Martinez Brothers most recently performed for High Definition at the spectacular and sold out London warehouse party last year. Their love of high energy house and techno sets first developed at the world famous Circo Loco in Ibiza's DC10, they now enjoy a hectic touring schedule across the globe from their native USA to Tokyo, and frequent European trips bringing with them a fusion of Latin jazz, disco and salsa vibes that never fail to keep a crowd on their feet. This year's High Definition Festival will see them perform an incredible six-hour set!
Veteran Just Jack resident, promoter, label boss and underground house and techno DJ and producer Tom Rio should need no introduction to any discerning dance enthusiast. Born in Brazil but cutting his teeth musically in Holland, Tom's eventual move to Bristol has seen him become a key part in a scene that few could deny is responsible for a true house revolution.
British DJ and producer Will Saul's sounds are based in deep house, disco and techno, containing flashes of soul and Motown, which wouldn't be out of place in the early days of Detroit. Not only gaining a reputation as an esteemed DJ, he has remixed for artists from Little Dragon to Solomun and Scuba to name a few. If his residency at London's The End was anything to go by, Will knows how to keep the crowd going, and High Definition is excited have him for 2014.
Benjamin Pettit is better known as DJ Zinc, and loved by ravers for his unmistakable drum n bass, ragga, house, and breaks sounds. Zinc is still going strong since the early 90's, when he became well known for his undisputed classic anthem 'Super Sharp Shooter'. The track became one of the pivotal sounds of the jungle/ drum and bass movement and Zinc was never afraid to inject some Jamaican dub and ragga sounds into his sets. Zinc went on to do time on London's pirate radio scene, before hitting the underground rave scenes where he has stayed ever since.