Serbia's award winning festival Exit announces its first acts for the 2014 edition which include EDC master Skrillex, UK's Breakthough Act of the Year 2014 Rudimental, Dub FX and more!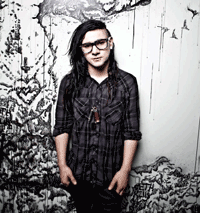 Making his EXIT Festival debut in 2014 will be SKRILLEX, one of the most inspirational figures for the new generation of electronic music fans and is one of the most wanted DJs in the world. With a genre-defying armoury that includes Scary Monsters and Nice Sprites and Bangarang, he's not only won the audience's hearts, but also six Grammy awards, including Best Dance Recording and Best Dance/Electronica Album as well as MTV Video Music Award. In July 2012, he reached the top of the Billboard Social chart – with over 14 million followers on Facebook, and over 3 million on Twitter. Currently in the midst of planning a brand new live show for summer 2014, Skrillex is guaranteed to rock EXIT festival to pieces with never-seen-before special effects and previously unheard audio. Make no mistakes: Skrillex's appearance at EXIT will go down in festival history.
RUDIMENTAL also promise to shake the fortress walls down to their very foundations. Breakthrough Act Of The Year in 2013, as voted by more than half of million fans on UK Festival Awards, RUDIMENTAL, have taken the British and European music scene by storm. Bursting out of London's underground music scene Rudimental are coming to EXIT with their amazing live show. A pioneering melting-pot collective championed for their uncompromising approach to music-making whilst avoiding rigid classification. This act reached number one in the UK Official Charts with their single Waiting All Night in April 2013, beating even Daft Punk to the top spot. Two weeks later, their album Home debuted at number 1 on the UK Albums Chart. No other act stirs a musical melting pot with as much flavour or thunder as Rudimental… And EXIT Festival can't wait to have them on board!
An addition to the powerful bass lineup comes in the form of Benjamin Stanford, aka DUB FX. Set to performing on Thursday, July 10, Dub FX has developed a remarkable following through a wholly DIY approach. Everything he does is created with his own voice and serious loop-technology wizardry. His video for "Love Someone", recorded in the streets in 2008, serves as the perfect example of his unquestionable talent. A veritable postmodern messiah, he will present his third studio album "Theory of Harmony" to the EXIT audience. Released only a month ago, it's a unique manifesto of his philosophy: peace, positivity, joy and healthful pursuits. Something we can all relate to and embrace!
We can also confirm the appearance of white-hot bass-burning duo KOVEN. Creators of one of last year's hottest singles "More Than You", they will be performing at EXIT's Main Stage on Friday, July 11. You can expect the full package from these dubstep youngsters, especially their live set all infused with grinding bass combinations and effortless musicality. From the moment of their arrival to the bass scene, they became favorites of many stars, including The Prototypes, Borgore and Hadouken.