t may have been a long courtship, but the love they share with festival friends at Werchter is more intense than ever. It wasn't until 2006 that Pearl Jam played on Belgian soil for the first time, at a sold out Sportpaleis in Antwerp. And a year later the American band finally played Rock Werchter. Next year they will take to the festival's main stage for the fourth time. Pearl Jam headline on Saturday 5 July. And they'll be giving a full show. Pearl Jam are planning just 11 shows in Europe next summer. They'll play at only 2 festivals – Open'er in Poland and Rock Werchter. It will be a fine reunion.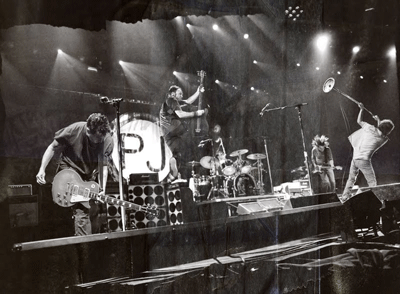 These days the best marathon shows are given by U2, Bruce Springsteen and Pearl Jam. The UK's Q magazine recently gave Eddie Vedder & Co. 5 stars for a concert in New York. Above all, the music magazine praised the almost homely welcome they gave the fans. Pearl Jam combine the energy of fledglings with the blessings of twenty-five years' experience. They are superstars who play like it might be their last concert. Not one note too many, furious and compelling. Constant touring has perfected the band and given them a huge and fanatical following. More than 20 years after the magnificent 'Ten' (1991), Pearl Jam is still very 'Alive'. In that time they have sold about 60 million albums. Did you know: 'Lightning Bolt' (2013), the tenth studio album, was their first number 1 in Belgium.
Now confirmed for Rock Werchter 2014, we have Arctic Monkeys, Franz Ferdinand, Jack Johnson, Major Lazer, Metallica, Pixies, Placebo, Skrillex, The Black Keys and Triggerfinger.