Festival organisers DF Concerts and founding partner Tennent's Lager are hugely excited to confirm that Arctic Monkeys will headline T in the Park 2014.
The band said: "We are delighted to be playing T in the Park and look forward to a great night with our Scottish fans."
This year's glorious 20th year celebrations were widely hailed as the best T in the Parkever, and Arctic Monkeys are the first headliners – and the first act – to be announced for next year's festival which will take place over 11th – 13th July 2014.
Since Arctic Monkeys burst on to the scene with their record-breaking, Mercury Music Prize-winning debut album Whatever People Say I Am, That's What I'm Not, the band have seen all five of their studio albums hit the no.1 spot. Their unstoppable career reached stratospheric new heights this year with the release of the universally acclaimed AM, which was hailed by critics as their finest album to date.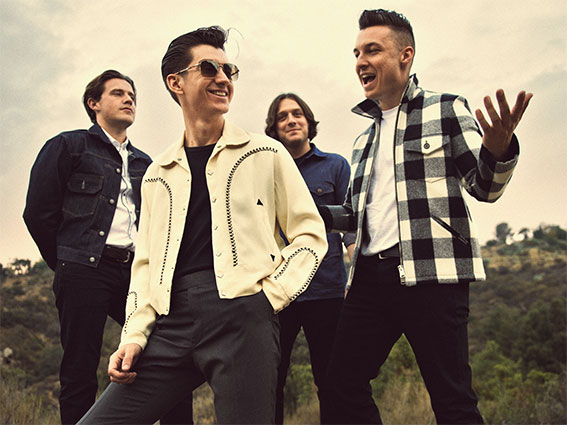 Geoff Ellis, Festival Director, said: "We're thrilled to announce Arctic Monkeys as our first headliners for T in the Park 2014. After this year's fantastic 20th year celebrations, we asked our audience who they'd like to see at next year's festival and Arctic Monkeys came top of the poll, so we're really pleased to be able to confirm them for T in the Park. When they take to the stage in Glasgow this week they'll prove exactly why they're one of the greatest live acts around, and I'm sure we can look forward to another phenomenal set at T in the Park. We have many more fantastic acts in store which we'll announce next year, and can't wait to see you all again in July."
George Kyle, Head of Sponsorship, Tennent's Lager, said: "This year's T in the Park was one of the best ever, and I'm sure we have another wonderful weekend in store next July – Arctic Monkeys will put on a phenomenal show. As founding partner, Tennent's have been the T in T in the Park since the very beginning and we're exceptionally proud to still be a part of this incredible festival as it enters into its third decade."