THE CLOWNS..
JOHN BISHOP IS BACK!
TOMMY TIERNAN / TERRY ALDERTON / NINA CONTI
MARCUS BRIGSTOCKE / ANDREW MAXWELL / CRAIG CAMPBELL
DANIEL SLOSS / ZOE LYONS / ABANDOMAN (MOONROCK BOOMBOX)
ROB BECKETT / LUISA OMELIAN (WHAT WOULD BEYONCE DO?)
BENNY BOOT / ROISIN CONATY / IAN STONE / JOEL DOMMETT
PAUL MCCAFFREY / DAMIAN CLARK / ALEX EDELMAN
LATE NIGHT GIMP FIGHT
AND THE INTERNATIONAL IMPROV ALLSTARS
(STEVE FROST, ANDY SMART, IAN COPPINGER & GUESTS)
ALSO APPEARING THIS YEAR… AUSTRIA'S NO.1 COMEDIAN
ALFRED DORFER
PLUS AN ARENA FILLING HEADLINER THAT CANNOT BE ANNOUNCED YET
AND MORE ACTS STILL TO BE CONFIRMED…
Dig out your Lederhosen and stock up on the strudels because Altitude Comedy Festival is back! Returning to Mayrhofen, Austria once again from March 31st to April 4th 2014 there will be a gilt-edged line-up of the comedy world's top acts and most exciting new stand-ups, all up-close and personal in venues you couldn't possibly hope to see them at in the UK!
Commenting on this year's Altitude Comedy Festival, curator Andrew Maxwell said: "I can't believe it's come around so quickly again. I'm so excited I want to be there now! We've pulled out all the stops to try and compete with last year's fantastic line-up and we believe we've topped it and then some. Can't wait to see you there!"
Altitude gives you the opportunity to experience arena-filling comedy giants in the fantastically intimate surrounds of its beautiful venues in Mayrhofen, one of Europe's most picturesque ski resorts. With an array of restaurants, luxurious hotels and enticing spas that are second to none, the picture postcard resort offers easy access to the entire Zillertal super-ski area, with 639km of piste and 167 lifts and gondolas, making it the ideal location to fuse a schnapps and schnitzel-fuelled ski holiday with one of the world's top international comedy festivals!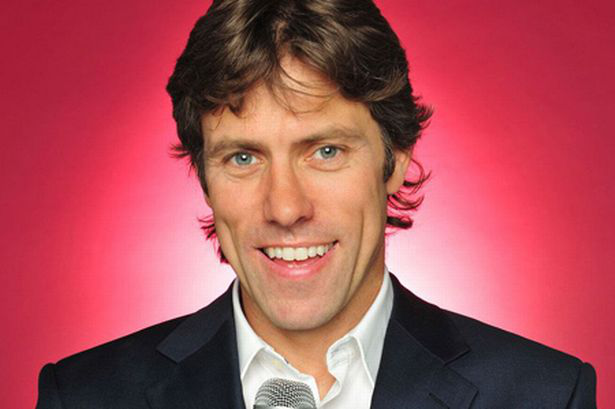 It's slopes all day and laughs all night with the biggest and best comedians around at Altitude and that's what makes it so very special. With some amazing performers due to be announced very soon, we kick off this year's line-up with four words, THE BISH IS BACK! Yes folks, John Bishop had such an amazing time last year he asked if he could come back! As anyone who was there will know, John was a total legend at Altitude and we loved having him with us, so we couldn't possibly say no!
Joining one of the UK's biggest acts is a performer we have pleaded with to come to Altitude for the past six years and we're delighted to say that we can finally announce Irelands no.1 funny man Tommy Tiernan, who you may have seen on Father Ted, Live at The Apollo or even The Late Show with David Letterman, will be hitting the slopes with us. Another act we have been trying to book since we started the festival is also onboard for 2014, the incredible ventriloquist Nina Conti who has recently been announced as a host on the 2013 Live at the Apollo series, you may have also seen Nina on Let's Dance for Comic Relief and Christopher Guest's new hit show Family Tree.
Talking of TV shows, the next comic we're announcing is one that you're currently watching in EastEnders! I know! It's Terry Alderton, who was rightly crowned the King of the Mountain last year for his barnstorming performances and three standing ovations on the last night. And with form like that, Terry was another act we just had to have back! Adding to these headline acts, long-standing Altitude regular and BBC Radio 4 favourite Marcus Brigstocke returns, of course, Andrew Maxwell himself, who has been all over the telebox this year will be making his feelings known and Scottish starlet Daniel Sloss who was the youngest ever comedian to perform a solo season in London's West End is back too.
Plus there'll be riesige lacht from Funny Women Awards winner Zoe Lyons who has appeared on Mock the Week, Michael McIntyre's Comedy Roadshow and Dave's One Night Stand, we'll have jaw-dropping hip-hop improve duo Abandoman who will be performing their smash hit full hour show 'Moonrock Boombox', cheeky chap Rob Beckett who has recently co-hosted I'm a Celebrity Get Me Out of Here Now! and appeared on 8 out of 10 Cats, Celebrity Juice and Fresh Meat. Independent Woman Luisa Omelian whose bringing her globally renowned 'What Would Beyonce Do?' show which has been causing a storm with sell out runs on both sides of the Atlantic and the incredible Benny Boot, who will be performing in Deutsch for the first time ever as we introduce a new après-ski German speaking show that will also see Andrew Maxwell make an appearance speaking in Austria's mother tongue!
There will be appearances from Edinburgh Festival's Best Newcomer Award winner 2010, Roisin Conaty who is in 'Impractical Jokers' with Paul McCaffrey and Joel Dommett and they are both packing their bags and coming too! Other new additions to the festival are Australian starlet Damian Clark and America's best new export Alex Edelman. On top of all these we still have one of the safest hands in comedy to announce Ian Stone who is currently a regular on Absolute Radio's Rock N Rolls Football and has been seen on numerous shows like Mock the Week, Never Mind the Buzzcocks and loads of others.… More?! You want more? What about the consistently hysterical Late Night Gimp Fight or the incredible International Improv All Stars (starring Steve Frost, Andy Smart, Ian Coppinger and guests) or even Austrian celebrity Alfred Dorfer, the country's number 1 comedian and film star, who presented the hugely popular Dorfers Donnerstalk a mix of stand-up comedy, sketches and social commentary on ORF Austria's version of the BBC.