Following the announcement a couple of weeks back about The Fortress, a formidable 60 ft long corrugated steel rave stronghold complete with huge turrets and a DJ booth in the loft, Beat-Herder a delighted to reveal the second new stage for 2013 – The Maison D'Etre.
Unlike The Fortress which features a huge soundsystem and an exclusively DJ led line up, The French themed Maison D'Etre will play host to Beat-Herder's strong new bands contingent, featuring the likes of hotly tipped buzzy acts such as Public Service Broadcasting, TOY, Temples, To Kill a King, Sicknote, Roosevelt, Concrete Knives and many more.
At 15m squared and channelling rural French peasant chic, with quaint shutters and washing lines, the Maison D'Etre will provide an intimate setting to see the next big things and is a welcome addition to the festival.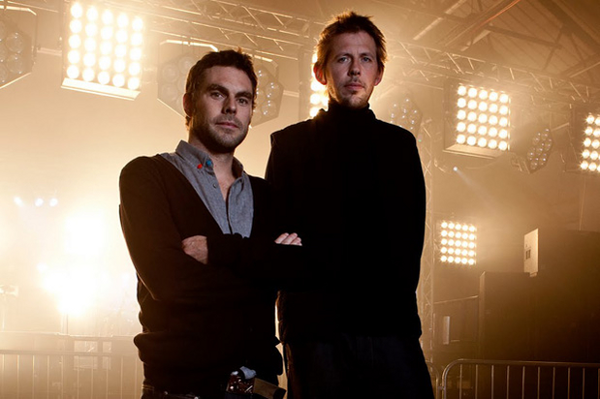 Full 2013 Line Up:
GROOVE ARMADA DJ SET / BURAKA SOM SISTEMA / JIMMY CLIFF / CHIC FEATURING NILE RODGERS / BOOKA SHADE LIVE / NORMAN JAY MBE / FEED ME DJ SET / JAGUAR SKILLS / KISSY SELL OUT / STANTON WARRIORS / MISTAJAM / RONI SIZE AND DYNAMITE MC / SHACKLETON LIVE / TOM STARR / BANCO DE GAIA LIVE + DJ SET / CLEAN BANDIT / KORMAC'S BIG BAND / MR SCRUFF / GENTLEMAN'S DUB CLUB / BONDAX / TEMPLES / TO KILL A KING / SKINNY LISTER / FEATURECAST / PUBLIC SERVICE BROADCASTING / CONCRETE KNIVES / GRINNY GRANDAD / MUMBAI SCIENCE / DUB PISTOLS DJ SET
SLAMBOREE / PRINCE FATTY FT. THE HORSEMAN / SHARAM JEY / THE OTHER TRIBE / ROOSEVELT / TOY / EDU IMBERNON / JUSTIN ROBERTSON / ELITE FORCE / JON CARTER / UTAH SAINTS / RENNIE PILGREM / SUNS OF ARQA / SHEPDOG / MR BENN / DAN CROLL / JOE DRISCOLL & SEKOU KOUYATE / CUT LA ROC / ONLY JOE / BARRY ASHWORTH / BEANS ON TOAST
IDJUT BOYS / DIZRAELI & THE SMALL GODS / DUB MAFIA / FREEFALL COLLECTIVE / PAUL TAYLOR / D.A.V.E. THE DRUMMER / EDDY TEMPLE MORRIS / JOSH WAVE / DOCTOR & THE MEDICS / KRYSKO / THE SQUATTERS / RANDOM HAND / LOW DOWN & DIRTY DJS / THE INEXPLICABLES / EXTRA LOVE / CAZAL / GIDEON CONN / USHTI BABA / SOUND ASSEMBLEY / THE DARLINGTONS / FORMBY IN DA CLUB / THE SQUIRE OF GOTHOS / DANKLE
CABLE STREET COLLECTIVE / DUB DADDA (ZION TRAIN) / FATHER FUNK / GEMMA FURBANK / GINNY KOPPENHOL / THE IMPRINTS / JOSH P (STYLUS) / MOUNTAIN OF LOVE / THE RAGAMUFFINS / ROOM FULL OF MIRRORS / SICKNOTE / THEPETEBOX / COLOUR THE ATLAS
OLIVIA FERN / DOHNUT / KARL ROSCOE / BISCUITHEAD & THE BISCUIT BADGERS / WOLFIE RAZMATAZZ / TOM JARVIS / BANE / PAUL THORNTON / CHRIS HOLT / THE 59ERS / TICKER LE PUNK / UNDERGROUND ROOTS FT. DAN MAN & BONGO CHILLI / 1ST AIDE / JOHNNY CLASH / AXIS SOUNDSYSTEM / DUB SMUGGLERS / LA LA AND THE BOO YA / TOM JARVIS / STACEY COHEN / LEWIS GARLAND / NATHAN BALL / CLAYTON BLIZZARD / THE YUYA
BENTLEY RHYTHM ACE DJ SET / CAPTAIN HOTKNIVES / RUSS CUBAN / MONSTER CEILDH BAND / MOOQEE / VELVET STREAM / GEORGE EZRA / TOO MANY T'S / CLUB SMITH / EXTRA CIRRICULAR / TONI JARVIS / THE LANCASHIRE HOTPOTS ACOUSTIC CONQUISTADOR / DUTTY MOONSHINE / EDDIE EARTHQUAKE & THE TREMORS / THE RESONATORS
ANGIE DA SILVA / BANANA DAVE / CHAPTER 4 / COJO / DANEJAH & RAGGA RAGGA / DR CUMBFYNSTEIN / IRIE VIBES / JAMBEATER / JAYNEY MAC / JIMI JIM BOB / MATT BUGGINS / MATTY B / MESSENGER SOUND SYSTEM / NORTHERN SCHOEY / OLD BOY / POM / PRINCE LIUIJAH / RAMON JUDAH / ROOTS LAB INT RADIO DJS / SMEGS / SPAT / STEVE BARKER / STEVE JARVIS / STRICTLY BUSINESS / THE FARMER / THE PROPER NORTH / TIM FORRESTER
WOLFIE ELECTROSWING / RUM JIG / ED STONES & THE BD3 / FOXES FAUX / CORPORATE TRAMPS / JAMES KELLY / AGE OF GLASS / ANDY CAPS FUNKY DISCO / FIRE BENEATH THE SEA / PEPPER JAM / EMMOTT & THE FOLKESTRA BUNTY / SILVER TORTOISE / HANG PROJECT / KALIKA / THE WONDERFUL SOUND OF THE CINEMA ORGAN / RIDERS IN THE SKA / STEE BOWDEN / KING SUMMAT / WAKA / RED TIN DAVE / GLYN BAILEY / TOOLEY / LOUISE & THE RIGHTEOUS BEES / STAGGER LEE FISHER / JONNIE COMMON / ADAM & PIWI / AGE OF GLASS / WISEGOLDFISH / WOLFSON & WINTERS / JAMIE BREWER / PHIL SMITH / BLOWJANGLES / EARTH DOCTOR / ALL WE ARE / DANIELLE & COWBELL / PURPLE TURTLE / RUBBER KAZOO
THE BAR STEWARD/ GRITTY BRITAIN / SONS OF VAL DOONICAN / WOODEN MACHINE / LOVE EM TOUCH EM SQUEEZE EM / SKINNY DJ / THE YORKSHIRE PUDDINGS / NANA MOON / BREAKBEATROOT / MISS MCQ