The line-up for this year's Open'er Festival is ever expanding as more outstanding major acts confirm for 2013's edition.
Some amazing worldwide reowned acts join the Open'er bill today alongside a shining array of some of Poland's freshest and biggest selling music talent. Here they are…
Everything Everything
Can pop queen Beyoncé meet the avant-garde Arvo Part and twisted Mr Bungle on one record? Yes, if we're talking Everything Everything. Their second release "Arc" only confirmed that the Manchester band is among the most interesting ones on current UK scene. Combining an intelligent approach to art-rock with seeking their own interpretation of music, based on beat and the pulse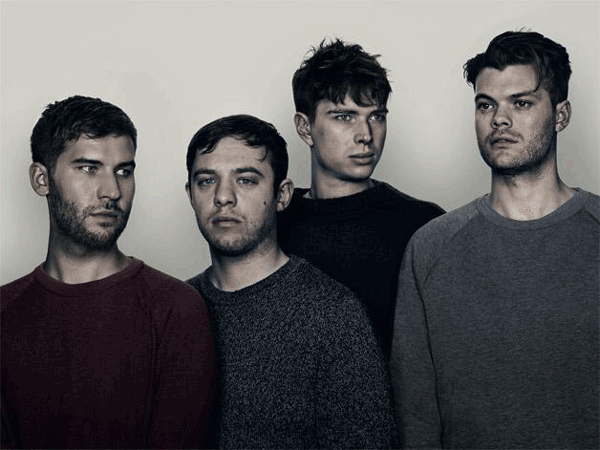 Mount Kimbie
Mount Kimbie are two producers – Dominic Maker and Kai Campos – who discovered their style in late dubstep, a hushed sound famous from the albums by The xx and James Blake. Their music is minimalist, with many omissions, yet also danceable beats and pulsating bass. They debuted in 2010 with a well-received LP "Crooks & Lover", which featured their most popular song to date: "Carbonated"
The National
You really thought Open'er 2013 could happen without The National? Only a few European dates (often headlining), and among them one at our festival, makes us proud and happy to welcome Matt Berninger's band to Open'er Main Stage again. The timing is perfect – for a few weeks, we've been enjoying the brand new, 6th studio album from the American band. "Trouble Will Find Me" is a full-on follow-up to "High Violet", both in terms in chronology and music and lyrics
Savages
The all-female post-punk quartet Savages formed in early 2012, and released their debut single "Flying To Berlin" exactly a year ago. This was enough for the girls to surface the blogosphere and join trend-setting parties like New York's CMJ Maraton. Savages didn't take long to get signed (to Matador Records) or to record a debut album – "Silence Yourself" was released early in May
Palma Violets
Often compared to The Libertines, Palma Violets rose to fame thanks to the path set out by Arctic Monkeys. Their internet popularity is the fruit of videos, depicting their chaotic, ultra-energetic concerts and social media. The grassroots success was soon backed up with big musical media – Palma Violets were listed in BBC Sound of 2013
Rykarda Parasol
A singer who swapped opera singing for rock music ten years ago, playing it in a dark manner, not unlike Nick Cave and PJ Harvey. She recorded her new, third album in her native San Francisco
Pianohooligan
Pianohooligan is the wild spirit of Polish jazz. A regular to international festivals. Real name Piotr Orzechowski, he experiments with his looks, but most of all with his music. Last year saw the release of his album "Experiment: Penderecki", featuring works inspired by the distinguished Polish maestro
Stroon
Stroon is a Slovakian electronic music producer, who feels most comfortable in post-dubstep. He usually collaborates with different groups and projects
Plum
Two weeks ago, Plum played a great show at Barcelona's Primavera Sound. We could see with our own eyes how the crowd grew and grew with each minute, quickly turning from concentration to wild dancing
Fuka Lata
Fuka Lata were another Polish highlight of Primavera Sound. The Warsaw duo performs psychedelic synth pop, easy to love for all retro music fans
Kim Nowak
Kim Nowak seemed to be a one-off side project for Waglewski brothers, usually working with their hip-hop projects. Lucklilly, they became a full-time group, who followed their great debut with an even better, darker release "Wilk"
Vienio (Profil Pokoleń)
Kapitan Nemo, Tomek Lipiński, Dezerter and Kodym (Apteka) are all guests invited by Vienio, the co-founder member of Molesta, rapper and journalist, to collaborate on his new solo album"Profil Pokoleń". The release is a result of Vienio's meetings with musicians that shook the Polish scene in the 1980s
Łąki Łan
As this year's Open'er key visual is a grass ball, we absolutely had to inscribe Łąki Łan into it, especially when the gents have proven more than once that the Gdynia airport is their natural habitat
Ballady i Romanse/Igor Boxx
The Open'er audience had a chance to see both Ballady i Romanse and Igor Boxx of Skalpel on Open'er stages. This year, the musicians will meet in the same time and place, although with a very different repertoire
Sorry Boys
"The Sun", the first premiere song from Sorry Boys in two years, shows a new direction in their sound. You can hear hints of Bat For Lashes, Niki & The Dove, or even Kate Bus
hipiersoniK
A new project on the Polish scene, yet very successful both locally and abroad (they toured the UK with Hawkwind). hipiersoniK are inspired by cyber-punk culture, both in their music and lyrics
Semantik Punk
Semantik punk is a new name of Moja Adrenalina. The change of name came with the breakthrough album "abcdefghijklmnoprstuwxyz". It was produced by Rick Robinson, who was behind the decks while recording legendary albums by Sepultura and Slipknot
L.U.C & Motion Trio
L.U.C and Motion Trio will be Open'er's live premiere. What put the world-famous accordion trio with the musically hyperactive L.U.C? First, they met by chance at a hotel, and then took a step-by-step artistic path to find unusual musical solutions, finally releasing the album "Nic Się nie Stało".
Please The Trees
Please The Trees are an alternative highlight of Czech alternative, who plant a new tree in every town they play. Awarded in their home country, often compared to The National and regular live acts abroad, they recently released their third album "A Forest Affair"
Hot Casandra
Hot Casandra – a Romanian electronic duo with a strong electropop drive. Currently residing in London, they've been venturing further and further onto the European scene, which is proven by their invitation to Open'er