CHAGSTOCK FESTIVAL have announced Mystery Jets as their final main stage headliner for 2013. They join a raft of new additions to the bill, including Dizraeli & The Small Gods, Emily Barker & The Red Clay Halo, Crowns, Yes Sir Boss,Crazy Arm and Matthew & Me in completing the line-up.
Comprising father-and-son combo Henry and Blaine Harrison, alongside William Rees and Kapil Traveldi, Mystery Jets were formed on Eel Pie Island when the boys were still at school. Seven years and four albums later they are still delighting audiences around the world with hits including as Young Love and Two Doors Down. Mystery Jets headline Chagstock shortly after supporting Mumford and Sons on their mammoth USA arena tour.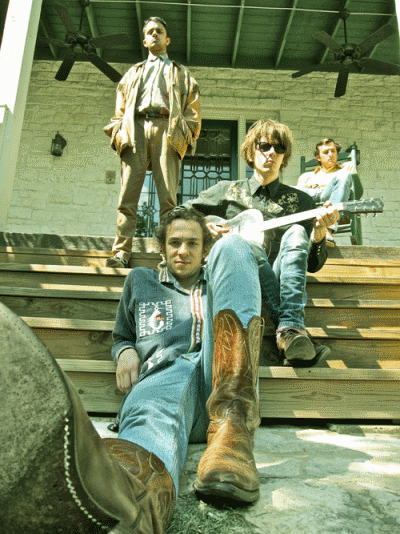 Dizraeli & The Small Gods are currently making waves throughout the music world. Their 7-piece melodic, unashamedly heartfelt reinvention of hiphop recently prompted The Independent to declare, "their folk, rap, spoken word and hymns embody 21st Century folk."
Hailing from Western Australia, Emily Barker is a compelling songwriter with a gift for weaving melody and words. Her talent is perfectly complimented by the magnificent arrangements of her three-piece ensemble, The Red Clay Halo. Emily is renowned for writing and recording the theme to the BBC One's Wallander, which won a BAFTA and a Royal Television Award.
These are exciting times for Cornish sea-shanty punks, Crowns. With a major Dropkick Murphys support tour under their belts, Mike Davis playing them on Radio 1, and 2013 festival appearances (aside from Chagstock) including Glastonbury, Download and Hard Rock Calling, this may well be the year they hit the big time.
These acts join an already stellar line up, including recently reformed Irish New Wave legends, The Boomtown Rats (featuring all four original members; Bob Geldof, Pete Briquette, Garry Roberts and Simon Crowe), alongside Billy Bragg,Kathryn Roberts & Sean Lakeman, Willie & The Bandits, Ferocious Dog and many more.
Chagstock is one of the Westcountry's best-loved festivals. Set in 45 acres of farmland on the northern edge of Devon's beautiful Dartmoor, Chagstock is renowned for its stunning location, diverse line-up of artists and family-friendly atmosphere. Chagstock showcases the very best music, food and entertainment that the Westcountry and the UK have to offer. Chagstock retains its traditional 2-day format in 2013.
As introduced last year in recognition of the tough economic climate for families, all children under 12 can attend for free (ticket is required). Chagstock's capacity is once again capped at just 5,000 tickets to ensure that its intimate, family-friendly atmosphere is maintained.
This year's fancy dress theme will be 'Circus'
THE BOOMTOWN RATS
Featuring Bob Geldof, Pete Briquette, Garry Roberts and Simon Crowe
MYSTERY JETS | BILLY BRAGG | DIZRAELI & THE SMALL GODS
KATHRYN ROBERTS & SEAN LAKEMAN | CROWNS | LILY & MEG
EMILY BARKER & THE RED CLAY HALO | WILLIE & THE BANDITS
Crazy Arm | Matthew & Me | Marc O'Reilly | Ferocious Dog | New Crisis
Skinny Dog | Flats & Sharps | Brother & Bones | Aurora Skies