Joining Latitude as special guest for the eagerly anticipated Sunday lunchtime performance on the Obelisk Arena, Latitude's Main Stage, is the legendary Bobby Womack, the godfather of soul and R&B. Womack's career spans more than 50 years at the cutting edge, stretching right back to his discovery at the age of 10 by the legendary Sam Cooke. During his time he has penned Number One hits for some of the biggest bands in the industry, played guitar on some of the most enduring albums of the 20th century, including Lady Soul by Aretha Franklin and Janis Joplin's Pearl, and released a series of ground-breaking albums that mixed soul, disco and rhythm and blues.
While his music enjoyed a revival in the late 90's after Quentin Tarantino picked his 1972 song Across 110th Street as the theme for Jackie Brown, it wasn't until 2009 that the world began to hear new Bobby Womack material. It was then he was tempted back into the studio and onto the live circuit by Damon Albarn, with whom he recorded Stylo and Cloud of Unknowing, two of the stand-out tracks from the hit 2009 album Plastic Beach by Gorillaz.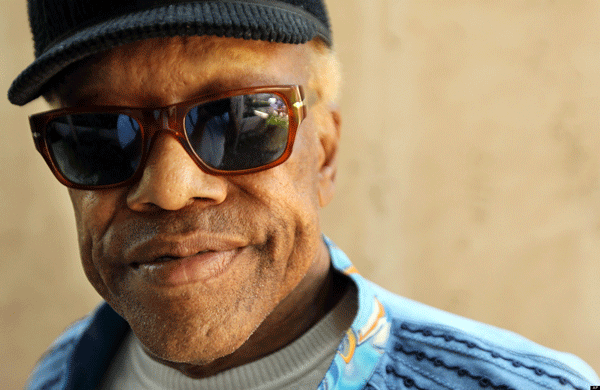 The Bravest Man In The Universe arrived in 2012, a powerful album of electronic gospel soul co-produced by Damon Albarn and XL Recordings' Richard Russell, his first album of original material in 18 years. Rhapsodically received by critics and music-lovers alike, it has catapulted Womack back into the premier league of live and recording acts on the circuit today and his performance at Latitude is sure to be an incredible one.
The Sunday afternoon performance has previously been filled with some exceptional appearances from Joanna Newsom, Thom Yorke, Tom Jones, Scala & Kolacny Brothers and last year's Rufus Wainwright. Latitude is overjoyed to add Bobby Womack to this exclusive list.
Latitude is excited to announce a superb addition to the Comedy line-up with one of comedy's biggest stars, Eddie Izzard as a special guest. Izzard has been hailed as one of the foremost Stand-Ups of his generation. He takes ideas and situations and extrapolates them into bizarre tangential, absurd, and surreal comic narratives. Ever since bursting into the public consciousness in the early 90's, his brand of warm, surreal comedy has pushed the boundaries of British comedy in new and avowedly international directions, with Izzard even performing his sets in French. Eddie's musings have earned him countless awards including two Emmys.
A series of sell-out international tours and best-selling DVDs have been followed by a parallel career as an actor, with Izzard in high demand for film and TV work, including notable appearances in Ocean's Twelve and Thirteen, Valkyrie and a guest appearance in The Simpsons. In 2009 Izzard ran an astounding 43 marathons in 51 days for Sport Relief.
Izzard's brand new comedy tour Force Majeure is currently touring the globe and will visit over 28 countries. His appearance at Latitude is an exclusive and a very rare opportunity for fans to see him in the setting of a summer festival.
Following sell-out shows and critical acclaim on their recent UK tour, BalletBoyz® The TALENT 2013 comes to Latitude. Featuring 10 young male dancers from all over the UK who were hand-picked from open auditions, the company performs work by two internationally acclaimed choreographers: Fallen by multi-award-winning Sadler's Wells Associate Artist Russell Maliphant and Serpent by Liam Scarlett, First Artist at The Royal Ballet who has been hailed as one of the future's most promising dance-makers.
BalletBoyz® was founded by former Royal Ballet lead dancers Michael Nunn and William Trevitt in 2001; since then they have continually captured the zeitgeist, giving audiences something new and exciting with every production and, crucially, giving aspiring young male dancers the chance to be part of a remarkable dance company and an ever-developing entity. BalletBoyz® made their Latitude debut in 2010 and are delighted to be back on The Waterfront Stage.
NEW MUSIC NAMES
On the music line-up, the i Arena welcomes Brooklyn four-piece DIIV who will bring the melodic sound of their acclaimed debut LP Oshin to Suffolk and the sorrowful, introverted and entirely beautiful electronic R&B ofDeptford Goth will grace the stage. Continuing the tradition of showcasing the best in emerging musical talent, Latitude adds the beautiful and raw Torres, a 22 year-old singer-songwriter from Nashville playing songs from her self-titled debut album, plus the rhetorically charged and provocative Mancunian four-piece
M O N E Y, whose work has already drawn comparison with acts as various as Antony and The Johnsons and Joy Division.
On The Lake Stage will be the soulfully sung Danish electronica of MØ, fast rising British bands will be represented by Wolf Alice, a hotly-tipped three-piece who blend folk and grunge to startling effect and Coves, a shoegaze pop-influenced duo. Latitude builds on the strong showing of Welsh artists at this year's festival, welcoming Cardiff teen five-piece Joanna Gruesome who twin infectious boy-girl vocals with the influence of Dinosaur Jr. and The Pastels. Latitude is delighted to welcome back the darkly literate electro-pop of Gabriel Bruce to The Lake Stage, playing songs from his recently released debut album Love In Arms, and Iceland's alternative pop starsRetro Stefson will recreate their hook-laden reinvention of 80's and 90's pop for the crowds.
Also on The Lake Stage will be the tropical pop reggae dub of Hollie Cook, the daughter of a Sex Pistol and an exceptional dub singer in her own right, she will be performing songs from her self-titled debut album and forthcoming album, both produced by Prince Fatty. Valerie June will recite her amalgamation of blues, folk, gospel, soul, Appalachian and bluegrass and festival goers can hear the haunting folk pop of Welsh harpist and singer Georgia Ruth.
Mark Lamarr's God's Jukebox is a Latitude highlight and 2013 promises to be another vintage year in the Film & Music Arena. Joining the bill as Mark's guests will be lead singer of Squeeze Glenn Tilbrook and The Fluffers. This is the first Fluffers performance in four years and they will be performing Squeeze and Tilbrook solo songs in their unique high energy punk/surf style. High-energy vintage rock 'n' roll and authentic wild surf comes from The Dustaphonics, plus deep soul's funkiest new diva Hannah Williams and The Tastemakers, a 7-piece deep soul crew from London and the big-beat-meets-70's-funk, jazz and soul sounds of multi-instrumentalist, DJ and producer Lack of Afro.
James Rhodes, the virtuoso pianist who has attracted celebrity followers and widespread praise for his dedication to perform in non-traditional classical music venues, will continue this with a performance on Latitude's floating platform, The Waterfront Stage. James has no formal academic musical education or dedicated mentoring. He has released four albums, all of which have topped the iTunes classical charts. In addition he presented a Chopin documentary for BBC4 and presented and performed in his very own television series James Rhodes: Piano Man on Sky Arts.
For a classical twist, and fresh from opening the recent FA Cup Final, is Opera group Amore who will be performing songs from their debut album Stand Together. Formed by four talented, charismatic and passionate Royal College of Music graduates, they have a modern take on the classics in the Film & Music Arena. Musician Boom Bip and artist Charlie White bring a new collaborative art/music project, Music for Sleeping Children, a series of dance tracks based on in-depth interviews of American teenage girls with accompanying photographic images. Plus Josh Record, an up and coming London songwriter with a rare sense of intimacy, who has been compared to the likes of Ben Howard will perform. His new track 'The War' was described by Radio 1 DJ Zane Lowe as "a remarkable record from a brand new artist, this is your future right here", he is one not to be missed.
Appearing in the Outdoor Theatre is Grace Petrie performing her indie folk rock songs (a couple with an acoustic punk twist), playing the guitar and singing with a voice that has been likened by listeners to Laura Marling and Kate Nash.