Today Beach Break Live announce a monumental array of artists to add to their already bulging carnival line-up. Featuring everyone from the globally renowned
Cuban Brothers
to the phenomenal
Dizraelli & the Small Gods
. This year Beach Break Live brings ticket holders its best offering yet, taking over the surfer paradise of Newquay from 20th – 24th June. The new music holiday will be creating a carnival extravaganza like no other with ticket holders enjoying everything from cliff-top choirs to cave performances, 2013 is set to be better than ever before. Beach Break Live is discounting a limited number of standard silver tickets for local residents on 6th May at 10am, music lovers living in the postcode of TR7 or with a Sailors Card can purchase tickets for just £20
here
. Standard silver Beach Break Live tickets are available now from just £40, for more information please visit
www.beachbreaklive.com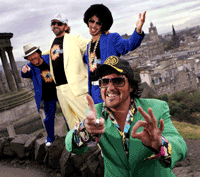 Beach Break Live announce over 100 artists to join the already astonishing line-up, confirming the new music holiday as one of the best places to hear new music and breaking talent this summer. Featuring the likes of
Passport To Stockholm
, the London based trio who have been pumping fresh air into the lungs of the acoustic genre since forming at the beginning of 2012 they are set to take the festival season by storm this summer. The wonderful
Cuban Brothers
will no doubt be entertaining the masses at the beach side paradise alongside
Shadow Child
, originally a side project for Simon Neale, Shadow Child has gone from strength to strength attracting thousands of international fans.
Also joining the bill is breakbeat aficionados Freestylers, who have been dominating the genre since their inception in 1996. Flying the Beach Break Live flag in 2013 will also be Coda, the amazing Gentlemens Dub Club, house icon George Fitzgerald and Eddy Temple Morris' number one producer of 2012, Maribou State. A host of additional artists are also announced today, including Abigail Hubbard, Alice Amelia, Battle of You, Boddika,Laura Flethcer, Lazy Habits, Only Joe, Planes, Second City, Submotion Orchestra, Urban Folk Quartet, Tom Bradley and many more.
On
6th May
at
10am
a limited number of silver tickets will be available at just
£20
to residents living with the
TR7
postcode or with a
Sailors Card
, these will be able to purchase the discounted tickets via the website here:
www.beachbreaklive.com/localtickets
. 2013 sees Beach Break Live move to the stunning surfer paradise of Newquay, its original home. The new music holiday will showcase the best in underground and up and coming music from across the globe, AlunaGeorge and Jake Bugg headline the event on 20th -24th June.
Craig Burnett, Ocean Lodge owner, Newquay says: "I'm really looking forward to having Beach Break back in Newquay this summer and more-so I'm thrilled to be an affiliated accommodation provider. Festivals like this bring lots of trade to the area and it's great that they are supporting local businesses like Ocean Lodge. Now fingers crossed we get the weather!"
LINE-UP SO FAR…

Abigail Hubbard / Adam Burridge / Albert Jones / Alex Davies / Alice Amelia / Alice Jemima / AlunaGeorge / Andy H / Annaca / Astroid Boys / Auction For the Promise Club / Audio Sleaze / BackBeat Soundsystem / Badger / Battle of You / Bear Arms / Bela Takes Chase / Ben & Lex / Ben James / Benji Boko / Bim / Blair & the Mackichan Band / Blue Rose Code / Boddika / Breakage / Bremond / BRIDGES / Brown Bear / B-Traits / Budos / By The Rivers / Callum Beattie / Captain Backfire / Chaka Chaka / Charlie Wingfield / Chloe Foy / Chunky / Club Peel / CODA / Corp / Cuban Brothers / Danny Byrd / David Rodigan MBE / Devlin / Dismantle / DJ Boundski / DJ Chamber / DJ Demonise / DJ Dubman / DJ Edge / DJ Format / Dr Kotch / DJ Shockproof / Drakelow / Drumachine Project / Drop DJs / Dub Pistols / Duro / Dusky / Eats Everything / Ed Solo, Dekline, JFB / Ejeca / Ellie Rose / Emily & The Woods / Empire of Fools / End of Level Baddie / Erin K / Eton Messy / Felix Fables / Felix Hagan & The Family / Fjokra / Foreign Beggars / Freerange / Freestylers / French Wives / Frett / Fringe Man / Frisky Nippa / Funky Drop / Gang Colours / Gareth Lee / Gentlemens Dub Club /Gentlemen Duke / George Fitzgerald / Ghouls / Glot / Great Plain Sundance / Greta Isaac / Grudge / Hanna Jacobssen / Helen & The Sirens / Hidden Riddim / High Contrast / Hoi / Honey / Honeyfeet / Hong Kong Ping Pong / Huxley / Iago / Iller Instinct b2b Shortson / Ilona / Imperial Leisure / Injured Birds / Intermission Project / Island Cassettes / Jack Light / Jack Wallen / Jackmaster / Jacob Curtis / Jakarta Club / Jake Bugg / Jamie Lawson / Jasper in the Company of Others / Jay Bee / Jello / Jenna Bennett / Jman / Joseph / J Robot / Jungle Doctors / Kezia / Killamonjambo / Klose One / Kola / Krafty Kuts / Laid Blak / Land of the Giants / Laura Fletcher / Laurence Fox / Lazy Habits / Leanne Smith / Le Chat / Leroy / LFM & Mali / Little Arrow / Lion The Weak / Loefah / Loose People / Lovelight Soundsystem / Lucy Rose / Luke Ritchie / Lulu James / Magnus Puto / Major Triadz / Maribou State / Mark Nichols / Martin Vital / Matt Anderson / Mele / Metrik / Minuten / Modu / More Like Trees / Moriaty / Mystery / N.U.M.B. / Natasha North / Nathan Ball / Neil Halstead / Nu:Logic / Obliqka / Olee & Mr Morri / Olos / Only Joe / Panda / Passport to Stockholm / Pedestrian / Phrixus / Planes / Polar Caps / Polly Money / Prospero's Judgement / Rag & Bone Man / RAPHAELLA / Reckless / Redefeat / Richie T / Riddim Fruits / Riott Jazz / Robb Maksimcyz / Rock & Oben / Rogue Elements / Rory Hoy & Kitten & The Hip / Rosie & the Vandals / Roska / Rushil / Sam Beeton / Sam Supplier / Sam Williams & the Flock of Bats / Scratch Perverts / Seattle Yacht Club / Sebastien / Seizure / Shadow Child / Shark Bait / Shout Timber / Shy FX / Sion Russell Jones / Si Roxwell / Six Kinds of Wednesday / Skream & Sgt. Pokes / Sky Murphy & The General / Snatch the Wax / Sneaky Nuts DJs / Sophie Scott / South / Spy / Steve Moore / Submotion Orchestra / Suitenoir / Swiss Elf / Tall House / Tankus The Henge / Ten Story / The Attic Project / The Boston Tea Party / The Boxettes / The Dark Lights / The Daydream Club / The Great Nothing / The Icarus Youth / The Intermission Project / The King Regards / The Magnet / The Nextmen / The OxBox / The Peoples String Foundation / The Shallows / The Skints / The Soul Circle Gang / The Standards / The Vertigos / The Winter Olympics / The Worries / The Zookeepers / This Calamity / Those Damn DJs / Tom Aux / Tom Bradley / Tom Brady / Tom Dibb / Tom Figgins / Tom Gall / Tom James / Tom Jarvis / Tom Staniford / Trick the Fox / True & FalseTwo Fold / Urban Folk Quartet / Vendetta / Victoria / Waylayers / We, The Undersigned / Whisky Jax / Will & the People / Wiseman / Wokka / Wrec & Dynamite MC / Xander Rawlins / Xeno / Xhosah / Yannick / Ygnve & the Innocent