Back once again for 2013 will be London party-starters The Playground with their annual two-day festival, taking place in the capital from the 7th-8th June. This year, the festival will be held at the incredible 4500 capacity Brixton Academy, and host some of the biggest names in electronic music that has ever been.
"With Booka Shade, UNKLE and James Zabiela joining Detroit luminaries Kevin Saunderson, Derrick May and Juan Atkins and underground treasures like No Artificial Colours, Krystal Klear and Boddika, Playground Festival will reach new heights of hysteria when it sets up shop in June. Borrowing as much from Sonar as Bloc Festival to inform its booking policy, headline slots from Gary Numan and Squarepusher will touch similar ground to the spectacle committed by Amon Tobin and his ISAM Live series recently, with 3D mapping visuals and an LED construction set, in a venue more than equipped to handle it… Adding to that, they'll be nobody knocking on The Academy door asking for noise to be kept down, ensuring the event is one London¹s festivals where the volume hits all the necessary levels. This playground is for adults only." DJ MAG
Considered as one of electronic music¹s most forward thinking artists, SQUAREPUSHER headlines THE PLAYGROUND FESTIVAL Saturday night. Following the critically acclaimed release of ŒUfabulum¹ on Warp Records last year, SQUAREPUSHER¹S AV show is an audiovisual barrage of brutal rhythms and laser guided melodies wowing crowds worldwide from SONAR to L.A.¹s HARDFEST and the Roundhouse in Camden recently.
Featuring a giant synapse shorting LED display designed and programmed by himself SQUAREPUSHER has reasserted himself in the electronic music pantheon. It¹s an intense show that feels like nothing else you¹ll see this year.
Headlining the Friday leg of the festival, LEFTFIELD are unparalleled in their status as one of the UK¹s biggest electronic acts of all time. Their seminal debut album ŒLeftism¹ went platinum within a number of months of its 1995 release and earned a Mercury Music prize nomination later that year. The album is looked upon as a classic is regularly mentioned in music polls including Q Magazine that placed it 8th in their list of ŒThe Greatest Albums Of All Time¹.

Joining him for the Saturday line-up, GARY NUMAN is a man that needs little introduction. Since his groundbreaking work and named as one of the figureheads of the electronic movement in the late 70s and early 80s, Gary Numan has been a pioneer of forward-thinking electronic music and a living legend to the UK¹s musical history. Since the release of his breakthrough track ŒCars¹ in 1979, Numan has gone on to have a glittering career that still holds strong today. With every passing year, Gary Numan has kept true to himself by breaking barriers and creating diverse and interesting electronic music that wins him new fans every day.
Since the release of their debut album ŒIdealism¹ and subsequent commercial success from lead single ŒPogo in 2007, DIGITALISM have grown become one of the world¹s most acclaimed electronic acts. The German duo have gone on to tour the world and all the while perfecting their emphatic live show with an impressive array of lights and visuals to boot.
As one of the founding members of alternative electronic duo UNKLE, JAMES LAVELLE is a true staple of the UK¹s music scene. Forming the group, alongside DJ Shadow, in 1996, UNKLE are regarded as one of the most ground-breaking electronic groups the world has ever seen.
Another James on the bill, JAMES ZABIELA has been one of the UK¹s most praised DJs over the last decade. As a longstanding resident to the Renaissance label, Zabiela¹s mixes and DJ sets are regarded amongst the highest and have seen this DJ progress to one of the highest names on today¹s underground electronic music scene.
We are also serving up German house duo BOOKA SHADE, who have been a staple of the world¹s clubbing consciousness for more than a decade. After almost a three-year absence from their productions, Booka Shade returned earlier this month with a new EP ŒHaleshop¹, that the pair lovingly dished out for free to their fans. It¹s clear that Booka Shade are back to their best in 2013 and will now doubt bring their impressive live show to full power this summer.
While KAVINSKY, fresh from releasing his debut album ŒOutrun¹ earlier this year, is one of the most talked about artists of today. The subsequent buzz he received after providing the opening title music to hit film ŒDrive¹ gave KAVINSKY an instant audience that exploded his presence on the world stage.
Joining GARY and SQUAREPUSHER on the Saturday will be two of the founding fathers of the Detroit techno scene, DERRICK MAY and KEVIN SAUNDERSON who together reinvented the techno sound in the 80s and have gone on to be two of the most respected tastemakers on the scene today.
We complete the top of Saturday¹s line up billing with some of the most inspiring and influential artists in the world. Including German-born PANTHA DU PRINCE, a staple of Europe¹s ambient techno scene whose new collaborative album with The Bell Laboratory ŒElements Of Light¹ is looking to be one of this year¹s most anticipated new releases.
With further support throughout the weekend from, VITALIC ­ LIVE, JUAN ATKINS / MODEL 500, CASSIUS, LAPALUX, TOKIMONSTA, JOHN FOXX & THE MATHS, WOLFGANG FLUR (EX KRAFTWERK), NATHAN FAKE +++ many many more the event promises to kick start the summer off with a bang (or beat??).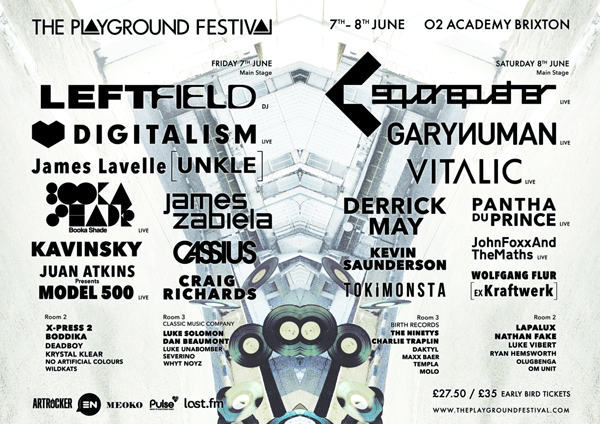 THE PLAYGROUND FESTIVAL 2013 ­ FULL LINEUP
Friday 7th June
LEFTFIELD
DIGITALISM- LIVE
UNKLE ­ James Lavelle
Booka Shade- LIVE
James Zabiela
Kavinsky
Cassius
Juan Atkins / Model 500 ­ LIVE
Craig Richards
X-Press 2
Boddika
Deadboy
Krystal Klear
Mickey Pearce
No Artificial Colours
Wildkats
Whyt Noyz
Severino
Dan Beaumont
Luke Unabomber
Luke Solomon
Saturday 8th June
SQUAREPUSHER- LIVE
Gary Numan ­ FULL LIVE BAND
Vitalic – Live
Derrick May
Kevin Saunderson
Pantha Du Prince- LIVE
John Foxx & The Maths
Wolfgang Flur [Ex- Kraftwerk]
Nathan Fake
TOKiMONSTA
Lapalux
Luke Vibert
Fantastic Mr. Fox
OM Unit
Molo
The Ninetys
Daktyl
Flechette
Charlie Traplin
Maxx Baer
Templa