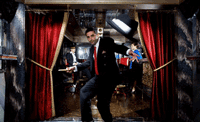 Soundwave Festival Croatia announces the addition of one of the world's most influential DJs and producers to an already stacked lineup. He released 'Entroducing' – one of the most important records in the history of hip hop and electronic music – and has years of touring experience under his belt. Now the peerless DJ Shadow joins a bill that already includes man of the moment Bonobo playing live, the most blunted man in America DOOM, the Robert Glasper Experiment featuring Chris 'Daddy' Dave on drums, and Quantic's Ondatropica live project among many more! And the additions don't end there. Certified party-starter DJ Yoda, Brainfeeder disciple Lapalux and Australian soulsters Hiatus Kaiyote also join the lineup to ensure festival-goers get a balanced, nutritious diet of music to go with their side-orders of sun, sea and happiness.
Spread over five days and three stages, Soundwave invites like-minded music lovers to enjoy the finest boutique festival experience in the ultimate sun-drenched location. Ask any past Festival attendee what their favourite bit of Soundwave was and most will tell you it was the infamous boat parties, a chance for 200 Soundwavers to get up close and party with some of the artists performing at the festival. The festival site has its own dock, seconds from the main stage, from which The Argonaughty embarks on a Funktion 1-powered tour of the Dalmatian coast, taking in the delightful Komati Islands on a three-hour journey of music, friendly people and stunning scenery. For 2013, Soundwave has laid out 16 boat parties, hosted and curated by the likes of Ninja Tune, Soundcrash and Tru Thoughts, and featuring sets from artists of the calibre of Bonobo, Mr Thing, Quantic, Om Unit, Shigeto, Kutmah or Craig Charles to name but a few. There's even a boat party with a full-on brass band on board. Check the full lineups and purchase tickets here. Tickets for this are selling fast, so get in quickly.
Soundwave Festival Croatia is the place to let loose, unwind and party to quality hip hop, reggae, soul and funk. Set in a secret cove at the heart of the Dalmatian Coast of Croatia, Tisno is a beautiful backdrop to one of Europe's finest boutique festivals. The site is just a short walk from the fishing town of Tisno in this idyllic part of the country, which sits between Zadar and Split airports. Flights are available from all over the UK and Europe, and transfers will be available to book throughout the festival. As Soundwave Festival Croatia marks its fifth anniversary, you're invited to join the fun for the most epic festival yet, as the organisers pull out all the stops to make this a music holiday to remember. Grab your slice of action and indulge in a blissful combination of sunshine, music and revelry! For a definitive – and truly independent – boutique festival experience with a lineup that never compromises on quality Soundwave Festival Croatia is the place to be this summer.