This year's line-up includes some of the most innovative names in contemporary music including recent number 1 album act Bastille, one of the UK's most ferocious rock bands, Enter Shikari, Manchester's band of the moment, Everything Everything, the psychedelic garage rock of Thee Oh Sees and the futuristic indie pop of fellow American Darwin Deez.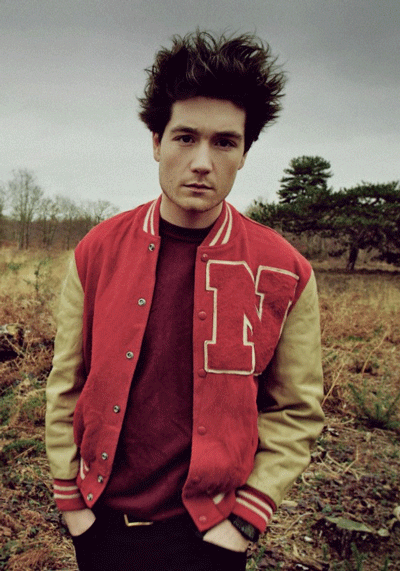 Pioneering electronic artists include Mount Kimbie, Darkstar and Oneohtrix Point Never whilst hotly tipped performances come from the likes of AlunaGeorge, King Krule, Unknown Mortal Orchestra, Drenge, Pins, The 1975 and Melody's Echo Chamber.
On each of the three nights of Sound City there will be a very special show at Liverpool's Anglican Cathedral and confirmed to headline are Noah and the Whale, Dexys and The Walkmen.
The music programme features over 360 artists in over 25 venues over 3 days and today Sound City announce 150 brand new artists to perform in Liverpool in May.
London based five-piece Eliza And The Bear make a charming blend of indie pop and folk, laced with warm harmonies and uplifting melodies. Receiving a great response from their debut double A side single "Upon The North / The Southern Wild", the band are set to embark on their first support tour with Athlete in May.
Sun Glitters is the guise of Luxemburg based electronic / experimental musician; Victor Ferreira. Mixing an array of lush melodies, pitch-shifted vocals with down tempo beatwork, Sun Glitters have drawn comparisons to the likes of Burial, Holy Other and Gold Panda.
Middlesbrough band Collectors Club have shown in their debut singles "Wanna Be You" and "First To Know" an ability to write infectious indie pop tracks. After a successful 2012 and being shortlisted as BBC Introducing's Ones To Watch for 2013, the band are currently working on their debut with Paddy Jordan (Young Rebel Set).
Swimming Lessons is the recording project of multi-instrumentalist Ben Lewis (Of Leeds Indie Poppers Blood Oranges), creating psych-pop taking in influences from the likes of Talking Heads, Animal Collective, Arthur Russell, Broken Social Scene and many more.
Drawing upon the eerie sounds of the Northern hemisphere and musically influenced by acts such as Feist, Nico and Anthony and the Johnsons, Copenhagen based Broken Twin's simple setup of bass, piano, guitar, vocals and percussion intertwines in a whirlwind of creaking piano, floating vocals and cantankerous guitars.
New Additions
16 Hole Boots / Abandon Silence DJs / Acrobat / Aeroplane Flies High / Alex Hulme / Ali Ingle / Allie Bradley / Alpha Male Tea Party / Anna Corcoran / Apollo 18 / Astroid Boys / Bad Guys / Bad Meds / Baltic Fleet / Bantam Lions / Best Friends / Black Moth / Blacklisters / Blank Maps / Bleech / Blizzard / Boats / Brave Young Red / Broken Twin / Brown Bear & The Bandits / Brown Brogues / CANDIDATE23 / Cats Park / Chloe Howl / Christine and the Queens / Clang Boom Steam / Clock Work Of The Moon / CMWMSMDM / Cold Shoulder / Collectors Club / Common Tongues / Cub Scouts / Cut / D'lyfa Reilly / Dead Rabbit / DJ DKHT / Dominoes / Echo / Ed Black / Eden Royals / Eliza and the Bear / Eric Fuentes / Fire Beneath The Sea / Fist City / Franco & His Dreadnaught / French Films / Galaxy Express / Gate Flowers / Gatsby's Green Light / Ghostchant / GlassCaves / Goonamguayeoridingstella / Hands / Highfields / Ilona / Iron Witch / Iyes / Jazzhands / Jethro Fox / Johnnie Selfish and The Worried Man / Johnny Sands / Kamp! / Karpia / Kepla / Killaflaw / Kof / Korda Marshall / Last Days of 1984 / Laura J Martin / Leanne Robinson / Lewis Berry / Liberty Vessles / Lolito / Lunar Modular / Mara and the Inner Strangeness / Mark Magill / Matzka / Memory Men / Mercury 13 / Mickey 9's / Mise en Scene / Miss Stylie / Mitzi / Moats / Mono LP's / Moulettes / Muto Leo / Nadine Carina / Natalie McCool / Natasha Haws / Nately's Whores Kid Sister / Ninetails / Noble Thiefs / Ofeliadorme / Owls* / Oxygen Thieves / Palm Reader / Persian Pelican / Police Squad / Popstrangers / Rachael Wright & the Good Sons / Red House Glory / Redolent / Richard Walters / Rob Vincent / Ruby Ann Patterson / Sankofa / Sansa / Say Yes Dog / Sea Of Keys / Secret Rivals / Serious Sam Barrett / Sheepy / Sienna / Skubas / Sonny Green / Splintered Ukes / Spring Offensive / Springtime Anchorage / Stafrænn Hakon / Stereo Virgins / Sugarmen / Sun Glitters / Sunfields / Sweet Jane / Swimming Lessons / Taylor Fowlis / TearTalk / The Bazaars / The Blaconies / The Boy Royal / The Chapman Family / The Cheap Thrills / The City Walls / The Cold One Hundred / The Dirty Rivers / The Excitements / The Flamin ' Mamies / The Formby Band / The Kill Van Kulls / The Lines / The Mono LP's / The Not Amused / The Oreoh!s / The Penelopes / The Ramona Flowers / The Red Suns / The Science of the Lamps / The Thespians / The Tom Waitresses / The Tribute Band / The Troubadours / The Trouble With Templeton / The Wild Eyes / These Monsters / These Reigning Days / Tibi & Her Cello / Tizzy Bac / Towns / Tripwires / Two Hours Traffic / Tying Tiffany / Vasco Da Gamma / Voo / Whales In Cubicles / Witch Hunt
LINE UP TO DATE
Noah and the Whale / The Walkmen / Dexys / Bastille / Everything Everything / Enter Shikari / Thee Oh Sees / Darwin Deez / Delphic / Mount Kimbie / Reverend and the Makers / AlunaGeorge / Dutch Uncles / King Krule / Oneohtrix Point Never / Future Of The Left / Toy / Wave Machines / Egyptian Hip Hop / Stealing Sheep / Drenge / Savages / Melody's Echo Chamber / Unknown Mortal Orchestra / Ian Prowse & Amsterdam / Darkstar / Outfit / Swim Deep / Alessi's Ark / The 1975 / PINS / Wolf People / Theme Park / Jetta / Hawk Eyes / Bipolar Sunshine / Loom / Deep Sea / Arcade / The Family Rain / Blackeye / Skaters / Splashh / Charlie Boyer & The Voyeurs / Dan Croll / Soley / Lulu James / Arcane Roots / Still Corners / Luls / Hands / Wild Smiles / Mikill Pane / Bebe Black / Jacob Banks / Murkage / Bo Ningen / Big Deal / Amateur Best / Night Engine / Fossil Collective / Marmozets / Hacktivist / Brolin / Mind Enterprises / Golden Fable / Neck Deep / Likely Lads / On An On / Temples / The Tea Street Band / Duologue / Loved Ones / By The Sea / All We Are / Broken Men / Bird / Nadine Carina / Ady Suleiman / Concrete Knives / Sun Glitters / Mutiny On The Bounty / Afternaut / Silent Sleep / 16 Hole Boots / Abandon Silence DJs / Acrobat / Aeroplane Flies High / Alex Hulme / Ali Ingle / Allie Bradley / Alpha Male Tea Party / Anna Corcoran / Apollo 18 / Astroid Boys / Bad Guys / Bad Meds / Baltic Fleet / Bantam Lions / Best Friends / Black Moth / Blacklisters / Blank Maps / Bleech / Blizzard / Boats / Brave Young Red / Broken Twin / Brown Bear & The Bandits / Brown Brogues / CANDIDATE23 / Cats Park / Chloe Howl / Christine and the Queens / Clang Boom Steam / Clock Work Of The Moon / CMWMSMDM / Cold Shoulder / Collectors Club / Common Tongues / Cub Scouts / Cut / D'lyfa Reilly / Dead Rabbit / DJ DKHT / Dominoes / Echo / Ed Black / Eden Royals / Eliza and the Bear / Eric Fuentes / Fire Beneath The Sea / Fist City / Franco & His Dreadnaught / French Films / Galaxy Express / Gate Flowers / Gatsby's Green Light / Ghostchant / GlassCaves / Goonamguayeoridingstella / Hands / Highfields / Ilona / Iron Witch / Iyes / Jazzhands / Jethro Fox / Johnnie Selfish and The Worried Man / Johnny Sands / Kamp! / Karpia / Kepla / Killaflaw / Kof / Korda Marshall / Last Days of 1984 / Laura J Martin / Leanne Robinson / Lewis Berry / Liberty Vessles / Lolito / Lunar Modular / Mara and the Inner Strangeness / Mark Magill / Matzka / Memory Men / Mercury 13 / Mickey 9's / Mise en Scene / Miss Stylie / Mitzi / Moats / Mono LP's / Moulettes / Muto Leo / Nadine Carina / Natalie McCool / Natasha Haws / Nately's Whores Kid Sister / Ninetails / Noble Thiefs / Ofeliadorme / Owls* / Oxygen Thieves / Palm Reader / Persian Pelican / Police Squad / Popstrangers / Rachael Wright & the Good Sons / Red House Glory / Redolent / Richard Walters / Rob Vincent / Ruby Ann Patterson / Sankofa / Sansa / Say Yes Dog / Sea Of Keys / Secret Rivals / Serious Sam Barrett / Sheepy / Sienna / Skubas / Sonny Green / Splintered Ukes / Spring Offensive / Springtime Anchorage / Stafrænn Hakon / Stereo Virgins / Sugarmen / Sun Glitters / Sunfields / Sweet Jane / Swimming Lessons / Taylor Fowlis / TearTalk / The Bazaars / The Blaconies / The Boy Royal / The Chapman Family / The Cheap Thrills / The City Walls / The Cold One Hundred / The Dirty Rivers / The Excitements / The Flamin ' Mamies / The Formby Band / The Kill Van Kulls / The Lines / The Mono LP's / The Not Amused / The Oreoh!s / The Penelopes / The Ramona Flowers / The Red Suns / The Science of the Lamps / The Thespians / The Tom Waitresses / The Tribute Band / The Troubadours / The Trouble With Templeton / The Wild Eyes / These Monsters / These Reigning Days / Tibi & Her Cello / Tizzy Bac / Towns / Tripwires / Two Hours Traffic / Tying Tiffany / Vasco Da Gamma / Voo / Whales In Cubicles / Witch Hunt