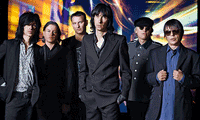 Everyone at Bingley Music Live will undoubtedly come together to give a massive welcome to Primal Scream. Since the release of the inaugural Mercury Music Prize winning Screamadelica in 1991, the band has achieved the rare feat of becoming part of the shared consciousness of a generation of music fans. See the legendaryBobbie Gillespie performing classic hits from the band's back catalogue, as well as new tracks from their forthcoming 10th album More Light, which is scheduled for release in May.
The three brothers from Wakefield that are The Cribs bring their brilliantly subversive, full throttle, indie mayhem to Bingley in a Yorkshire festival exclusive performance. Hailed by Q magazine as "the biggest cult band in the UK", Gary, Ryan and Ross Jarman have enjoyed 10 successful years producing exceptional indie tunes. 2013 has got off to a flying start with the release of their 'best of' 22 track compilation Payola, as well as collecting theTeenage Cancer Trust Outstanding Contribution To Music Prize at the recent NME Awards. See what occurs whenThe Cribs' famous 'chaos element' hits the main stage.
After frontman Miles Hunt and violinist Erica Nockalls' star performance at last year's BML we're delighted to announce another exclusive Yorkshire festival set from The Wonder Stuff. The West Midlands' finest-ever export will bring their life-affirming exuberance to stir up the loins of Bingley with an outstanding discography that continues to stand the test of time. Expect the eight-legged groove machine to have everyone up on their feet. You'll be going home with a big silly grin!
The acerbic tongued, South Shields songstress Natasha Haws is receiving some well-deserved radio airplay with her single Stranger which was picked as a BBC Introducing Discovery track at the end of last year. Singer-songwriter Natasha has won a devoted Northern following with her down-to-earth and often sarcastic tales about real-life experiences in her coastal hometown. Selected for The Sun's 'One to Watch 2013' list, Miss Haws has been praised for her 'flawless vocals' and mesmerising performances. Catch her at Bingley Music Live before she hits the big time.
Originating from Wakefield, Rose and the Howling North released debut album Cuckoo earlier this month. An exciting newcomer, Rose has an impressive musical heritage including singing at the Royal Albert Hall and filling Kate Bush's shoes to duet with Peter Gabriel on tour. A festival veteran, Rose draws inspiration from many diverse influences with the album's title track conjuring up images of Nancy Sinatra performing a QuentinTarantino soundtrack.
Holy Moly and the Crackers are a young indie-folk outfit from Newcastle making a name for themselves on the festival scene with their engaging and eclectic mix of sea shanties, hillbilly lullabies, bin-fire blues, gypsy dances and soul-searching ballads. Come and tap your toes along to the accordion, fiddle, guitar and the Holy Moly busking drum kit – complete with feathers and all.
Big Heart, Big Sounds
Early bird tickets for 2013 have now sold out but don't worry! As a huge 'thank you' for your ongoing support, weekend tickets have been frozen at last year's prices. At just for £45 (+ booking fee) for a three day ticket, Bingley Music Live is a must for celebrating the end of summer in style and offers incredible value for money.
Weekend tickets are available online at www.bingleymusiclive.com/tickets or call the ticket hotline0871 220 0260 (£45 + booking fee).
2012 was a phenomenal year for Bingley Music Live and being shortlisted for the UK Festival Awards Best Medium Sized Festival was a major achievement. Feedback from performers and festival-goers alike continues to be incredibly positive and the media seem unable to hold back the love with Virtual Festivals giving us a rare 10/10 review.
The beautiful surroundings of Myrtle Park will for the 7th year play host to an intimate, friendly and professionally organised three day festival that has won a place in the heart of its loyal following. The chance to really get up close and personal to your favourite bands is one of the event's stand-out features and means that festival goers can eagerly anticipate getting to the heart of the action.