A master of reinvention, Norman Cook aka Fatboy Slim is named on Q magazine's list of "50 Bands to See Before You Die" and how right they are. Collaboration with likes of Madonna, U2 and Beastie Boys and mega parties in Brighton beach and Rio De Janeiro in front of 250,000 people cemented his superstar status.
Let's get in the festival mood with 'Rockafeller Skank' single, taken from the 1998 album 'You've Come a Long Way, Baby' and get ready for Fatboy Slim at this years EXIT Festival, the greatest summer adventure which serves up five days of music, entertainment and adventure from 10th – 14th July.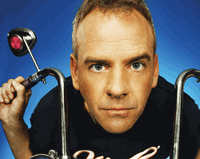 ANNOUNCED ACTS SO FAR FOR THE 14TH EDITION OF EXIT FESTIVAL INCLUDE: ATOMS FOR PEACE, SNOOP DOGG AKA SNOOP LION, BLOC PARTY, FATBOY SLIM, DUBFIRE, SETH TROXLER, DJ FRESH LIVE, APOLLONIA, BROOKES BROTHERS, DUB PHIZIX & STRATEGY, FRICTION & LINGUISTIC, INSPECTOR DUBPLATE, MATADOR LIVE, PAN-POT, SKISM, SUBB AN & ADAM SHELTON, THE PROTOTYPES, DENIZ KURTEL and many many more to be announced incoming weeks!
---
YOU ARE EXIT! Competition
Express yourself and take part in the making of another unforgettable experience at EXIT Festival! All fans are invited to present their ideas in different sections of the competition, appropriately named My [email protected], [email protected], [email protected], EXIT ADventure, My [email protected] and My [email protected] Everybody can be in with a chance of winning amazing prizes and realizing their project on the festival grounds. Running from 25th March until 25th April 2013 the competition will operate primarily as a web orientated platform and is open to all EXIT festival fans both amatuer and professIonal. Get involved now!
By applying for My [email protected] you get the chance to improve some of the existing stages or even create a concept for a brand new one! Enter [email protected] and express yourself by giving us your artistic vision of the Petrovaradin fortress and festival grounds. To improve the fun factor at EXIT enter [email protected] and if you are interested in the branding, marketing and visual identity of EXIT enter EXIT ADventure and get the unique chance to design a brand new line of T shirts, souvenirs, flags and all the other little things within My [email protected] If you have any other amazing ideas you can submit them to My [email protected]
It's easy to enter – visit www.exitfest.org/opensource and get all the necessary information about the competition and prizes.
EXIT aspires to become much more than just an ordinary music festival. By sending us your ideas you are helping create unique carnival experience that cannot be lived anywhere else. Join creative people in the making of lifetime memories and meet new friends in the process of shaping the future of one of the most unique festivals in world. Get involved, stand proud and say: "I am EXIT!"