The Boomtown Rats' Chagstock appearance is their only 2013 UK Festival headline performance, and one of only two UK dates this summer.
Formed in 1975 in Dublin, The Boomtown Rats played their first UK shows with the Ramones and Talking Heads and fought the punk wars alongside the Sex Pistols, The Clash, The Jam and The Stranglers. They were one of the biggest bands of the late 70's and 80's, and their string of top ten hits and platinum albums earned them Brit Awards, Ivor Novellos and Grammy's. They made history as the first Irish band to have a UK no 1 hit with Rat Trap.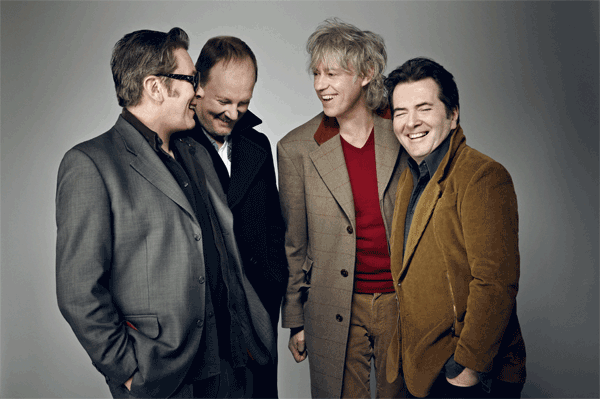 Bob Geldof says, ""The second I heard the name 'Shagstock' I knew that was THE festival for The Boomtown Rats. Only later when we agreed and signed contracts did Simon, the Rats drummer, point out it was in fact 'Chagstock', his local summer Music Fest. Oh well…
I will do my best to personally attempt to do everything in my power to have the name revert to my far better original mistake. It's a beautiful part of the world. Billy Bragg is a hero. The Rats are a great band. It will be a pleasure to do the Rat in Devon again."
Chagstock is one of the Westcountry's best-loved festivals. Set in 45 acres of farmland on the northern edge of Devon's beautiful Dartmoor, Chagstock is renowned for its stunning location, diverse line-up of artists and family-friendly atmosphere. Chagstock showcases the very best music, food and entertainment that the Westcountry and the UK have to offer.
Simon Ford from Chagstock Festival says, "We are delighted to announce The Boomtown Rats will exclusively headline our main stage at Chagstock. They are a classic band with a string of memorable hits. Combined with Billy Bragg's performance immediately before the Boomtown Rats, Chagstock 2013 is shaping up to be our best line up ever – and we still have a number of major artists to announce! We can't wait!"
Returning after the stunning sell-out success of last year's event which featured KT Tunstall, Fun Lovin Criminals, Seth Lakeman and Alabama 3 amongst many others, Chagstock retains its traditional 2-day format in 2013. As introduced last year in recognition of the tough economic climate for families, all children under 12 can attend for free (ticket is required). Chagstock's capacity is once again capped at just 5,000 tickets to ensure that its intimate, family-friendly atmosphere is maintained.
This year's fancy dress theme will be 'Circus'