BASEMENT JAXX / THE CHARLATANS / PRIMAL SCREAM CONFIRMED AS HEADLINERS FOR 2013
I AM KLOOT / MYSTERY JETS / LIGHTNING SEEDS (ACOUSTIC) / ASH / FAKE BLOOD
BRITISH SEA POWER / MR SCRUFF / FOREIGN BEGGARS / RONI SIZE / WILLY MOON / DUTCH UNCLES JACKMASTER AND MORE ADDED TO MULTI AWARD WINNING FESTIVAL LINE UP
14 STAGES AND 3 DAYS AND NIGHTS OF FUN IN THE FIELDS IN THE BEAUTIFUL LAKE DISTRICT FESTIVAL DATES: FRIDAY 26TH – SUNDAY 28TH JULY 2013
Lowther Deer Park, Hackthorpe, The Lake District Tickets available www.kendalcalling.com/tickets
Basement Jaxx are the ultimate party act who have paid their dues on the dance music circuit and have got the back catalogue to prove it. This dance act don't hide behind a screen of visuals, they put on and epic and extravagant performance that is more carnival than live show and showcases their mix of latin, hip hop and dancehall infused house music to devastating effect on tracks like Where's Your Head At, Red Alert, Jus 1 Kiss, Bingo Bango, Romeo, Rendez Vu and Oh My Gosh. Basement Jaxx will close the first night in stunning fashion.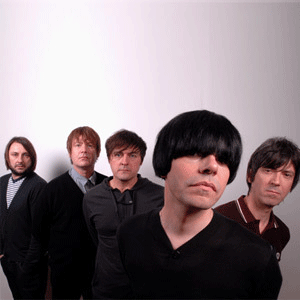 Last year
Tim Burgess
from
The Charlatans
hosted the Tim Peaks Diner at Kendal Calling, a virtual diner that was one of the highlights of the festival and this year he's bringing the rest of his band with him for a Saturday night headline slot. The Charlatans are one of the great British bands of the last 25 years and have melded rock, psychedelia, funk and dance rhythms over 11 albums since their inception in 1989. This is a band who have always refused to stand still and this
northern festival exclusive
is likely to feature classics such as
The Only One I Know,
Weirdo
,
Just When You're Thinking Things Over
,
One To
Another
,
Then
and many more.
Primal Scream are arguably the greatest rock n' roll band of the last 30 years mixing indie, alternative rock, psychedelia and acid house to mesmerising effect. Their live sets are euphoric affairs featuring classics such as Higher Than The Sun, Loaded, Country Girl, Rocks and Come Together and Bobby Gillespie and the boys are set to bring their rock n' roll swagger to the Lakes. Their new albumMore Light is released in May and Kendal Calling will unite to the classic anthems of a genuinely legendary band.
Kendal Calling is about much more than just the headliners and its hugely eclectic line ups have drawn much critical acclaim from festival goers, artists and media alike.
Frontman John Bramwell's poetic one liners and twisted, witty lyrics punctuate I Am Kloot's deceptively understated songs and their gritty but pretty symphonies about life, love and alcohol are timeless. Northern Irish stalwarts Ash make a welcome return after their epic headline slot back in 2009 and will whip up the crowd with a set of exemplary alternative rock. Fake Blood aka DJ Touche is an enormous presence on the house and electro scene and his set will have the Kendal Calling crowd dancing long into the night.
The Lightning Seeds genius song writing helped reshape the face of British pop music and the band will perform a rare acoustic set. Kendal Calling are delighted to welcome back local Lake District heroes British Sea Power with a special show for their 10th anniversary while Mystery Jets exhibit the quintessentially English, crowd pleasing pop of their 'Radlands' album. Radio 1 new boy and part of the Numbers collective, Jackmaster will bring 'eclectic electrics' from techno and house to disco and dubstep and Dub Pistols bass shuddering dub and big beat will be in full effect with a live performance and DJ set too.
Mr Scruff is a national treasure and his sets incorporate soul, funk, hip-hop, jazz, reggae, latin, african, ska, disco, house, funk, breaks, soundtracks and loads more. Hip-hop and dubstep comes courtesy of Foreign Beggars and drum & bass overlord Roni Size will keep the crowd jumping while best dressed man in music Willy Moon brings the music of Bo Diddley and Buddy Holly kicking and screaming into the present. The crystalline leftfield pop of Manchester based Dutch Uncles, the lustful hooks and sleazy charm of rapidly exploding The 1975 and the epic, melodic rock of Kodaline are must see acts at Kendal Calling.
Other festival confirmations include Wave Machines, Oneman, Tricka Technology (Krafty Kuts V's A.Skillz), Bondax, Loadstar, Theme Park, Public Service Broadcasting, Monsta, Slamboree, Artwork, The 1975, Drenge, Dynamite MC, Grooverider, Dismantle, Walter Ego, Sons & Lovers, Chunky, Tonn Piper, Wind Up Birds, The Mispers, Flight of Arrows, Father Funk, Calling All Astronauts and Genre Sluts.
100's more acts to be announced, as well as areas, attractions and other aspects of the festival including the fancy dress theme.