Bringing cutting edge beats, a top of the range lighting spec and the big club atmosphere straight to the heart of the Scottish countryside, Slam 2013 will see the most in-demand DJs and hottest mixing talent take to the decks over 12th – 14th July. Festival organisers DF Concerts and founding partner Tennent's Lager have today unveiled a phenomenal line-up curated by world renowned dance powerhouse Slam, and have announced that for the second year running the Slam Tent will open on the Friday night, giving dance fans a whole extra night to party.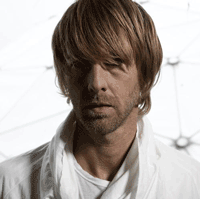 More than anyone else in modern electronic music, Richie Hawtin has made his mark on electronic music by being inventive and relentlessly proving himself to be a true innovator. The one-man mogul behind acclaimed techno imprints Plus 8 & Minus sends constantly evolving signals out all over the world and his DJ reputation has earned him many Best International DJ awards with fans and the music industry. His Plastikman persona has given techno a unique face with a series of four ruthlessly minimal albums of skeletal beauty and his breathtaking live sets have packed dancefloors across the globe, and helped to invent stadium techno. Having performed a rare live set as Plastikman in 2010 in the Slam Tent, he returns to DJ at T in the Park this summer for the first time since 2008.
Swedish techno master Adam Beyer has been spinning a wide range of hiphop, hiphouse, acid and techno since the early 90s. His own hard, percussive and loop oriented style and deft production skills have made him one of the world's most in demand producer/DJs and his meteoric rise has been cited as one of the catalysts for Swedish techno's current influence.
Voted Best DJ of 2012 in a Resident Advisor poll, Detroit-born Seth Troxler continues to ignite the world of house and techno with a constant barrage of vocal jams. Having collaborated with major dance luminaries, he is one of the most in demand DJs and producers in the world.
Flying the flag for Berlin's infamous Berghain nightclub and Ostgut Ton record label, Ben Klock &Marcel Dettmann (b2b) are known for their uncompromising take on techno, both in production and DJing style. The pair have won plaudits for bringing a raw and authentic feel back to techno and will get the Slam crowd going with their famous Berghain sound when they play a special back to back DJ set.
In the past two decades, Slam have defined techno in Scotland, cultivated many artists of note on their Soma label, and remixed everyone from Daft Punk to Underworld. Their weekly Slam Radio show has become the most listened to techno show on Soundcloud attracting listeners from around the globe. The legendary UK duo Stuart McMillan and Orde Meikle have travelled far and wide, leaving scorch marks on dance floors across the world and return home to T in the Park for the festival's 20th year.
Three of the world's greatest DJ pioneers DJ Sneak, Derrick Carter & Mark Farina (b2b) are sure to deliver a jawdropping set. One of house music's true pioneers, DJ Sneak's signature funky filtered disco-influenced house and tough, jacking beats have revolutionised and redefined the genre for well over 15 years. Derrick Carter and Mark Farina are two great pinnacles of Chicago house music's '90s wave, and the three unite for a very special set at T in the Park.
Next up is minimal house and techno connoisseur Nina Kraviz. The Russian producer, singer and DJ made a name for herself through hosting her own night at Moscow's legendary Club Propaganda before taking her own brand of deep-house and soulful techno on tour, filling the dancefloors across the globe.
Dirtybird boss and tech-funk producer/DJ Claude VonStroke has headlined almost every major club, festival and basement after-party in the world. His outdoor dirtybird parties in San Francisco's scenic Golden Gate Park have become a legendary summer destination point for music fans, and he'll surely get the crowd going in the Slam Tent this summer.
Leading the new wave of talented producers to emerge from Bristol within recent years, Eats Everything aka Daniel Pearce has defined a whole new genre of forward-thinking underground house music. Drawing elements from classic house, UK bass music, Detroit techno, jungle and early rave, he pays homage to everything from Randy Crawford to Ray Charles and Murk to MK.
Numbers co-founder Jackmaster's star is rapidly rising, as showcased at parties from his native Glasgow to Berlin to New York, and from superclubs such as Berghain and Fabric to legendary underground warehouse raves. With a new monthly show as part of BBC Radio 1′s In New DJs We Trust series under his belt, he's sure to receive a local hero's welcome at T in the Park.
Mired in British dance culture, Joy Orbison's brand of garage-house marries elements of house, two-step, jungle, techno and dubstep and has been attracting major critical acclaim. Alongside the release of the gargantuan Hyph Mngo which was hailed as the most essential purchase of the season and material on his own imprint Doldrums, notorious mixes for Radio 1 and Ministry have well and truly cemented his reputation as one of the UK's hottest new talents.
Also heading to the Slam Tent this summer are Glasgow's own DJ/production duo Silicone Soul. They are set to release an album on Soma to mark ten years since their subterranean parallel project and label Darkroom Dubs first unleashed its uniquely idiosyncratic take on house music. Charged with the purest distillation of the edgy early hours spirit from which house music was originally forged, Darkroom Dubs has become renowned for Silicone Soul's walks on the dark side; the ultimate bastion of deep electronic dance music.
Back for its 17th year at T in the Park, the Slam Tent has an atmosphere second to none, with many more artists to be announced. The unveiling of another top-notch line-up set to rumble the walls and raise the roof of the tent comes hot on the heels of the announcement that electronic pioneers Kraftwerk will play the festival's 20th year in July, meaning T in the Park truly is the ultimate destination for discerning dance music fans.
Organisers are set to unveil yet more top acts for the T20th bill next week, with headlinersMumford & Sons, Rihanna and The Killers, plus Kraftwerk, Emeli Sandé, The Script, Two Door Cinema Club, alt-J, Paloma Faith, Jake Bugg, Of Monsters and Men and Azealia Banks already confirmed.