Exclusive ticket offers are available from www.isleofwightfestival.com, including money saving ticket and travel packages and details on the Isle of Wight Festival payment plan. From the moment the gates open, each area of the Festival comes alive… So, don't miss out on this unforgettable weekend!
Formed in 2002, every one of The Killers' four studio albums has topped the UK Charts. Having earned themselves a reputation as one of the world's finest live acts, the band's panoply of hits – including 'Mr Brightside', 'Human', 'Somebody Told Me', 'When You Were Young' and 'Runaways' – will make for an epic Main Stage headline set on Saturday 15th June at the Isle of Wight Festival 2013.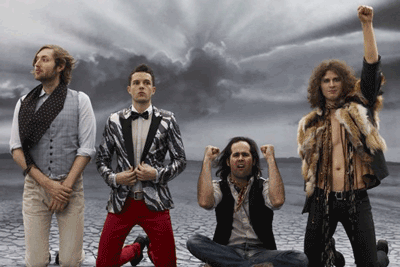 The Killers have sold over 15 million albums and visited every corner of the globe, becoming one of the world's biggest and best rock 'n' roll bands in the process. Be there at the Isle of Wight Festival 2013 to see why.
John Giddings, the Festival's promoter, says: "We are proud to bring one of the world's greatest rock bands of the last decade to our small island off the South Coast of England…thanks for coming-it will be a weekend to remember!"
In 2013 the iconic Isle of Wight Festival 2013 will see, UK Festival exclusive appearances from The Stone Roses and Bon Jovi, plus performances by Jake Bugg, The Script, Bloc Party, Paloma Faith, The Maccabees, Ellie Goulding, Blondie and many more spectacular acts still to be announced.
Year on year, free-spirited festivalgoers come together to celebrate the summer in style, with the best atmosphere and hottest artists all jam-packed into one spectacular weekend. Held in the stunning setting of Seaclose Park, the Isle of Wight Festival combines 3 stages bursting with talent plus a bevy of bars, stalls and interactive areas, creating a truly unique experience. Join us for another memorable year in 2013, tickets are available now from www.isleofwightfestival.com.
– THE STONE ROSES – THE KILLERS – BON JOVI – JAKE BUGG – THE SCRIPT – BLOC PARTY –
– PALOMA FAITH – THE MACCABEES – ELLIE GOULDING – HAPPY MONDAYS – FUN –
– BONNIE RAITT – IMPERIAL TEEN – THE FARM – BLONDIE – REPUBLICA –
PLUS MANY MORE TO BE ANNOUNCED