Strictly limited to one night only, 'One Last Tour' promises to deliver Aussie fans one last huge send off, packed with the the trio's most popular tracks including their latest smash hit and undoubtedly the biggest track in Australia (if not the world) right now: 'Don't You Worry Child.' DYWC has surpassed Platinum sales in Aus, currently sitting at #2 on the ARIA Singles Chart (with #1 firmly in sight) and held the #1 spot on the ARIA Club Chart for over nine weeks straight). The trio will be showcasing all of their massive hits including: 'One' (Gold in Aus), 'Miami 2 Ibiza' (Platinum in Aus), 'Save the World' (Gold in Aus), plus all of their chart topping remixes and incredible mash-ups. Australian fans will have the opportunity to say goodbye and celebrate with the Swedes one last time in Sydney on February 2nd.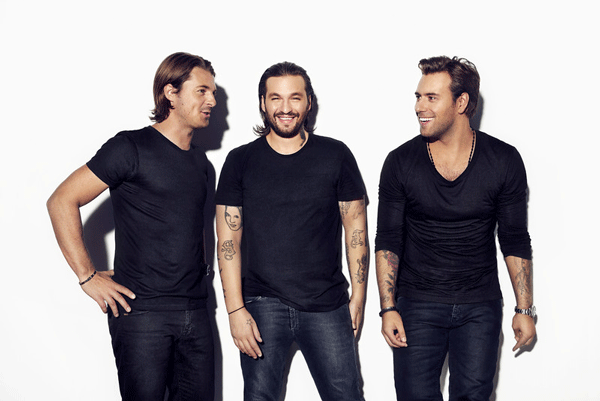 About Swedish House Mafia
After exploding on to the scene in 2010, SWEDISH HOUSE MAFIA follow up their huge genre-defining club track 'One' with the worldwide platinum-selling single 'Miami 2 Ibiza' featuring Tinie Tempah. Both tracks appeared on their stellar compilation album 'Until One' which is still in the UK top 50 chart nearly two years after its release (also going Gold in the UK). The boys followed this with the platinum single 'Save The World.' They ended 2011 playing to 20,000 people at New York's Madison Square Garden, which sold out in a staggering 10 minutes. 2012 so far has seen the release of their highest charting single to date 'Antidote' – a collaboration with Pendulum's Knife Party, a second bigger and better 'Masquerade Hotel' in Miami and the release of the incendiary 'Greyhound.'
Their second mix album entitled, 'Until Now' forming the official soundtrack to 'One Last Tour' and debuted on the ARIA charts at the #12. 'Until Now' highlights include the latest SWEDISH HOUSE MAFIA single 'DON'T YOU WORRY CHILD' (feat John Martin) – which was debuted to 65,000 people at the band's recent UK farewell Milton Keynes Bowl show. The previously unreleased Coldplay Vs Swedish House Mafia 'Every Teardrop Is A Waterfall', global club anthems 'Calling' and 'In My Mind,' Steve Angello and Third Party's 'Lights,' the Swedes' exclusive remix of Usher's 'Euphoria' plus more previously unreleased tracks.
Get Ready Australia, as we bid farewell to Axwell, Sebastian Ingrosso & Steve Angello AKA Swedish House Mafia in style. 'One Last Tour' will be the final time for Australian fans to see Swedish House Mafia.
Saturday 2nd February, 2013:
6pm until 11pm (doors open 5.30pm)
Sydney Showground Stadium Homebush, SYDNEY, AUSTRALIA
Tickets on Sale at 9am (AEDT) Monday 19th of November, 2012 from Ticketmaster
Patrons can buy tickets online via: http://ticketmaster.com.au
1st Release tickets $99.95+ t/fee
Ticketmaster Outlets Nationally and by Phone 136-100
This event is 16+ event. ID is required.
For ticketing info:
http://www.onelasttour.com
http://www.totemonelove.com.au
http://www.ticketmaster.com.au