In just two years, multi-talented musician Labrinth has experienced an extraordinary career trajectory. At first as the producer, writer and vocalist behind Tinie Tempah's massive hits, Pass Out and Frisky. Then September 2010 saw the release of Labrinth's debut single, Let The Sunshine. Since then Labrinth released his second single, "Earthquake" on 23 October 2011 – featuring Tinie Tempah. The single debuted at number two on the UK chart with first week sales of 115,530 copies – the second highest selling number-two. Labrinth's album, Electronic Earth was released on the 2nd April 2012. The album debuted at number two on the UK Albums Chart, selling 32,281 copies in its first week.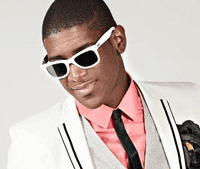 Labrinth will headline Brownstock Festival's mainstage on the Saturday night with his full band for a live set.
The festival has also released its first batch of support bands. Over 500 bands applied to play at the 2012 event. The entire Brown Family sit for 2 days, with their friend Mat Dixon, the festival's Music Director and personally listen to each and every band that apply, whittling it down to their chosen few. The family hates having to turn away talented bands, so will be holding competitions for the last spots and adding an extra stage, The Tree House, to the 2012 festival with the aim to support more upcoming acts.
Festival Director Adam Brown says: "We are very excited to welcome some huge and globally recognised acts to Brownstock Festival this year and Labrinth definitely tops this off. But we are also excited about our support bands. We give everyone that applies a hearing and we genuinely think that we have a few names there that will be ringing in your ears long after we close the festival gates. Remember you heard them here first."
Other headline names on the 2012 bill are Nero (dj set), Grandmaster Flash, Zane Lowe, DJ Doorly, Toddla T, The Cuban Brothers and Angelos Epithemiou. The latest names are available at www.brownstock.co.uk. The Sunday night headliner is still to be announced.
Nero's album Welcome Reality debuted at UK No.1 and earned gold status. They were also nominated for BBC's and XFM's sound of 2011 and have performed at some of the UK's largest festivals, Glastonbury, Bestival, Reading and Wireless.
The festival will also be rolling out the red carpet for Grandmaster Flash. Joseph Saddler, better known as King Grandmaster Flash, American hip hop musician and DJ, known as one of the pioneers of hip-hop and one of the first hip hop / rap artists to be included on the rock and roll hall of fame.
The festival's Music Director Mat (Format) Dixon has also teamed up with Rinse FM, Ibiza Rocks and Pioneer Showcase resident DJ,Doorly, to curate the Good Shed stage. Doorly first played for the festival in 2010. More recently he's gone on to play some of the biggest shows the scene has to offer, including a Nokia launch in Times Square, New York, alongside Nicki Minaj. He has been at the forefront of gathering some of this year's globally renowned names.
Doorly quote: "I'm really excited to be curating my own arena at Brownstock this year. I played at the festival 2 years ago and had an absolute blast, I loved the intimate, open-minded boutique feel the place had and originally meant to do this last year but my US tour was extended so I couldn't make it back. The vibe of Brownstock will suit the way I want to book this stage"
The festival has however received some news which has led to a change in their 2012 line up. Booked for 2012 was a performance from A Tribe Called Quest's Phife Dawg. Sadly Phife has had to pull out of his trip to the UK due to illness resulting from a failed kidney transplant and is unable to travel following instruction from his medical team. The Brownstock team have sent their condolences to Phife and wish him a speedy recovery.
You can see www.brownstock.co.uk for all line up updates, festival news and ticket details.
About Brownstock Festival
Brownstock Festival is an annual Music Festival run by the Brown family on their farm in Essex. Now in its 8th year thefestival is set to welcome 6000 visitors through the gates in September. The festival is still completely independent and run entirely by the Brown family and friends giving it a uniquely rustic and handmade feel. Music, comedy, storytelling, street art camp, skateboarding park, parkour displays, street dance, a silent disco and the chance to try a home raised Aberdeen Angus Beef burger from the farm are some of the things to look forward to during the 3 day event. Information at www.brownstock.co.uk
TICKETS:
3 day weekend camping – £74
Group buy 3 day weekend camping, 4 people – £64
3 day VIP weekend camping ticket – £125
3 day Disabled weekend camping – £45 2 for 1
VIP yurt camping – £215
Travel info: Brownstock Festival is 2 miles from South Woodham Ferrers station, a 40 min train ride from London Liverpool Street Station. We have a friendly, efficient and reasonably priced taxi service on hand to pick you up and bring you to the farm. The festival can also be easily accessed by car – only if you have to drive of course, and don't forget to share lifts:-).