It's been over three years since 2009's 'Rebuilt By Humans' and in that time he's toured the world, started a family (he has a one year old son, Beau Henry Faulkner-Richards) and some might say helped usher in a new generation of singer-songwriters. Ed Sheeran, Ben Howard and Michael Kiwanuka might be stylistically diverse, but their 'have-guitar-will-travel' approach surely flows from the trailblazing example of Newton.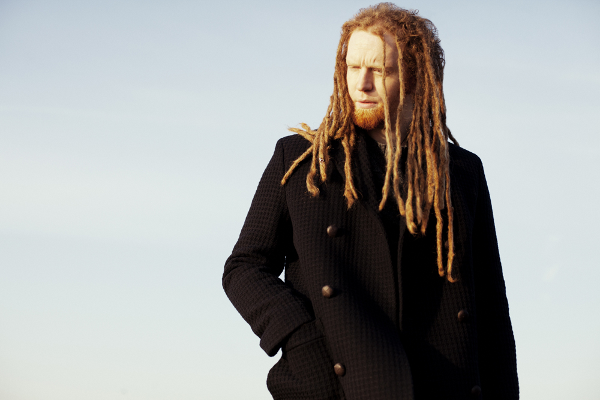 Now, after invention, innovation, reinvention and creation, comes his third album, Write It On Your Skin. This one man band (in every sense) has opened himself up to the talents of other writers and players working with his brother Toby (a former drum and bass MC), hip hop fan Sam Farrar (Phantom Planet) and production writing pair Nexus.
The result? An album bristling with spontaneity, the best kind of DIY imagination, and songs from unlikely sources but with a very likely-lad appeal.
He is the feelgood man of the season, the summertime troubadour who brings singalong vibes. As he says now with a laugh, despite his trademark rust-red dreads, he only seems to get recognized when it's sunny outdoors:
"For some reason if it's raining it can't be me – but if the sun's shining, then it's definitely me! I'm completely affiliated with the sun. I get that now."
Newton has previously sold over 1million albums in the UK alone. His debut 'Hands Built By Robots' spent over 10 months inside the Top 40 Album Charts and become one of the Top 20 Biggest Selling UK digital albums of all time.
Check out the Album sampler below:
Buy your copy of the Album here:
iTunes – http://itunes.apple.com/gb/album/write-it-on-your-skin-deluxe/id534802330
Amazon – http://www.amazon.co.uk/Write-It-On-Your-Skin/dp/B008DBM69G
YouTube – http://www.youtube.com/user/NewtonFaulknerVEVO
Facebook – https://www.facebook.com/newtonfaulkner
Twitter – https://www.twitter.com/newtonfaulkner
Tour dates:
October dates are:
1st Edinburgh Liquid Rooms
3rd Glasgow O2 ABC
4th Inverness Ironworks
9th Newcastle O2 Academy
10th Manchester O2 Apollo
11th Liverpool O2 Academy
12th York Barbican
14th Leeds O2 Academy
15th Oxford New Theatre
16th Leicester O2 Academy
18th Birmingham O2 Academy
19th Bournemouth O2 Academy
20th Exeter Great Hall
22nd London O2 Shepherds Bush Empire
0844 811 0051 // www.gigsandtours.com // www.gigsinscotland.co.uk
Get your tickets now:
http://www.ticketmaster.co.uk/Newton-Faulkner-tickets/artist/1196943