Taking to two of our three stages in Myrtle Park from 31st August to 2nd September, they'll be joining: Nero, DJ Fresh, The Pigeon Detectives, Hard-Fi, The Charlatans,Maverick Sabre, Delilah, Kids in Glass Houses, Katzenjammer, The Idiot B*stard Band, StooShe, Yes Sir Boss, Miles & Erica, Skinny Lister, Citizens, King Charles,The Chevin, Sadie and the Hotheads, Ellen and the Escapades and The Lancashire Hot Pots.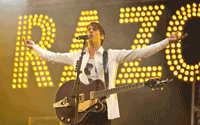 Razorlight secured their headine status shortly after the release of debut album Up all night in 2004. Since then Johnny Borrell's band continue to make an impact on the indie rock scene with their brilliant pop songs, exceptional live performances and confident swagger. Expect Razorlight to tear the place up with a stream of massive hit singles including America, In the morning, Golden Touch and many more that are guaranteed to get the Bingley Music Live audience fired up.
Next up, we have one of the world's truly great performers, Detroit's finest diva and Motown legend Martha Reeves. A sensational vocalist with undeniable star quality, Martha continues to delight audiences with an incredible back catalogue consisting of some of the 60's most enduring hits including Nowhere to Run, Jimmy Mack and Dancing in the Street. Her live appearances during 2010 earned her two nominations for the UK Festival Awards, as 'Best Headliner' and 'Feel Good Act of the Summer'. Come to this year's Bingley Music Live and catch some of that feel good vibe for yourself.
Recently reunited after a 6 year break, Liverpool's Space are set to make a triumphant return to the stage at BML. Bringing their unique brand of darkly humorous pop to the proceedings you can expect all your favourite 90's hits such as Female of the Species,Neighbourhood, Avenging Angels and The Ballad of Tom Jones as well as new material from their new album Attack of the Mutant 50ft Kebab. Brilliantly bizarre!
For those looking for a much rock-ier tip there's the Sheffield based Black Spiders. Their debut album Sons of the North released in 2011 received plaudits across the board, with Rock Sound Magazine proclaiming "their apocalyptic… axe assault is awe-inspiring." They're busy thrilling audiences across the UK and mainland Europe and have up coming gigs at Sweden Rock festival, Download as well as BML. One of their tour highlights so far was being selected to open for Ozzy Osbourne. We look forward to some serious moshpit action.
New kid on the block, Jake Bugg, has had an already impressive musical adventure since his appearance at Glastonbury last year at the tender age of 17. A confident singer-songwriter, Jake recently featured on 'Later with Jools Holland' performing his new singleLightening Bolt. We highly recommend you check out Jake's distinctive voice and mature lyrical content.
Also confirmed for the Raise the Roof stage we have We Were Evergreen. This Parisian, alternative folk-tinged, indie-electro-pop trio are currently creating a huge buzz in the UKwith The Evening Standard hailing them as "the rarest of things: a band with something new and brilliant to offer." Listen out for new single, Baby Blue, which is due for release on 4 June.