Taking to two of our three stages in Myrtle Park between August 31st and 2nd September these latest additions join: DJ Fresh, The Pigeon Detectives, Hard-Fi, The Charlatans, Maverick Sabre, Delilah, The Idiot B*stard Band, StooShe, Yes Sir Boss, Miles & Erica and The Lancashire Hot Pots.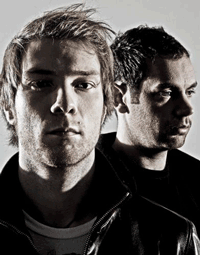 Guaranteed to instill some full-tilt revelry, Nero bring their expansive electronic soundscapes to proceedings on the Main Stage. With three successive singles selected as the 'Hottest Record in the World' by Radio 1's Zane Lowe, the London dubstep pioneers are enjoying a meteoric rise. Having recently told the Wall Street Journal that dubstep is, "almost the new rock… we sort of feel like rockstars now," you can expect nothing less than a blindingly awesome performance.
Also on the Main Stage, energetic Welsh rock band, Kids in Glass Houses bring their blazing guitars to Bingley. Having charted three top 30 albums in four years, this relentless five-piece serve up a heady mix of monster riffs, hook-laden anthems and sing-along choruses; all delivered at maximum volume.
Delivering sets on both the Main and the Raise the Roof stages are the all-female Norwegian four-piece, Katzenjammer. Famed for mixing musical genres and switching instruments at a frenzied pace, their sets includes as many as 25 different instruments. Their latest album A Kiss Before You Go follows three years on the road and is shaped by multiple influences all wrapped up with Katzenjammer's distinct character.
Bolstering the folkie vibe on the Raise the Roof stage are Skinny Lister. This eclectic, earthy sounding five-piece group has truly blossomed into something exceptional after a period of extensive touring. Their live performances deliver a galvanized, singular sound. Fronted by Yorkshire-born songwriter Dan Heptinstall and saucy female vocalist Lorna Thomas, gigs are a riot of sound and fun. So prepare to be infected by their jovial, foot stomping, high kicking free for all.
Vibrant psyche-inflected folk-popster King Charles has been proclaimed 'too cool for the charts' by the Guardian. Having toured with Laura Marling, Noah and the Whale and Mumford and Sons, the classically trained cellist, chorister and winner of an International Songwriting Competition, is set to release his debut album Loveblood on 7th May. We're waiting in eager anticipation to see what all the fuss is about.
Big Heart, Big Sounds
Now in its 6th year, Bingley Music Live has firmly established itself on the festival circuit; consistently impressing audiences and performers alike with its intimate, friendly atmosphere and professional organisation. The chance to really get up close and personal to your favourite bands is one of the event's stand-out features and means that festival goers can eagerly anticipate getting to the heart of the action.
The newly improved Raise the Roof stage will include a bigger tent, beefed-up production and a new musical policy to provide a point of difference to the main stage while maintaining a high calibre of bands. This year also see the introduction of a new third stage. Organised in association with the Musician's Centre the new stage is dedicated to local talent and will focus all its attention on uncovering the latest unsigned talent. Details of how to apply will be revealed soon.
BML also benefits from its amazing venue, Myrtle Park, the perfect festival location. Set in a natural amphitheatre and bordered by stunning mature woodland near the pretty river Aire, first timers are always blown away by the beauty of this hidden gem.
With its picturesque backdrop BML is a great destination for families of all ages wanting to share the festival experience. Not only is there space to chill out under the shade of a tree there are also a whole host of specially organised kids activities in a dedicated family area which are being further improved for 2012.
For those looking for a little luxury or an alternative destination to celebrate a special birthday or hen-do then BML VIP ticket is a must for you! Receive exclusive treatment including; priority parking, jump the queues into the VIP area including bar and luxury loos. There's an escorted back stage tour + a delicious festival hamper including wine per person and a goodie bag all for £250 per person per day.
Throwing its gates open to over 15,000 happy revellers per day for three glorious days of diverse music, Bingley Music Live not only delivers 'Big Heart, Big Sounds' but also has a reputation for offering real value for money. At just for £45 for a three day ticket Bingley Music Live is a must for celebrating the end of summer in style.